I'm usually pretty skeptical about celebrity-turned-designer efforts. And that's because they're usually not very good. There have been occasional exceptions, and I'm really liking the Maria Sharapova Collection recently rolled out by Cole Haan. Now, I'm generally a great big fan of Cole Haan -- I think they do exceptional quality and design at what is a very reasonable price point; and their acquisition by Nike has been one of the best things to happen to feet in quite a while.

I don't know how much Maria Sharapova truly has to do with these shoes besides posing in lots of pretty advertisements, but whoever is designing them is cranking out some good work. I've already shown you these:


Endless
telling me that if you order a pair right now you get this free tote bag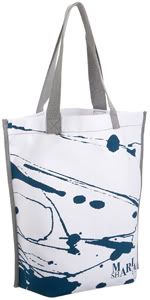 which is danged cute. So I went looking around and I have to tell ya, I like all of the shoes in this collection. These booties, or example
are terrific. They're very much what is happening in fashion right now without being so extreme that you'll only get one season of wear out of them. That's going to be a great boot under a pair of jeans, but it's also going to be really, really good-looking with a pair of tights and a skirt. Loving it.
If you're more of a flat boot kinda gal, these are gorgeous. Click on the link to check out the detailing on this -- the back side of these boots are suede and the strap detailing is just edgy enough -- they're not boring old black boots. If you were planning on doing any traveling this fall and were going to do a lot of walking, these are your ticket right here -- they'll go with anything and still look chic.
We all need a good sexy sandal...
These come in black as well, but I maintain (and I'm in good company) that gold is a neutral, and every woman should have a pair of gold sandals in her wardrobe. I love the platforms on these, they're reminiscent of the YSL Tribute sandal without being a carbon copy, and this is another one you should click on to look at the close-up: the buckles on all those straps are the little toothed slider kind, so you can make them exactly as tight or loose as you want them. Great shoe.
There's also a great flat suede over-the-knee boot and a beautiful almond-toed tie-front pump that's extremely elegant. Collect all six!
I hope someone will give some of these shoes a try and let me know how they work out. (Style Spy is on a bit of a shoe diet these days, or I'd give you first-hand testimony.)