Take a look at what you'll be wearing soon:




I'm going on the record right now and saying that Marc Jacob's Fall 2007 Collection will be the most influential one to come out of New York this season. It's fantastic.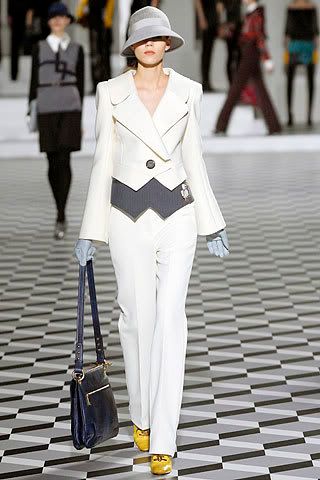 I am completely smitten with this Zelda Fitzgerald meets Bianca Jagger vibe, but it's not just that the clothes are beautiful and elegant, which they are. They're also extraordinarily wearable and are going to work on so many different kinds of women.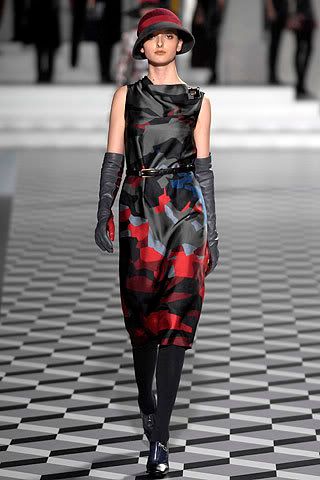 The line here is long and lean, but the waist is still defined and there is ease over the hips -- it's not skintight or bias-cut, which are so hard to pull off for many of us.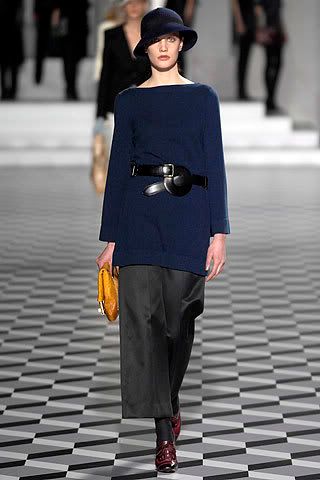 The proportions on this are genius -- the boat neck gives width to the shoulders, the pants are loose without being bulky, the slightly shortened length on pants & sleeves make the limbs look a little longer, the long hem of the tunic pulls the overall silhouette down, but that big, beautiful, important belt still gives it a waist and makes the shape feminine. Note that the tunic is soft & roomy enough to not be constricting, but narrow enough so that the belt doesn't cause a lot of extra bulk around the middle where it's gathered.



And, yes -- I LOVE the hats.

I'm not typically a huge fan of Marc Jacobs, although I do appreciate his willingness to completely overhaul his silhouettes from time to time regardless of where the rest of the world seems to be headed (Grunge Collection, anyone?). And don't even get me started on his handbags, which I think are the most overrated items in fashion today. (Have you ever picked one up? Most of the damn things must weigh five pounds before you put so much as a lipstick in them. They're a chiropractor's nightmare!) There were some really beautiful items in his last two collections, but overall the looks were too bulky and fussy and overlayered for my taste, not to mention difficult and complicated to pull off. I lost track of how many editorials I saw explaining "How to Wear the Layered Look." (Here's a rule: if you need a tutorial on how to put the clothes on, you may need to re-think them.) Still, if you look at them you can see the progression of how he wound up at Fall 2007: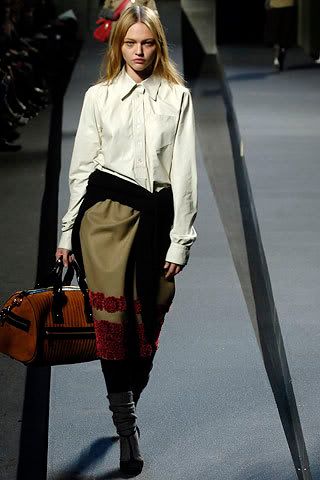 Fall 2006
Spring 2006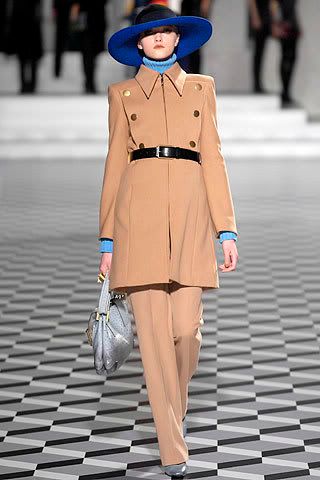 Fall 2007
I haven't managed to look at every collection from New York yet (Good heavens, there are

squillions

of them! Does everyone in New York design clothes these days?), but I'll bet you're going to be hard-pressed to find one so filled with useful, wearable pieces & shapes. Most of the looks are daywear, but even the evening clothes have an ease and simplicity that make them the sort of thing most women clamor to wear:
The colors are classic and beautiful, and the whole thing is devastatingly chic and luxe.
This coat made me whimper a little bit. Clean, glamorous, sexy -- American sportswear at its very best.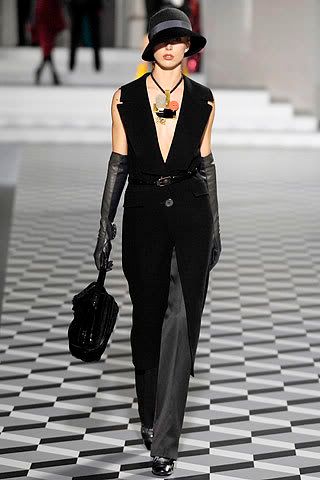 Again -- look at the line & proportion here. For day, put that vest over a tailored blouse; for evening pair it with narrow satin trousers and a great piece of jewelry like they did above. Gorgeous, sleek, sexy. These long, body-skimming shapes are the sort of thing that make you look long & lean even if you're... well,
not
.
A lot of great clothes walked down the runway last week, a lot of things I really loved and would be happy to wear. But these are really a new direction -- for all the talk we've heard for a while now about how the ladylike look is dead, it's still been very much about the Pretty for the last few seasons. That's all well & good, I'm a great big fan of the Pretty -- but it is really exhilarating to see something utterly different.



Photos: Style.com