I've been shopping quite a bit the last week. Not buying, just shopping, looking around to see if I was missing anything important. But I'm just going through one of those strange moods that I get into sometimes -- just a little bored. Not with shopping, per se (heaven forfend!), but with what's available to me. So, I've just been poking around and not getting all that excited about what's out there.

Until I get to the vintage stores. Austin is an amazing town to shop for vintage. Yesterday I stopped into Amelia's Retro-Vogue & Relics, one of our best vintage boutiques and manned by the lovely Amelia herself, who has a deep and contagious love for all things vintage. Her collection is amazing and her prices are extremely reasonable. And here I found this:



Amazing and very special 1940's dress. The fabric is silk, not rayon, and the pattern and color are unusual for the time period.



Here's a close-up where I've done a bad job of showing you the buttons, which are little self-covered darlings rimmed in tiny blue rhinestones. Oh! The love!

The skirt has a few inverted pleats on the front a few inches below the waist, so it's kicky and flirty and swirly when you walk. Just a gorgeous thing. I'm completely in love. It came with a self-covered belt, but it's a little worse for wear and I've styled it here with a black patent one. (Patent makes everything better.)

But wait -- there's more!



Emerald-green cotton velvet 1950's evening coat. Dear lord, I nearly fainted dead away. Sadly, it's now the last week of February in Austin and it's been 80 for the last two days, which means there will only be 4 or 5 days left in the year when it will be cool enough to wear this, but I don't care. The runway is crawling with fabulous coats & jackets right now: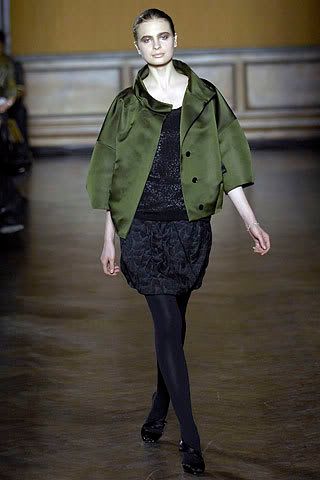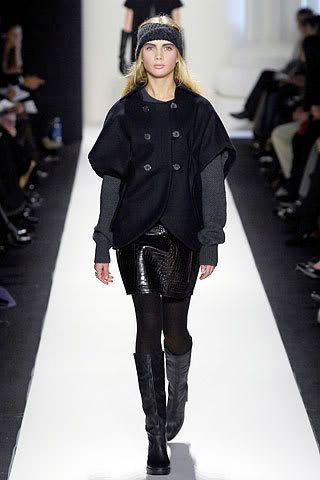 (Vera Wang -- she's come a long way from wedding gowns & skating costumes, eh?)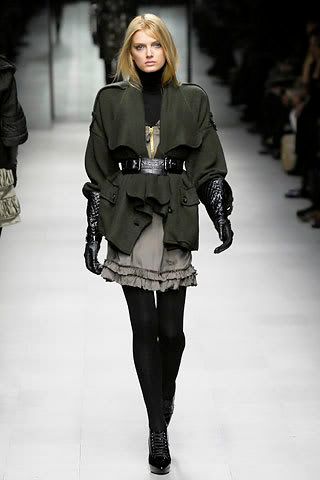 (Above two: Burberry Prorsum. Fantastic collection. I heart Christopher Bailey.)
so it's not like I won't be able to wear it next year. Even if fabulous short jackets
weren't
in, I'd still wear it. That's the thing I love about vintage clothes. For me, at least, the point of wearing something vintage is that it's beautiful and it looks wonderful. If it's something on trend at the moment, or can be worked in a way that's modern, great. But even if we all start running around looking like robots all the time
there are still going to be days when a flowy, flirty vintage floral shirtwaist dress is going to be the thing that's good for what ails me, fashion-wise. Sometimes things are just so beautiful or wonderful they should be worn, no matter who says they're in or out or who gives you strange looks when you sally into the room wearing them. I pity people who have Fear of Vintage. They will never know that unique and wonderful lift of the heart I had when I found that green velvet coat on a hanger at Amelia's, waiting for me to take it home and give it a new life, to show it off and appreciate it, and love it for making me more beautiful in return.
And remember -- even those gold metal leggings will be vintage
someday
. Might as well make your peace with it now.
Photos: Style Spy, Style.com