I'm a bit of a reverse techno-snob. I just can't care all that much about audio-visual equipment. I recently had to buy a new television and I got the cheapest one of the proper size I could find, and I was still resentful because that was money I now wouldn't be able to spend on shoes. But last night I went to my buddy Steve's house to watch the Oscars. Steve, being a boy, has a great big ol' fancy tv. As much as I don't like to encourage size-ism, I couldn't help but be impressed. But the magic really happened when he switched it to a high definition channel.

Holy cow.

The colors were brighter, the detail was amazing... I can't really see the point of watching football on one of these things, but for fashion it was incredible!!!! So I'm re-thinking my whole electronics ethos now.

But enough of that. On with the show.

As usual, I was disappointed that more people didn't take more fashion chances on the red carpet. I know, I know, the stakes are too high, the world is watching and all that, but there is plenty of interesting design out there that isn't so damn boring. So while there were several dresses that made me say, "Oh, that's pretty!" there wasn't really one that made me want to high-five the stylist who talked her witless but willing client into putting it on and rocking Fashion Fearless into the Kodak Theater.

Here are some I found worthy of comment.





Jessica Biel in Oscar de la Renta. Great dress. As we know, I have a thing for hot pink. This girl is lovely, although I really have almost no idea of who she is, and I was grateful to her for not feeling the need to reprise her Golden Globes sequined scuba suit look. This had a long slash opening down the back of the bodice -- it was sexy but not over the top.



Cameron Diaz in Valentino Couture. Nifty dress, like the origami effect of the collar, although I frown in general on asymmetric hems. I was also frowning at the wrinkled state it was already in as she was coming into the event. And I hate that hair. I hate this messy-on-purpose thing. There's a difference between messy and not-overdone.



Here's that same hair, and I still hate it. Rachel Weisz in Vera Wang. This is a little sad because it's so close. Gorgeous girl, gorgeous dress, but that necklace is an amateur mistake and her stylist should be smacked. Why on earth would you feel compelled to put that much bling (an enormous diamond pendant suspended on what looked like piano wire) on a woman wearing a dress that was pre-blinged (pre-blung?)? Earrings at most with that dress, although they'd be hard to find under her I-was-just-running-the-vacuum-and-popped-out-to-pick-up-an-Oscar hairdo.



Cate Blanchett in Armani Privé. So, yeah, this is stunning -- she's flawless, the jewelry is just right, the beadwork is breathtaking and great googly-moogly, it was even better in high-def, but... I'd just hoped for something a little more exciting from Ms. Blanchett, a woman who obviously loves fashion and is not afraid of it.



Here's another woman who loves fashion. I almost always like the way Kirsten Dunst looks, and I did love this. This dress really suits her and it's lovely, from the deconstructed Peter Pan collar that just screams "Chanel!" right down to the feathery bottom that everyone's bitching about. It's youthful yet sophisticated, and Dunst pulls that off extremely well.

This next is all the more upsetting because Djimon Hounsou is such a deliciously handsome man: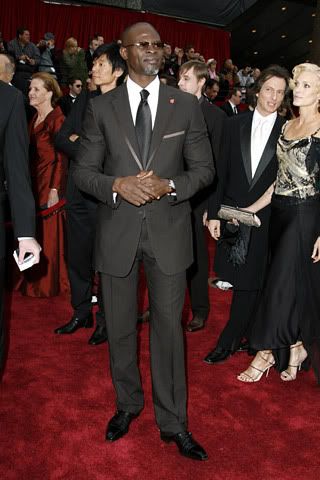 NO!!! NO NO NO NO NO!!!!!! Gentlemen! How hard is this? You put on a black tux, a white shirt, and a black tie (preferably bow, although I'll allow a long one if you're respectful otherwise) and you're done! You do not express your "individuality" with chocolate brown tuxedos, or brocade jackets, or jeweled brooches, or culturally inappropriate costuming (that means you, Quincy Jones!) or filmy silk scarves. You just wear a damn tuxedo and thank your lucky stars that it's so easy!

Look: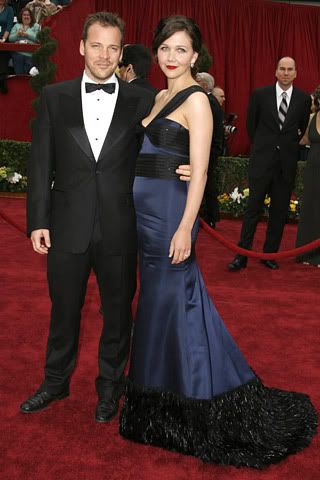 Peter Sarsgaard getting it entirely right. Black tux, peaked lapels (my personal favorite), neat, non-statement-making bow tie, black studs. The jacket also fits him really well, although I would hem up the pants a bit. Your pants should only break once at your shoes, not puddle around them. Maggie Gyllenhaal is also looking great in Proenza Schouler, although I've just never really been able to love navy and black together. (Can I also just say, unrelatedly, that it's kind of cute that two people with a couple of the hardest-to-spell names in Hollywood wound up together. Pity their daughter, though -- she's going to have to spell her name six times a day for the rest of her life.)




Eva Green, doing a Morticia Addams thing in Givenchy. I was actually really intrigued by this dress, although I don't like that dust non-color. But there were interesting details going on at the shoulders and sleeves. There's something about the way it moved around the knees that really bothered me, though, like the corsetry of the dress stopped there and the fabric of the skirt got caught on it and bunched up as she walked.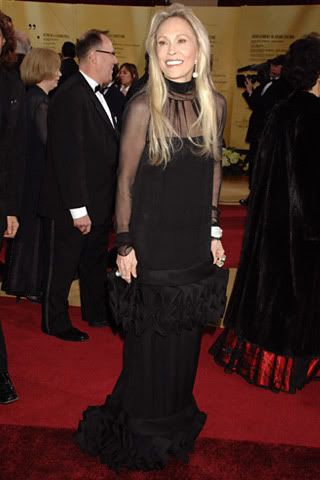 Faye Dunaway in J. Mendel, doing an homage to Barbra Streisand when she won her Oscar for "Funny Girl" in 1969.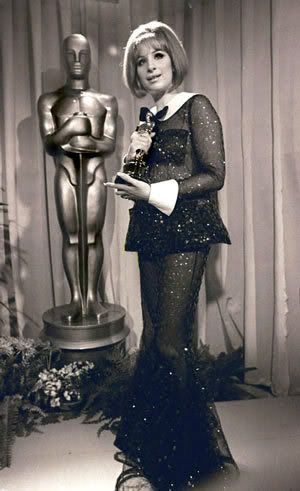 Sometimes it's so bad it's good:




When you are Patricia Field, you can wear your own design and Payless shoes, and you can match your dress to your hair. Because you're Pat Field. And we love you.




Even my girl Rinko Kikuchi, in Chanel as usual, let me down a little. Yeah, it's gorgeous, but she usually likes to take bigger risks than this, for which I admire her intensely. Not so risky, this.

Here's another heartbreaker:



NO!!! NO NO NO NO NO!!!!!! Put on a damn tie, buddy! I don't care if you're the hottest thing to come out of England since those crossed buns, PUT! ON! A! TIE! It's the rassum-frassum Oscars! For goodness sake, you're English, man! I shouldn't have to tell you how to be properly dressed!

Like this:



Leonardo DiCaprio has grown up into a man who knows how to wear a suit. Armani, no less, because then you absolutely can't go wrong. Bravo, Leo.




Oh, bless her heart, she just. Doesn't. Get it. How anyone this beautiful can take a gown custom-made for her by Giorgio Armani and manage to make it look like she got it at David's Bridal, I'll never know. Also, I am tired of the weave. Also of the showgirl postures. Okay, you're bootilicious, we get it. Surprise me, Beyoncé, and just once wear something that doesn't make you look like one of those mirrored female silhouettes we see on tractor-trailer mudflaps.


The Storm of Controversy: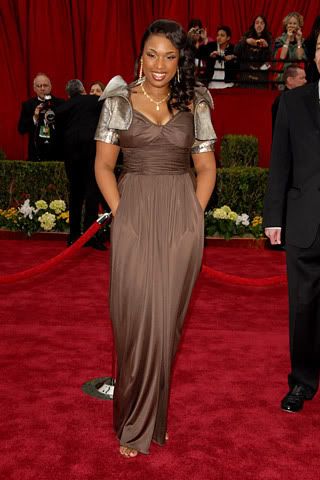 Jennifer Hudson in Oscar de la Renta. I love this girl, I think she's gorgeous and yay for her for winning. There was part of me that really loved this and part of me that went, "Huh?" Then I figured it out -- the jacket's just too short. If it had been about four inches longer, so that the bottom of the jacket had cleared the bottom of her bust and the sleeves, it would have worked. Then it would have been a sassy little jacket with a fun portrait collar. As it stood, it was just a weird neckpiece, basically. I'm also not in love with the Valley Girl hairdo, but let's not quibble.

I did notice that Ms. Hudson changed her dress, not only to sing during the broadcast, but then again to greet the press with her award in hand:



I'm consumed with curiosity about this. Were all these changes planned? I'm not surprised she wore a different dress to sing in (there seemed to be a color-coordinating thing going on for the three women in that number), but what's up with Dress #3 here? Did she change to Dress #3 because it just wouldn't do to go from Dress #2 back into Dress #1 once we'd already seen it? Was Dress #1 kinda sweaty & gross, so she didn't want to get back into it? Or had the scuttlebutt about all the jacket-haters already reached the Hudson Entourage and her merit-badge-worthy stylist busted out that extra gown she had up her sleeve? Inquiring minds want to know.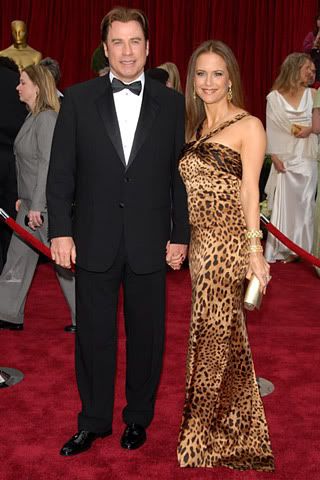 I just love Kelly Preston for wearing a leopard-print gown to the Oscars. (It's Dolce & Gabbana.) You go, girl! I also love that the jewelry is likely hers -- when you're married to a guy who buys airplanes like some men buy watches, I'm guessing you get the occasional trip to Cartier to pick out a toy or two of your own.


("Look, I have a friend! That means I'm a

real human

!")
Nicole Kidman in Balenciaga and Naomi Watts in Escada. I discussed Ms. Kidman in my previous post, so we'll let that go except to say I like that dress a bunch, even with the controversial bow, and I love the metallic red accents at the neck. I loved Naomi Watts' dress, it's really beautiful and soft and lovely, which is such a relief after the dozens of vacuum-sealed garments you see at these events. She's evidently pregnant, but this dress would be great on a non-pregnant woman as well. My only quibble is that sash -- it's such a dark blue that it read black to me (even on the high-def!) and it was too harsh. I would love to have seen that in a softer Wedgewood blue. Necklace is glorious, hair is beautiful -- she looks fantastic.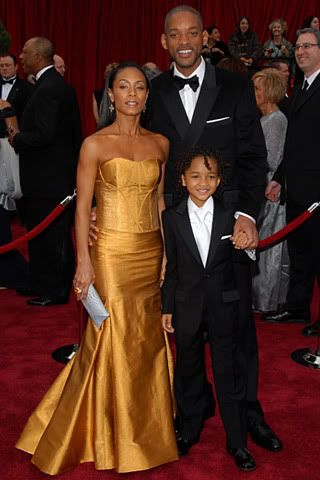 The family Smith -- Will, Jada Pinkett in Vera Wang, and Jaden. First of all, this little boy is so cute I could eat him. Secondly, Will looks great in his tux, perfect down to his white pocket square. No dandyish tendencies here, his Fresh Prince days are well behind him. Thirdly, Jada... I shouldn't really complain, and yet -- I'm going to. She's a very striking woman, but she always looks so
hard
. She always wears things that are skin-tight, and while if I had a body that fierce I'd probably lean toward that, too, I sure would love to see her loosen up a little. Her hair is always either pin-straight and hanging or slicked back so tight she'll never need an eye lift. With her strong, angular features, I'd really love to see her hair softer & more feminine. She has gorgeous skin and perfect posture, wouldn't she be lovely in something like this: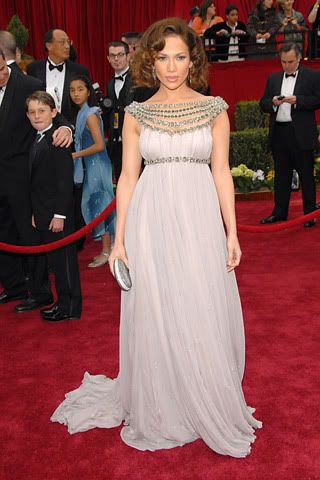 Jennifer Lopez in Marchesa. This was so pretty. Pale, pale pink with a spectacular jeweled neckline that still manages not to be over the top -- precisely
because
the rest of the dress is so soft and cloudlike that it nearly melts away. I could even have lived without the earrings, but we all know Jenny from the block likes her bling. I really like this flowing, gentle look. It's utterly feminine and womanly without having to be so body-conscious or overtly sexy. The simple truth is that there's a lot to be said for just being
supremely, perfectly
pretty
.
Oh, there were lots of other nice dresses. Gwyneth's dress was nice and Reese's dress was nice and Emily's dress was nice and Penelope's dress was nice... nice nice nice. Some of them were downright beautiful but I gotta tell ya -- not a single one of them got me excited.
This
dress is exciting:
But no one is ever going to wear it on the red carpet. They'll all be risk-free and tasteful and more than a little dull. More's the pity, if you ask me.
Photos: Style.com