Oh, I fear I am a hypocrite.

Why is it that I can look at this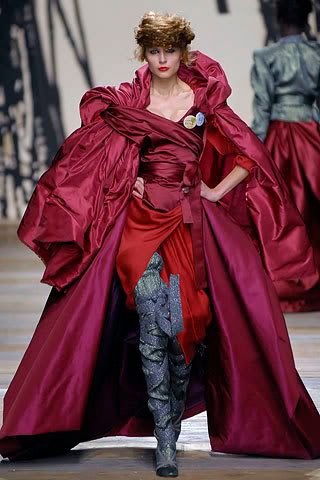 and clap my hands with glee and cheer and shout, "Amen!" and plot to make the world safe for Grand Fashion Gestures; but when I see this
I think, "Ummmmm... not so much."
Don't get me wrong. I would really, really love it if most men spent a little more time and effort on the way they look. I just don't want them to spend more time than
me
. (And don't worry folks, that still gives them
plenty
of leeway.) I am not proud of this ugly little Fashionista hypocrisy and I struggle with it. It's frivolous in some senses, but what I really fear is that it reveals something important regarding my deeper prejudices about gender roles and definitions of masculinity.
I wish to be enlightened and fair, even if I'm only talking about pants.
If I permit -- nay,
encourage
-- women to tie flowers to their shoes and wear tulle tutus and footwear that looks like it arrived on Earth in an extraterrestrial craft, then men should be able to wear shimmery leggings or skirts or horned hats. And theoretically they
can
, of course, and I would even applaud them. But I'd be unlikely to give one of them my phone number.
So there you have it. The Style Spy has feet of clay. I'm a stodgy old fuddy-duddy -- I want men to look like men and not characters from
a weird Vincent D'Onofrio movie
. I hope you can forgive me. To make up for it, I'm going to show you some handsome men's clothing from the Paris collections this week.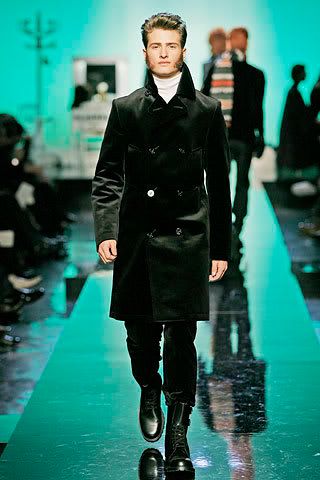 Ooooooh, the velvet topcoat (from Gaultier, who did actually have many beautiful and wearable things in this show). I love
loveLOVE
a man in a velvet topcoat. When I was in Paris last February I saw lots of fabulous French men in them. They all looked so sexy and sophisticated and elegant and... well, let's just say it's a good thing my French isn't any better than it is or girlfriend would have gotten herself into a few international incidents. Ooh-la-la.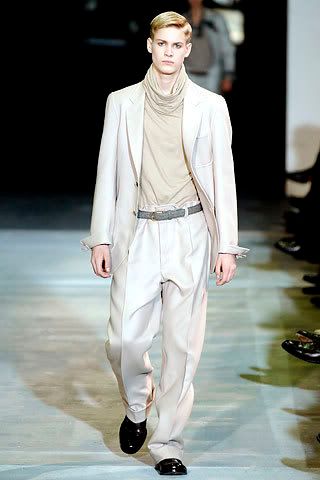 More YSL. Love that loose turtleneck.
Hermes -- Colored trousers are not easy to pull off without looking like you're at a frat house mixer (and no, that is
not
a good look for a grown-up), but these work. The color is beautifully muted and it's paired very simple, low-key basics in a neutral color that doesn't clash.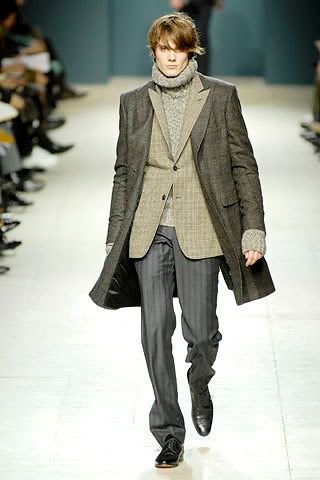 More Hermes. Okay, this is advanced fashion, but I'm here to inspire. Three mis-matched patterns -- fraught with danger. It works because all the colors are neutral and of a similar intensity, and the patterns are all of the same scale and fairly muted -- no one of them stands out from the others. It's tough to pull off, but it's beautiful.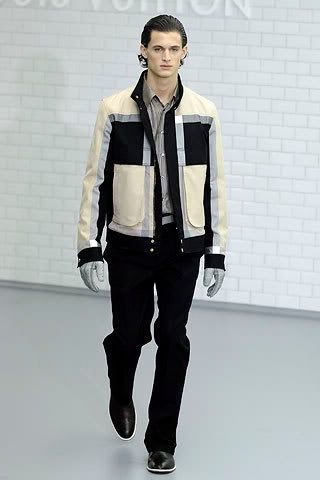 Louis Vuitton. Fantastic lightweight jacket. Why would you ever wear a hoodie sweatshirt when you could be wearing a jacket like this?
Hermes. Again with the monochromatic, and note how the sweater

fits

him. He's not swimming in it, it's not three sizes too large. (Lots of extra room in your sweaters or shirts makes you look sloppy, not cool. If you are a size medium, embrace your medium-ness and put down the damn extra large anything!) Note the tied scarf at the throat. It's very subtle -- a small knot tucked into the collar in a color that blends with the shirt and sweater. You wear this, you're not Thurston Howell. No sir, you are the guy I assume spends a fair amount of time flying first class to various European cities. At a party, I sit next to you. I offer to get you another drink. I coo.
There was lots more great men's fashion this week, I'll bring you some more in a few days.



Photos: Men.Style.com