Okay, maybe out in the panhandle or someplace else where it actually gets cold, but certainly not around here and that should be noted. But I'll get to that in a moment.

I bought this little vintage darling quite a while back:



It's made of a black wool jersey that is fairly stretchy. Alas, it is not quite stretchy enough and little ol' pear-shaped me is not flattered by the garment, although I can squeeeeeeze into it. It fits me perfectly through the bodice, but the skirt is cut very straight, which is not good when you're as hippy as I am. But look at the sleeves!



Look at that great embroidered detail -- I fell madly in love with this dress when I found it -- it has a Balenciaga vibe in the way the sleeves are constructed, and as we know, I loooooove me some Balenciaga.

So I've hung on to it for a while, but rather than losing a few inches around my hips as I would have if the Universe were a just place, I've actually gained weight since I bought the dress (damned plantar fasciitis -- I haven't been able to run in months). Then last week I had a brainwave -- I'll turn it into a tunic! I'll do one of these numbers: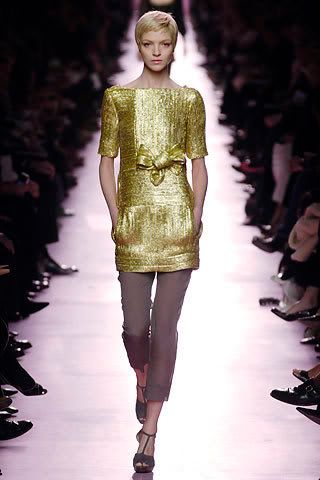 Yves Saint Laurent Fall 2006

I am waiting patiently for Stefano Pilati to come & get me.


It'll be great! It hugs my bum nicely, I just need to crop it before it gets to the point where it's like a neon sign pointing to my problem area. Genius!!

It was a beautiful day today -- almost 80º here in Austin. My office/guest room/sewing room has a door to my balcony and it was flung wide open to admit the balmy breezes. Furnace off, ceiling fan whirring, sun shining... It was the sort of day on which I smugly pat myself on the back for having had the good sense to live in Texas. Ripe with possibility -- that sort of thing. So I busted out the Elna and ripped out the side seams on the skirt of the dress, in preparation for chopping off a foot and a half or so of length. But before I made the fatal cuts, I put it on and tucked the skirt up so it was the right length and then rooted around in my closet for various bottom-half items and shoes to wear with it. To get a
feel
, doncha know.
I always enjoy shopping my closet, and I was having rather a good time trying out various items, when it occurred to me -- I was dripping with sweat inside that cute little black wool jersey tunic. It was HOT. It felt like it was made of about SIX sheep. But there
are
no sheep around here, it's too darn
hot
for sheep, and that's a hint that there is not as much occasion as one might think to wear things that are
made
from sheep.
See, this is the thing about living a mere 200 miles or so from the Mexican border -- it's warm. Sure, it gets chilly here -- we actually had an ice storm and several nights when it got below freezing in January. However, I don't spend very much time
in
the cold even when it
is
cold. Apartment - car - Nordstrom's is pretty much how it goes. Or apartment - car- restaurant. Or apartment - car- movie theater, apartment - car- grocery store... whatever. You get the idea. Long gone (for me) are the days of life in New York City when the ritual of Bundling Up comprised a good deal of my time during the winter months. I actually had to build it into the schedule. Because you
do
spend time out in the cold when you live in a place like New York -- dashing from your apartment to the nearest subway stop or waiting on a frigid corner frantically waving down cabs. You have to have strategies to stay warm. Here in central Texas? Not so much. And as such, toasty-warm wool jersey dresses are less useful than one might wish.
I'd
been
thinking I wanted to wear my clever little tunic to the
Balenciaga seminar
I'm attending this weekend. But then I had an image of me sitting in a lecture hall on the campus of SMU, assiduously taking notes and listening to Harold Koda while a bead of sweat ran down the side of my face and dripped onto my lovely, red-leather-bound notebook.
I can't sweat in front of
Harold Koda
!! I'd rather die!!
So back into the closet it went.
I'm still not sure what I'm going to do about it, but I'm not quite ready to let it go yet. Maybe by the next time it's cold here (eleven months or so) I'll have a clue.
Photos: Style Spy, Style.com