These are the Comme des Garçons Series 3: Incense fragrances.




They are little miracles. Each one of them is devoted to a different location on the planet where you can find an important place of worship that features a distinctive incense: Avignon in France, Jaisalmer in India, Ouarzazate in Morocco , Kyoto in Japan, and Zagorsk in Russia. A lot of people are put off by the appellation "incense fragrance." They expect that you're going to smell like a head shop if you wear them. Au contraire. These are lovely, peaceful, surprisingly clean scents that teach us exactly how imprecise the English language can be and how so often fragrance can fill in those blanks. I've worn Kyoto for quite a while now, I bought my bottle of it here:



This is the exterior of the Comme de Garçons perfume boutique in the Place du Marché St. Honoré in Paris, designed by Takao Kawasaki and Future Systems, under the aegis of Rei Kawakubo, design genius and mogul who is the heart and soul of Comme des Garçons. The boutique is only a slim storefront -- here's the interior:




It's like a giant glossy white snowbank. The only thing sold in this hushed yet welcoming space is Comme des Garçons fragrances, of which I am a big, big fan. Here's another series (2:Red) I particularly like:




Less arcane, this one, a little more straightforward. Harissa has been one of my great fragrance loves for a long time now -- I don't think it's appreciated in the way it should be in the frag community. It's bright, sunny, warm, refreshing, a little green... nothing else in the world smells like Harissa. It's my sunshine-in-a-bottle. I'm also a huge lover of Sequoia, which gives Serge Lutens' Chêne a run for its money as my favorite cedar-based fragrance.
(If you want to learn more about CdG fragrances (and there are many more that I'm not showing you),
go here
. If you're interested in shopping for them,
go here
. Trust me, they're well-worth their very reasonable prices, with the bonus that they are all very compatible with men
or
women, so anyone can wear them. Harissa, Kyoto, and Sequoia are all
divine
on men.)
While I was in New York, I was charged with picking up a bottle of Harissa for a client (a man, by the way, a very distinguished tweed-clad Welsh professor, which just goes to show you) and since I've been living on decants for quite a while, I figured I might as well score one for myself as well. So I hied myself down to the CdG boutique in Chelsea (see
yesterday's post
) for some sniffage.
(A note: I will never be allowed to live in Chelsea because apparently you are required to have either a dog or a child -- or some combination in multiples of both -- and I do not have and never will have either. Lovely neighborhood, though, all gentrified up just as nice as you please. Soon there will be nothing
but
lovely neighborhoods left in Manhattan, which is great for the realtors & developers but less than stellar for regular ol' non-millionaires who want to live there.)
Here is the entrance to the Comme des Garçons boutique on 22d Street:
And here is the entrance from inside:
The entire interior is the same smooth white plastic as the perfume boutique in Paris (I didn't make it into the CdG clothing boutiques there). It is "futuristic," but not nearly as forbidding or
Logan's Run
as that sounds. It is, as one would expect, the perfect place to find Rei Kawakubo's &
Junya Watanabe'
s super-cool clothes.
Like this: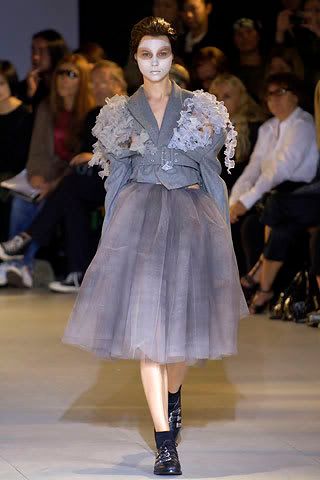 This is a seriously beautiful thing. Now, a lot of people dismiss Comme des Garçons as just wacky, impossible-to-wear avant-garde nonsense, but I implore you not to do that. I will be honest and say that while there are always at least a few pieces in any given CdG collection that I absolutely love, an entire closet filled with it would be a bit... much... for me. But. They are art, these things. Wearable art.
This jacket is so unbelievably complicated and beautiful and bewitching -- I could have stared at it for hours, and if I'd had a couple thousand extra smackers lying around it would be hanging in my closet right now. These are clothes that definitely tell the world you are more invested in
style
than in
fashion
. They are not trendy. They will be as amazing and challenging in 20 years as they are today, and that is the genius of Rei and Junya and all the other artisans and designers and craftsmen she has gathered around herself for the last 30 years.
(Comme des Garçons Spring 2007)
They are not the usual. One has to put aside certain preconceptions about clothes to love them, and not everyone can, in the same way not everyone can bring themselves to love non-figurative art.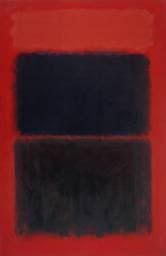 Mark Rothko,

Light Red Over Black
Rothko's art is one of my happy places. It brings me great joy to stand in front of one of his colorfield paintings, just like that jacket brought me joy in the Comme des Garçons boutique.
Aaaaaaat any rate, I snagged my two bottles of Harissa and trundled on my way. My one complaint about the New York store is that while they have all of the fragrances out and available for testing, they have no fueilles (paper strips) to spray them on. Better yet, the Paris boutique has little paper cones for testing, like you might find next to a water cooler. You spritz the fragrance into the cone, give it a moment to let the alcohol evaporate (please, I BEG of you people -- let the alcohol evaporate before you sniff ANY perfume!!) and then you can get a really nice, accurate snootful of the scent as it hovers in the little cone.
By the end of the day, both of my best friends, who live in New York, had each smelled Harissa and fallen in love with it, so on Saturday we made a return pilgrimage and bought a bottle for each of them. These are two women who are wildly different, style-wise: one runs to
Boden
and
Anthropologie
, the other to button-downs and flat-front pants. But they both got the magic of Harissa. This tickles me no end.
While we were down there, I also scooped up a bottle of Jaisalmer. Oh, spicy cardamom-y, cinnamon-y, woody goodness! Next on my Comme des Garçons wishlist is Zagorsk, so if anyone is shopping for my birthday... I'm just sayin'.
Photos: doverstreetmarket.com, designboom.com, future-systems.com, style.com, tateonline.com
Rothko painting ©Kate Rothko Prizel & Christopher Rothko/DACS