Cathy Horyn feels my pain. You should check out her New York Times article on the increasing difficulty of dressing like an adult in today's fashion climate. I'm a big fan of Ms. Horyn's, she's a terrific, insightful journalist and her blog is great, thoughful reading about fashion (although the comments section has turned into what appears to be a blog itself for some regular readers).

I'm still undecided about the cute little DVF dress I bought the other day. It's not about the dress, it's about how much I loathe or can live with my own chubby little knees. It's a close call, unlike these:


I will not be wearing this. It's a lovely little thing, it looks like an upside-down flower, but I don't have the... (wait for it) stems.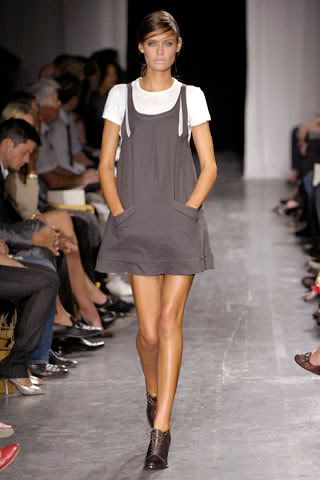 In case you're nostalgic for your days of hopscotch & jacks. (Do little girls still play hopscotch & jacks? Or are they all too busy text-messaging their fellow 6 year-olds to plan trips to the mall to buy glittery fingernail polish?)
This is strictly for giggles. Are you giggling? I sure did. Dr. Seuss couture!
Here's the right way to do it: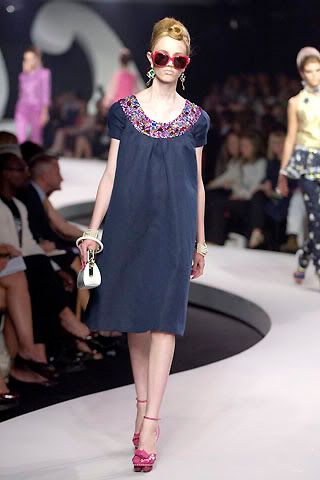 From Dior Resort 2008. This dress makes me want to cry a little, it's so perfect. And what is going on with those
shoes
??? Yowza!!
Which reminds me -- the Resort Collections are showing and I'm really going to be too busy to do any posting about them for the next few days and I'm feeling resentful about that. Here's a taste, from the hallucinogenic cocktail party that is John Galliano's imagination:
Oh, I soooooo want to hang out with him. He's just too much fun.
Photos: Style.com