Here's the last installment of photos from the Met's Costume Institute Gala. Our first section today is The Socialites:




Eliza Reed Bolen, wearing a dress designed by her stepfather, Oscar de la Renta. It's good to be people who knows people, huh? Oscar had a good night at the Met, there were several women wearing very beautiful dresses of his. But then, few know how to turn out an exquisite dress with the dependability of Mr. de la Renta. He is a master.



Fabiola Beracasa in Givenchy Haute Couture
Oh, I want to love it, but I can't. I can't even
like
it. I'm forever complaining about how people don't take risks with fashion and how folks who have the means & access to wear truly adventurous clothes never do and it's all so boring, blah-blah-sour-grapes-fishcakes-blah. And then Fabby Darling shows up in this dress and I know I should applaud her, but I just
hate
the damn thing. I hate that dust brown non-color, I hate that honeycomb stuff that makes it look like it's made from one of those tissue paper tabletop Easter decorations that goes from flat to 3D, I hate that it makes her look HUGE, like some silk chiffon Michelin man, and I reeeeeeally hate that peekaboo effect at the legs -- it's like some trashy negligée from Frederick's of Hollywood. The whole thing is just tragifying.
Tinsley Mortimer (in Versace) wants to be the next Jessica Simpson. Go, Tins!


Donald and Melania Trump in Michael Kors
Now
this
is the way to do a shimmy dress! Think whatever you want about the Donald, his wife is one hot babe and she knows how to work her own assets. I'm a big fan of the shimmy dress, and interestingly, my friend Anita, who accompanied me to the Neiman Marcus Grand Opening Gala here in Austin, went to that event in a black one, also by Michael Kors. The great thing about hers (and I'm assuming the one Melania's wearing) was that it was basically a knit jersey tube with the fringe sewn on it in tiers. Believe it or not, incredibly forgiving and comfortable. You can see the shape of the body underneath it, but the fringe does a marvelous job of hiding any bumps or bulges you're not wanting to display, not to mention distracting the eye with all that fabulous movement. Love it.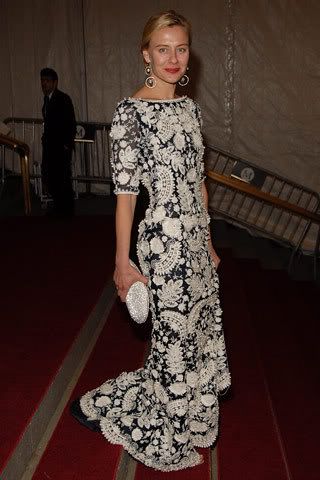 Renée Rockefeller in Oscar de la Renta
This is just gorgeous. I don't know if it's passamenterie or embroidery or appliqué or what, but it's stunning. And again -- note that while the fabric is stupendously ornate, the shape of the dress is extremely simple. Balance, grasshopper. Very important.
Franca Sozzani (in Alberta Ferretti) with Lapo Elkann
Jeez. Imagine what he must have looked like
before
the rehab... And why is he wearing my Grandpap Bruno's old slippers?
Steven Newhouse with Gina Sanders in Angel Sanchez
Oh, dear lord. Where do I begin? Thing is, if the dress were only the blue brocade strapless sheath, it would be fine. Not stellar, but fine. Unfortunately, Mr. Sanchez could not stop at fine. Instead, he draped what appears to be a gold fishing net over the dress, then used fur
(fur!)
to create a geometric outline
guaranteed
to make the wearer of the dress look tragically pear-shaped by hiding her bust and outlining her hips. None of these elements go together, the neckline looks as if moths got at it, the cheesy gold Arthurian netting forms a train (
a train!
) behind her, trailing bad taste and muffled snickers wherever she goes. A complete disaster. Mr. Sanchez should be whipped with a yardstick and this woman should have her solo shopping privileges revoked for at least five years. Truly one of the worst dresses I've ever seen.
The next section is titled Miscellaneous, or People Who I Don't Know or Who are Famous for No Good Reason:
I have absolutely
no idea
who this young woman is, and I can't be bothered to google her. All I see when I look at her is grist for my fashion mill. To wit: this is why satin is so difficult. I like the clever little roses at the waistline, but this broad expanse of satin just reflects light and makes her look bigger than she is. Not to mention that after she sits for 15 minutes, that gray tube of satin is going to have so many creases she's going to look like she's wearing an elephant's trunk for a skirt. I can't believe it isn't wrinkled already: she either arrived at the event nude & dressed in the ladies' room or took the subway and stood up all the way.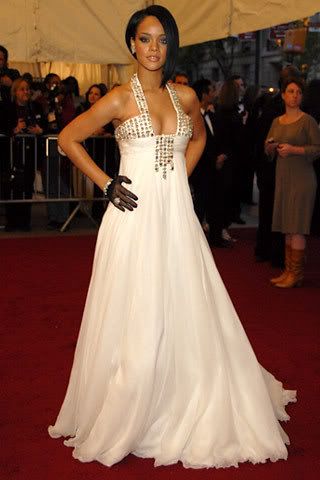 Her name is Rihanna. Since it's a one-word name, I gather she must be some sort of "singer" or "musician." Her gown is by Georges Chakra. I feel I am seeing entirely too much of
her
chakras. And is that seriously a black mesh glove on her hand? Is she kidding??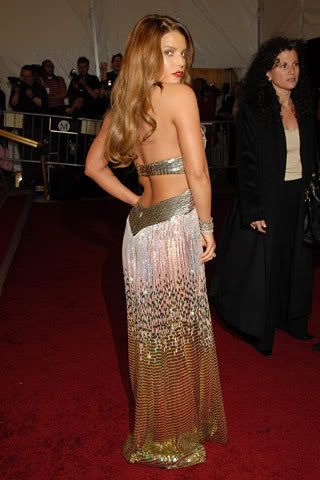 Jessica Simpson in Roberto Cavalli
Because you never know when you're going to need someone to pop out of a cake. Seriously, she is circling the trashy drain these days.
Bob Guccione
likes his women classier than this, for pete's sake. Don't believe me? Check out
my bloghero Manolo's take
, for pithy commentary and the (godhelpus) frontal view.
Okay. That's it. You can go to
Style.com
for the full scoop and to see many, many more pictures of garments both classic and questionable. Have fun!
photos: Style.com