Herewith, some views of folks at the Metropolitan Museum of Art's Annual Costume Institute Gala. This year's ball celebrated the Met's exhibit titled "The King of Fashion," which is a tribute to the French genius Paul Poiret, whose heyday was the first two decades of the 20th century. This will explain some of the fashion choices (although, god knows, some are beyond all explanation).

There are a ton of photos available from this event. Lots of pretty dresses, lots of eyebrow-raisers. I've divided my comments into segments based on the attendees' milieus. First, we bring you The Fashionistas:




Vogue's Sally Singer in Balenciaga


I have an outfit similar to this. I'm never wearing it again.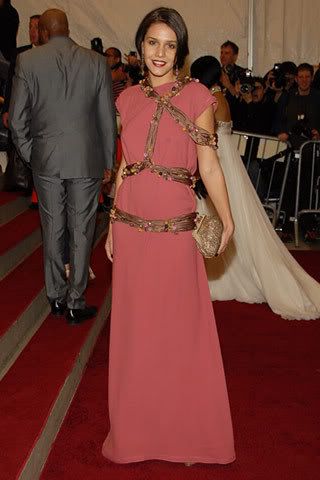 Margherita Missoni in Missoni.


If your own mother designs the dress and you
still
can't figure out how to put it on, something is very wrong.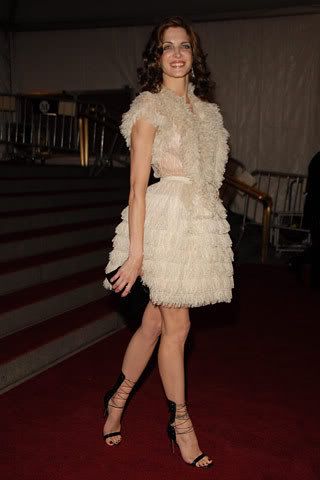 Stephanie Seymour, who evidently made a dress from her toilet-cleaning brush.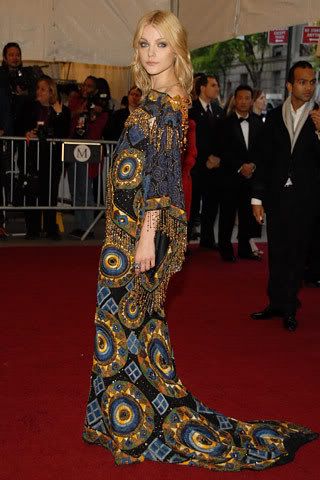 Jessica Stam in Dior Couture by John Galliano


I
love
this. It beautifully evokes the spirit of Poiret and besides that is a stunning dress. I'd love to see it close up -- I'll bet that beading and fringe is heart-stopping. It's so

easy

and it looks effortless -- plunk it on over your head and

voila

! You're perfection!



My girl Miuccia Prada in her own design
Can't help it, I love her. While I wasn't terribly keen on
her latest collection for Prada
, I adore her trademark mix of something flashy-spectacular with something neat & muted. Yes, I love that skirt. Why not? It's bright, it's colorful -- it's FUN. Fashion should be FUN, dammit!! She's paired it with a relatively sober blouse, very limited jewelry and shoes that are kicky but not over-the-top: it's perfect. (Actually, those shoes are magically delicious, aren't they -- that's enough to inspire a gal to get some orange into her wardrobe.) I have a great skirt made of shredded tulle and sequins that I love to wear with a simple button-down shirt or a sleeveless knit shell; it's the same idea. All you need for a great outfit is one special piece that you highlight. You go, Miuccia!
Julia Restoin-Roitfeld in Phi
"

Ah, dommage, je suis trop fatigué

to change out of my nightgown!" This may be taking "effortless French chic" a bit far.
Grace Coddington, cut your hair! You're a million and six years old and your hair looks like it belongs on a cheerleading squad somewhere.
Iman and David Bowie. Dear lord. Two more beautiful people you're unlikely to find. I'm skipping over the walking stick -- I'm assuming that Iman has had knee surgery or some such because I can't otherwise imagine her adopting such an affectation. They're just flawless.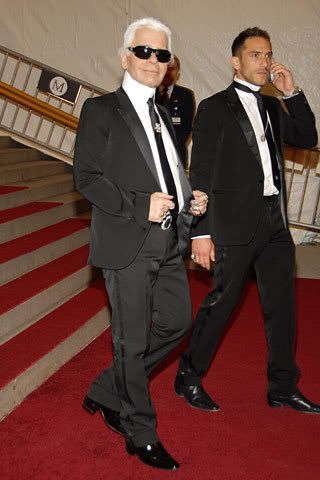 M. Lagerfeld, only hitting about a 6 on the 1 - 10 scale of Lagerfeldianism. But we must admire the attention to detail that extends to matching his assistant to his wardrobe.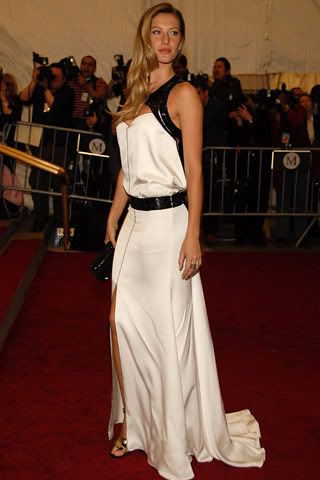 Granted, it's hard to go wrong when you look like this, but the dress is fantastic.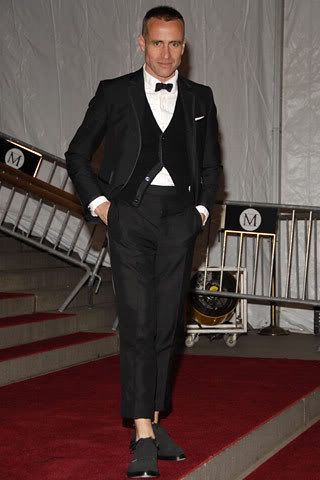 I am so over this guy. Blah-blah-quirky-no-socks-fishcakes-blah. As far as I can tell, he just gets all his "design" ideas from
Weezer videos
, puts them on the runway, and calls them Fashion. Even Scott over at the
Sartorialist
, who was a great fan & supporter of Browne, is
getting a little tired of it
. (Scroll down to about midway down the page for his article.)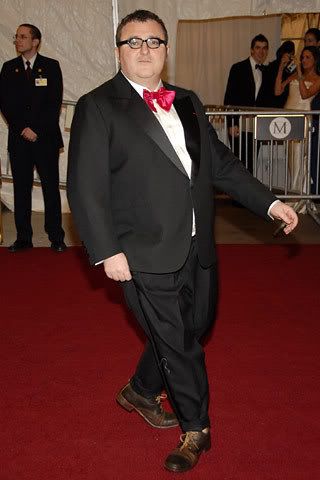 My favorite fashion teddy bear Alber Elbaz. Alber,

petit chou, je t'adore

, but we need to talk about your shoes...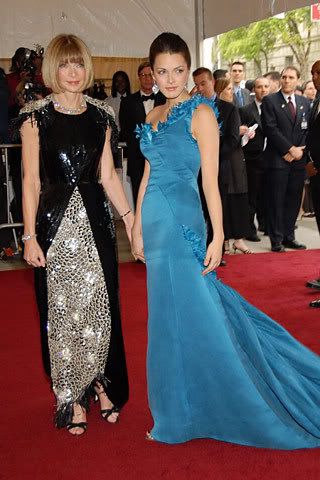 Anna Wintour in Chanel Haute Couture (with Bee Shaffer)
I think Anna needs to go to the hair salon with Grace Coddington. Agreed, it's certainly a classier and more age-appropriate hairdo, but the whole signature-hair thing just wears a bit thin, unless you have considerably more personality than La Win
dour
.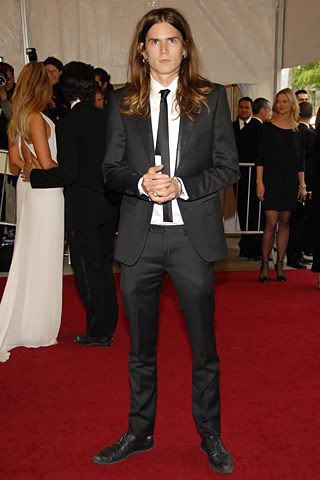 Jamie Burke in Calvin Klein Collection
This is the vacant-eyed man-child I've been seeing in Calvin Klein ads lately. He has the body of a pre-adolescent boy, two pierced ears, and lots of hair. Apparently, that's all it takes to be a male model these days. He's one of many, many pretty little boys who I'm seeing in magazine ads and while I'm sure he appeals to the Forever 21 crowd, his charm is completely lost on me. I just want to call him mom & ask her if she knows what he's up to. I guess I'm just getting old. Also, buddy? If you're going to wear trousers that narrow,

empty your freaking pockets

! It looks like he has a couple of Matchbox cars, a capgun and his Gameboy in there.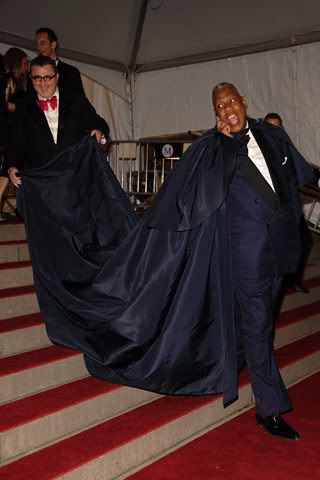 André Leon "It's All About Me" Talley trailed by Alber Elbaz
That's Dracula on the phone, bitching out ALT for borrowing the cape without asking first.
More coming soon...
Photos: Style.com