I'm inconsistent. But you know what Emerson said about consistency, and so I feel okay about it.

How am I inconsistent? I'll tell ya. I prattle on here quite a little bit about how I look for innovation in fashion design, how I like to see the envelope pushed, how bored I get by the same old same old, and how I'd rather someone shock or dismay me than make me yawn.

And yet.

I love Michael Kors. I mean really, really love him. But I don't think even the most charitable among us could call him a fashion innovator. Kors creates, season after season, excellent, reliable, recognizable, slick (in a good way), sleek, sexy, accessible, easy-to-understand American sportswear. And he does it at several price points, so it's often quite affordable. There's a Michael Kors store here in Austin and I don't think I've ever walked through there without seeing at least a few things that made me think, "That would be a great long-term addition to any woman's wardrobe." (Okay, maybe I don't string that sentence together in my head, but I assure you that's what the grunting noise & approving nod translate to.) There are always pieces that are recognizable as being from a specific season based on color palette or pattern, but there are not often things that are one-season toss-aways. You don't have to spend a mint to acquire something from Michael Kors, but you don't have to feel bad if you do. You're going to have it for years. (Also, his sizing is generously American. Michael Kors makes me feel skinny!)

You'd have this for years:


provided, of course, that you didn't wear it to rags in the first six months.



Yes. The hat is silly. I'll bet it's toasty warm, though. And I'll bet that jacket is double-faced wool and softsoftsoft. That's a fantastic piece. You could put that over a cocktail dress or a pair of jeans and it would look wonderful either way.




Tattersall trench coat. Impossible to argue with. Forever. And that great big thing around her neck?



Waaaaaant.



There was a whole bunch of sexy-yet-wearable suits:


This season has been all about the shoulder -- so many interesting sleeve treatments, and here's another one.



Again with the sleeves. Wonderful!


The other shoulder treatment Kors was very into was getting rid of one of them -- all kinds of one-shouldered numbers.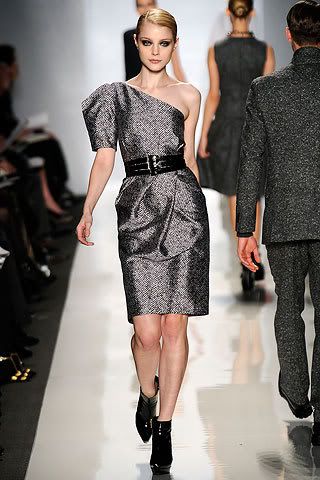 It's almost a shame that dress has only one shoulder because the sleeve is so great.


Herringbone-printed silk. So pretty.
What's chic-er than that?
I adore this. This is my favorite kind of cocktail dressing -- the super-special skirt and the easy sweater over it. Dreamy.



More tattersall:


I'm such a sucker for fabrics used in unexpected ways and this dress is so adorable. A strapless dress even a flat-chested gal could wear.
Oh, look at the seaming on that! To die.
The show, as you're probably noticing, was almost exclusively neutrals -- black, gray, tan. There were few good hits of color, like this juicy little tangerine number


Oh, delicious. That would certainly brighten up a winter day. Bright being the key word -- this is actually a toned-down version of the orange that made an appearance in other places, and there was this



Hot! Pink! Little cozycozy and neon yellow was also featured


That is not my favorite yellow by a long shot, but I find the coat appealing for its relentless cheerfulness. And I really do like the pink poncho/cape thing above it, that's wonderfully
sportif
. I would do without the matching hat, I think, but I would applaud anyone else who went for it.


There were also some very, very good shoes in this show.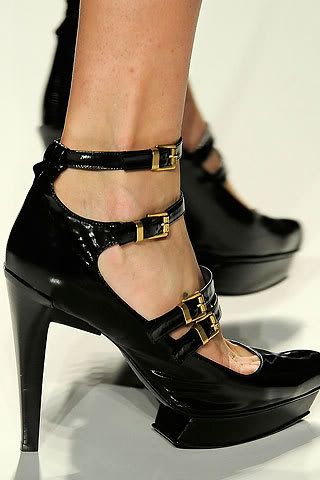 I actually have a several-years old Kors shoe that's along the lines of the one above.


This is my go-to bad girl shoe. They're good, aren't they? I like wearing them with something really classic & tailored, they shake things up a bit. Hmmm. I'm getting ideas for a really great ensemble with these shoes, inspired by this collection...


I could go on & on about this show, I could show you dozens more photos (including some great men's wear), but you really should just
go check it out
for yourself.



Photos: style.com