Last weekend I watched this:


My denim guru Broc turned me on to this movie and I'm really glad he did. Here's a taste:
If you have any love for or curiosity about fashion and what goes into the creation of a collection and a fashion show, I highly recommend this movie. If your interest in this sort of thing is strictly that of a love of documentaries, ehhhhhh, not so much. The filmmaker also serves as the narrator for the movie, and while he provides a pleasantly casual, slightly quirky tone, I'm not always sure of his point of view of his subject. Nonetheless, there is a lot of juicy footage in here for fashion lovers.
The thrust of the film is preparations leading up to the Spring 2007 collections for both
Jacobs' namesake label
and
Louis Vuitton
. It's worth looking at those two collections side by side to get a good feeling for the overlap and intersect that seems to happen with Jacobs and the two lines he creates.
Marc Jacobs, S/S 07



I don't think this is necessarily a bad thing, and given that Jacobs' design seems to come so much from his interior world & imagination, it makes perfect sense. He seems less concerned with making a commercial product than many designers working today, and he truly does seem to pull his work from some personal well of inspiration. Whether his so-far excellent track record of producing Just the Thing That Everyone Has to Have This Season collection after collection is a result of an uncanny ability to read what's in the air or an equally uncanny ability to create something so irresistible that everybody wants it is impossible to determine, of course, and probably not important. The
fact
of it -- that's what's important.
I've made a lot of cracks about Marc Jacobs on this blog, because despite having no problem giving him props for his amazing talent as a designer, what I read of his real-life behavior makes me think I wouldn't be crazy about him as a person. I have to say, in this documentary he comes off as not such a bad guy. I'm well-aware that skillful editing can create just about any tone a filmmaker desires in his work, but there are an awful lot of people in this film saying awfully nice things about Jacobs, and he has a good many employees who've been with him for a very long time, which says a lot.
And he
works
those employees --
hard
-- in the run-ups to the two shows. There are sleepless nights and blistered fingers and seamstresses & assistants so exhausted they dissolve into helpless fits of hysterical giggles over their work. Garments are being sewn right down to the wire and appear backstage at the very last millisecond and sometimes not at all. This is a great behind-the-scenes look at exactly how much backbreaking work goes into these productions on every side, and suddenly Jacobs' famously-late show starts make sense. The exhaustion is palpable -- even the models can sometimes barely hold it together. There's a scene in which one of them (Tanya Dziahileva, I think) is backstage before the Marc Jacobs show, face blotchy and eyes a positive waterfall of tears -- so much makeup has been troweled onto and then scraped off this poor girl's face by the end of NY Fashion Week that her body appears to have simply thrown in the towel and rejected it in a massive allergic response. It doesn't look all that fun or glamorous from that vantage point.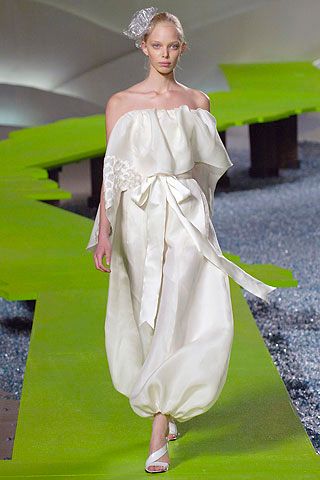 (She recovers, bless her, and gets to wear one of my favorite looks in the show.)
There's a lot of time spent on the creative process of the collections, which is fascinating. We also get a good dose of "What Inspires Marc," from stories about his impressive personal collection of art and meetings with his heroes and heroines of the art world like Takashi Murakami, with whom he made those famous must-have LV bags.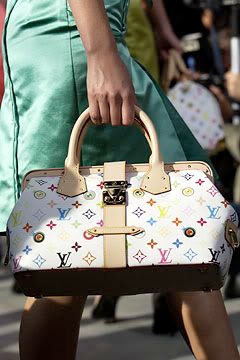 They appeared on the runway in the S/S 03 shows and spawned a frenzy of frothy-mouthed bag lust, waiting lists as long as a supermodel's legs, and a million counterfeits & knockoffs. After these bad boys, my guess is the PTB at Vuitton basically handed Jacobs the keys to the kingdom and went & had themselves a Pernod. I don't even wanna
know
how much money those things brought in to that company.
Speaking of bags, if you watch the film on DVD, do not ignore the "Special Features" section, which has some clips that didn't make it into the main body of the movie. My favorite is a long section detailing the construction of this monster
The amount of blood, sweat, & tears that goes into the creation of this bag will blow you away, as will the pride and dedication of the craftspeople in the Vuitton workroom, who struggle for days to build this thing in time for the show. It's a hugely complicated piece of work, and watching this does go a long way to explaining the prices on those dingdong Vuitton bags. (Only 12, I think, of these bags were actually produced, and if memory serves they sold for €35,000 apiece. That roughs out to about 50,000 bucks.)
There is an engaging moment when, asked about his inspiration process, Jacobs comes out and confesses that it's really not anything all that complicated or magical. He takes stuff in, he thinks about it, ideas percolate in his brain, he puts them on paper. To his credit, he doesn't seem overly impressed with his own genius.
It's doubtful this is a perfectly accurate portrait of Jacobs. For one thing,
Bernard Arnault
, who is Jacobs' boss at Vuitton and makes several appearance in this film, is a guy with a LOT of drag in France. My guess is that a doc originally produced for French television that shredded the prize horse in his stable would have been a notion quickly quashed. And obviously it wasn't Prigent's purpose to make a warts-and-all kind of film. From a purely film-review perspective, I'm not entirely sure
what
Prigent's aim was, because the tone and the techniques of the thing can jump around pretty wildly. Despite this, it really is a fascinating couple of hours spent looking into the inner workings of some pretty fashion-y goings-on.
So. Style Spy says: Two stilettos up for this film! Absolutely see it if you get the chance.
Photos: Style.com