Good googly-moogly. More runway. Believe it or not, it's resort collections in New York already. Honestly, it's enough to wear a gal out. Resort I kind of can go with, because it historically was the summer-y clothes that appeared in winter to be bought by ladies who actually "resort-ed" by decamping to Palm Springs or Las Vegas or some other warm-weather winter hideaway. And while certainly lots of folks still take mid-winter vacations to beachy locales, something about "resort" feels a little anachronistic to me, a little old-fashioned. But every collection is a new money-making opportunity for its producers, doncha know, so I'm sure we won't be seeing the end of these little inter-season shows any time soon.*

Marketing device or no, I'm always happy to look at whatever my girl Miuccia sends down the runway. I liked this collection, and it occurred to me that if the concept of "resort" seems "old-fashioned" as in "mid-20th century" to me, this collection takes it several steps further. The shapes reminded me of fashions by Paul Poiret in the late 1910's leading into the Flapper-esque 1920's, and the patterns reminded me very much of the Orientalism popularized by Poiret and other designers who were influenced by the Ballets Russes and Leon Bakst's costumes for that company.



Pretty! This just seems like something
Anna Pavlova
would have tossed on and then worn while she wandered around in her garden drinking champagne and striking graceful poses.
See?
This dress (and several others) borrows with very little alteration a silhouette she used extensively in her last Fall collection: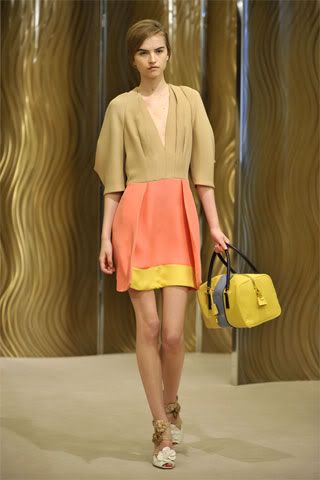 but the colors are much yummier. I love the colors she's using for Resort -- they're straight out of a box of
Ladurée
macarons.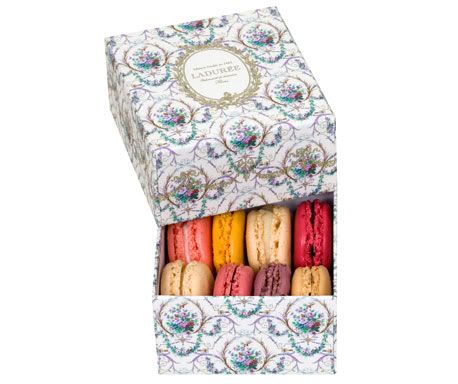 Okay, now I

really

want a salted caramel macaron in the very worst way. Waaaaaaah!!!
There was a section of black dresses that looked really nice -- the silhouettes were similar to the previous dresses, but they were black so A) they didn't photograph as well and B) ::yawn::; then things moved into a more schoolgirl (well, school
boy
, actually), tailored thing that I've really been loving lately, but done in those delicious colors.
(I think I'd go ahead & wear this blouse with

pants

, but it

is

a resort collection, so...)
I love these super-neat sweater-dresses with the scarf-y overskirts, and I also love the way the scarves are translated into those ankle-tied shoes. I'm looking forward to getting a closer look at those shoes -- I couldn't find better pictures yet.
Glorious prints...
These were the things that called to mind the Ballets Russes costumes for me: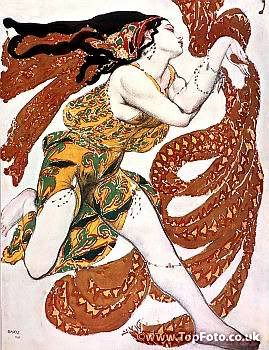 Costume design by Léon Bakst from 1911
Costume for "Scheherazade," 1910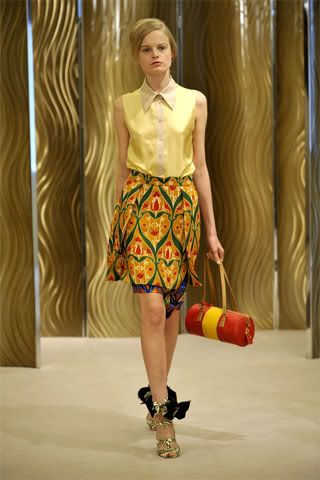 Costume for "The Firebird," 1910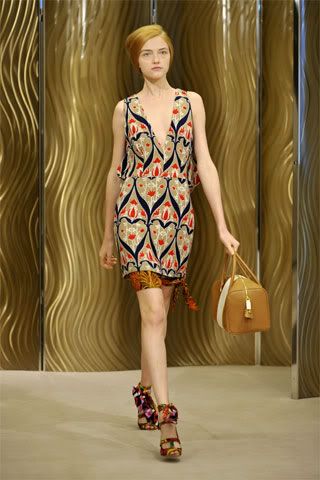 See what I mean? There's something very vintage-y about these prints and shapes, something even further back than the mid-50's starlets lounging around a Las Vegas hotel swimming pool that the idea of "resort" conjures up for me. I think it's just beautiful, in a very simple and elegant way. At first glance, these clothes felt very young to me, but I think that's because Prada seems to favor extremely young models wearing extremely plain makeup, which has the effect of making them all look like they're 12 (and some of them probably aren't all that far removed from that). But taking a second look at, I think they're very sophisticated and subtle in a way that might be a bit wasted on someone too young. Even Miuccia's carefree clothes seem a little cerebral to me, and while they look great on all sorts of women, to me they really shine on someone who has the brains and experience to back up her looks. I think Prada's clothes look best on someone who's not just a pretty face -- they take a little presence to pull them off properly.

So what do you guys think? Would you wear any of this? All of it? None of it? Tell me your thoughts!

*And you don't even want to get me started on "pre-fall." You know what we call "pre-fall" where I come from?
Summer
.
Images: Style.com, National Library of Australia, Metropolitan Museum of Art