Phillip Lim showed his Resort 2010 collection in New York Monday. I won't go so far as to say that it's my favorite collection ever, or even my favorite Lim ever, but it doesn't do anything to dissuade me from the fashion crush I have on this very talented designer.

I think I've stated before that I feel like Phillip Lim is our next Oscar de la Renta. He makes chic, gorgeous clothes that most every woman admires when she sees and looks good in when she wears. There is a definite, inescapable femininity and youth in Lim's designs, but he is very young himself and there's no reason to imagine that his clothes won't mature as he does. (Lim is 35. His company, 3.1 Phillip Lim, is called that because he was 31 years old when he started it in 2005. There -- you learned something today!) And while they are youthful, they are not childish or twee in the way many labels at this price point often are (I'm talking to you, Marc by Marc!) and most of the clothes can be worn successfully by a woman of any age.

The collection starts out with some really, really gorgeous lace.

I'm a big
fan of
lace in general, especially
tape laces
, and this looks like a really nice one.
Of course, we have the problematical length to deal with. They may

call

this a dress, but we grown-ups know that in no world we want to live in does that actually qualify as a dress. On the other hand, it's too long to be a top unless you are 6 feet tall and have a way with belts. Still. It's pretty,
non
?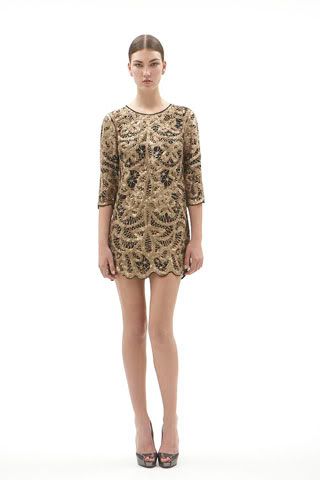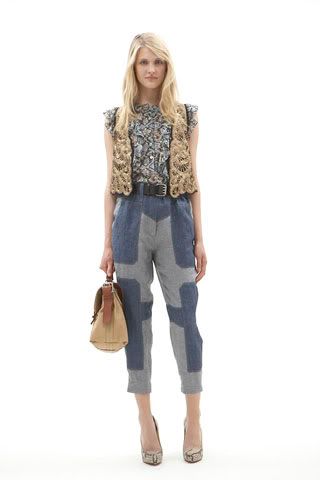 We're just going to ignore that hideous patchwork denim mutant masquerading as pants. Everyone is entitled to a miss now & then.
Also, the jumpsuits seem still to be with us. Just hold tight and ride it out, ladies. This too shall pass.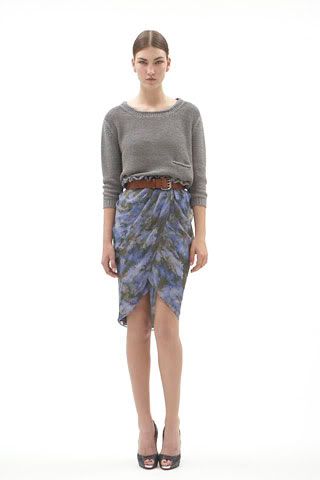 This skirt strikes me as very "Lim-y." Love that sensuous drapey-ness, he's really good at that. Mr. Lim is a dab hand with chiffon. And I always love a dressy skirt paired with a loose, casual top.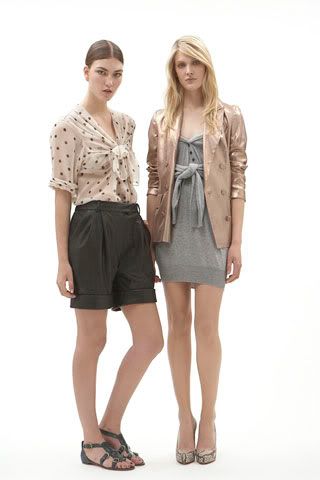 Speaking of chiffon, I'm all excited about that polka dot blouse. Wonderful.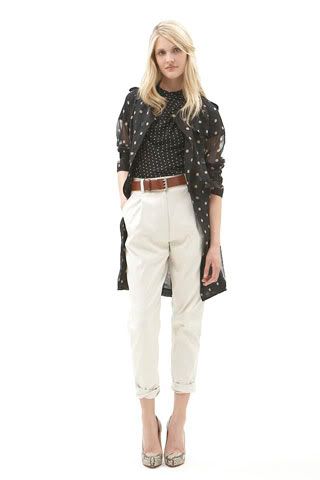 Speaking of excited -- can we talk about the polka dot trench coat? ::swoon:: Actually, I don't want to talk about it so much as I want to
own
it. Fantastic.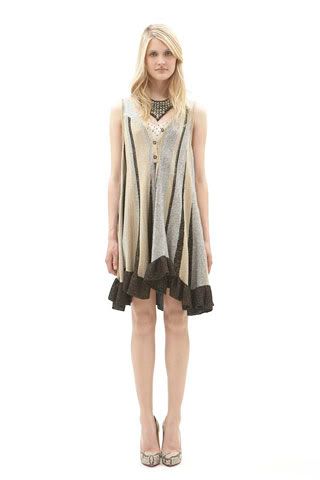 Honestly, I don't know what's up with this. I believe Lim is putting out (or has recently put out -- who on earth can keep up with all these people?) a lingerie line, and this collection had a few pieces that seemed to be playing on that with big loosey-goosey chiffon bits attached to lingerie-like top gizmos. Whatever. Roll on.
But hooray for lamé pants, and hooray for the cropped narrow pant, which I am still craving, especially paired with that prim/sexy blouse. I
love
this.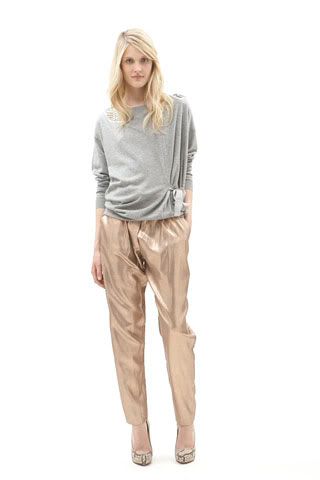 More lamé pants, still narrow, longer but again with that looseness at the waist and the slouchy top. I'm still in love with this whole silhouette, and I'm dying to see these pants up close & get a feel for the fabric.
At this point, I can't say that Phillip Lim is pushing the boundaries in the way that a lot of designers do. Sure, it's wonderful to be
Rei Kawakubo
or
Hussein Chalayan
and have your
raison d'etre be
to challenge people's perceptions of what fashion is on a daily basis. On the other hand, it is no mean feat to make beautiful, wearable, desirable clothes that are not off-putting and yet
not boring
year in and year out. It may in fact take more genius to ongoingly move the generally accessible forward in small increments than to burn the house down & start over every season. Sure, there is
a tiny percentage of people
for whom it is realistic to sport
$5000 Balmain jackets.
* The rest of us? We just need a good pair of pants and a pretty blouse that's going to get us through more than one season. Phillip Lim is both talented and savvy, and he's hooking a generation of young (and not-so-young!) fashionistas with his pretty, wearable, reasonably-priced fashion crack.
I for one am
not
going to tell you to Just Say No.
*(Please note that that bad boy is
sold out
. Seriously. Also seriously? My car is worth less than that coat. There are a
myriad
of reasons that tragifies me -- I can't even begin to decide which is the worst.)





Images: Style.com