Lookee here! My buddy Isaac Mizrahi has a new tv show!




The show premiered last week (sorry I didn't get a heads-up posted, it completely sneaked up on me) and I of course watched with rapt attention. It's different from Project Runway in that... um... well, okay, it's not significantly different from Project Runway. There are some tiny procedural variations, but basically it's the same show. I'm not sure how they're getting away with this, but I don't care. I'm already hooked. And a lot of it has to do with Isaac.

There are several designers I would like to be on pick-up-the-phone-and-order-
fabulous-new-duds terms with. But I think of all the designers working today, the one I'd most like to be best girlfriends with is Isaac Mizrahi. I just love him. Look:



Here's Isaac with model Coco Rocha at the Met ball last weekend. There are no end of photos of various designers with the model "dates" standing around looking bored by their own cheekbones, but these two far and away win the award for looking like they're having the most fun. He just seems like someone you could go out for drinks with and spend the entire evening just yak yak yakking away, dishing about fashion and boys and politics. I get the impression that talking with Isaac is like eating a really good meal.
See?
I also love his clothes.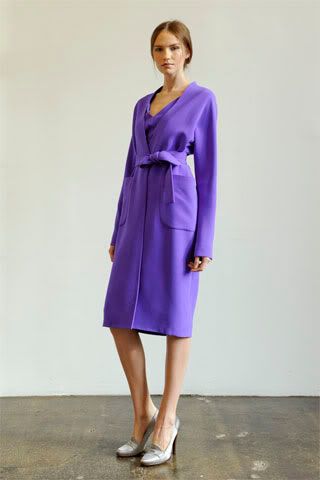 Pre-Fall 09
Mizrahi's clothes are exuberant. Not necessarily wackdoodle or over the top, but full of life and energy and like me, he loves color. I adore the stuff he desings under his own name, but it's expensive and not all that easy to find around my parts. He started the trend for "masstige" by doing a line for Target for several years, as we all know, but that has come to an end now because he's taken over design duties at Liz Claiborne. And so far so good over there.


I just love both of these things. So fun and colorful and just all-around good and the prices, as one would expect from Liz Claiborne, are great. (As a matter of fact, that shirtdress is on
sale
-- click the photos for links.) Important fact about this line: there are Misses sizes, Petites, Plus, and even a range of slacks in Petite Plus. Woo-hoo! I expect the quality of the garments to be a little higher than the Target line was. Liz Claiborne hasn't been known for making exciting fashion for quite a while now, but they make dependably decent clothes for their price point. As a matter of fact, I have a bright red LC trench coat that has done very well by me for several seasons now. Every time I wear it I am
besieged
with compliments -- high-end fashionistas wearing head-to-toe designer duds have enviously inquired after that coat many times. It's pretty perfect.
So I love Isaac. And I'll be watching his show, and I'll
definitely
be checking out the Liz Claiborne goods in Macy's next time I swing through there. How about you guys? Did anyone watch last Thursday? I'm not ready to make a call on a winner yet, but I'm intrigued and entertained and the show has made it into the regular DVR recording schedule. If you missed it & you're interested, you can watch full episodes online at the website. Give it a look-see and tell me what you think!
Photos: Style.com