I spent the Memorial Day holiday in Dallas with some dear friends. It was a lovely three-day weekend spent in the company of three of my most beloved friends, so even if I hadn't done anything besides sit on my butt in their living room it would have been great, but it was filled with fun. Saturday, we had dinner at a lovely tapas bar, where I ate a tuna tartare dish that made me nearly cry. (Yummy seasoned tuna over a pear slaw with a hazlenut/anchovy/olive purée. Seriously. So. Damn. Good. And these particular friends happen to all be big ol' weenies cautious when it comes to raw seafood, so I got to eat ALL of it all by myself!!!)

Sunday I finally got to go here:





This is the Modern Art Museum of Fort Worth, designed by Pritzker Prize-winning architect Tadao Ando and filled with some mighty fantastic stuff. This building is... words fail me. It is simply spectacular. Even if it didn't house some of the best art I've gotten to look at in quite a while (more about which at a later date), it's worth visiting just to experience the architecture. If you live within striking distance of Ft. Worth and you haven't been there, hie thee over and take a gander.

And then... there was some retailing. Because... well, because that's what I do. (You may notice you've yet to read about me going on vacation at a beach or an isolated mountain cabin or anyplace like that. Quelle surprise.)

I was retailing both with a purpose and with great restraint. The purpose was to replace a bottle of one of my Top Three Frags at Barney's and sniff some new things I haven't yet tried & some old things I'm interesting in trying anew. (I'm on the hunt for something kind of specific, fragrance-wise -- again, more about which later.) The restraint was... a fact of life. Style Spy is not blessed (Dammit!) with unlimited funds and needs to be pinching her pennies if she ever wants to return to Paris. (Which she does.) So I was good. I was very, very good. What follows here is a list of things I resisted, for which I would like to receive some cyper-pats on my curly little head, thankyouverymuch. Because all of the things shown here were either in my hot little hands or on my hot little feet and, additionally, they were on sale. Everything pictured here was available at 40% or more off this past Monday at either Nordstrom or Barney's and I? Said no to ALL OF IT. (::Style Spy bends to make head available for patting here::)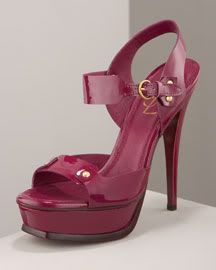 YSL. These come in black and navy, as well as the burgundy, which is gorgeous.
Even more fun? Pink! ones at Luisaviaroma.

I want a pair of Tribute-based sandals of some sort so much I can practically taste them, but thus far I have refrained. I just live vicariously through
Thumbelina
. More patting, please.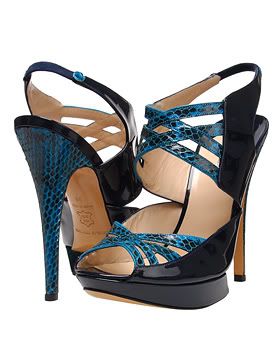 Nicholas Kirkwood sandals that seriously make a gal gasp out loud. These I didn't even put on because I was pretty sure they'd never come off. And then I'd have had a situation on my hands.
They're available in purple at Luisaviaroma. Good googly-moogly...
Christian Louboutin Lillian in light pink. Oh, my.
Louboutin Hyper Privé in Shocking Pink. Yeah, buddy, these are PINK. Neon, crazy, not-found-in-nature pink. And yet? They work somehow.

I. Just. Want. Them. That is all.

In all honesty, the Loubies shown above weren't that hard to walk away from because they don't fit me. Louboutins are made on a very, very narrow last -- I have tried on exactly
one
pair of them in my entire life that I thought I could probably wear without crippling discomfort. These:
These? Are some pretty damned fine red patent sandals that would go with everything and never go out of style. Most yummy.
Also yummy. I do not understand how a bow can be made to look both girly and perverse at the same time, but they have managed it in this shoe. These were also available in burgundy, which is even better than the black and far more tempting to me. But I did find that even though these shoes made me instantly sexier and more sophisticated (really!), the top edge of the forefoot came up just a liiiiiiiittle too high -- if I wore these for any length of time they would rub me painfully. I was very surprised by this because typically I have great luck with YSL shoes, they're usually quite comfie on me.
Lastly, on pre-sale* at Barney's:
I put them on but I didn't bother to look at them in the mirror. It would have been too painful. They really are wonderful, but even on sale they're... well, frankly, they're ridiculously expensive. I could get airfare to Paris for the cost of these things, even at 40% off. Which is what I have to keep reminding myself. I have good shoes already. What I need? Is Paris.
How about you guys? Anything you're putting off in favor of something else? What's at the top of your list right now, and how are you faring in your quest to achieve it?
* "Pre-sale" is a concept that annoys the hell out of me. When things go on pre-sale, you're shown the items at their reduced prices and you pay for them, but you don't get to take them home right away. I do not understand the logic of this. I understand pre-SELL, when you put in an order for something that might not yet be physically available at the store so as to ensure that it becomes yours before all of them get snapped up. But pre-SALE, where I give you my
real
money (or my
real
credit card signature) for
real
items that you obviously have there in your
real
inventory, and then you keep my goodies hidden away until such time as you deem fit to release them to me? I think that's a little more Master & Slave than I like in my retail relationships, thankyouverymuch.
Photo: themodern.org




Don't forget to help out with Style Spy's World Fashion Domination challenge!

Click here

to find out how you can become eligible for a gift certificate!