Okay, when did this happen and why didn't someone tell me about it?

Seriously, I don't know how I missed this: Gap now has pants made in what they call "curvy fit." For those of us girls who are shaped like actual girls this is amazing news. I've never had really good luck with Gap pants because I found them too straight up & down. But this Saturday I was at Ye Olde Shoppinge Malle and I popped into the Gap to check out what they had on the sale rack -- sale prices at the Gap get ridiculously low and I'm always on the lookout for nice, lightweight layering T's which can be had for a song there.

At any rate, once inside the Gap I was drawn to some very cute little bermuda shorts with a 25% off sign on top of their rack, and on perusing them more closely I realized that some were labeled "hip-slung fit" and some were labeled -- praise the angels -- "curvy fit." In disbelief I looked around a little and realized I was surrounded by an entire range of pants that were similarly labeled. Holy contoured waistband, Batman! Hand me some of those pants and show me where the dressing room is!

When the dust had settled, this is what I brought home:



Yeah, I know, that's crazy, but ya know what? There was some other signage at the Gap -- signs that said there was an additional 40% off all sale merch. So that pile of goods on my guest room couch up there? Less than $105. Yep. That's three pairs of pants, one pair of cropped pants, two pairs of bermudas, two long-sleeved t-shirts and two tissue-weight cotton v-neck sweaters. For less than half of a pair of premium denim jeans. I know I'm not supposed to be spending money right now, but I don't really have any summer slacks and come on... 100 bucks? I refuse to feel bad about that. Here's some of what I scored, and I highly rec all these pieces. (Click for links.)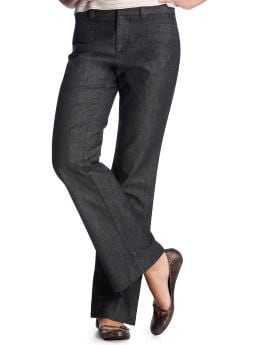 Cutest imaginable lightweight denim trousers. Welt pockets front & back, the perfect dark steely-blue summer denim. I bought two pairs of these, because I'm going to wear them to tatters. Actually, I bought
three
pairs of these, because I picked up a pair for my mom, as well. She loves them. Oh, ya know what? I bought
four
pairs of these -- because I also picked them up in a medium gray cotton poplin which is going to be ever-so-useful.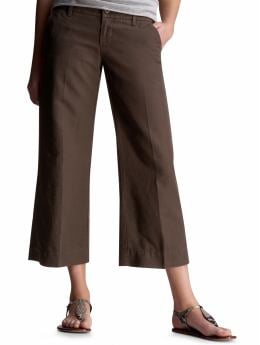 Margarita-drinkin' pants. These are going to see a lot of porch time this summer, I think.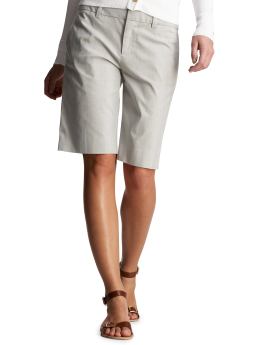 To my disbelief, I found I had absolutely no shorts in my wardrobe. None. (Well, running shorts, but I can't wear those in public if I'm not actively exercising.) I'm not a big shorts person, I usually prefer skirts in the summer, but I felt I probably needed at least one nice pair of tailored shorts. These also came in black, as well as this lovely pale gray menswear plaid. I got both.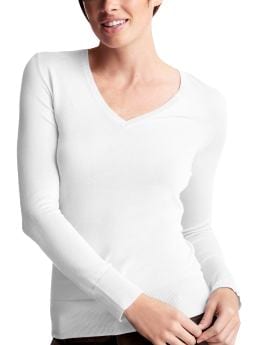 The tissue-weight cotton v-neck sweater. I don't need to explain why these things are great, do I? They seem only to have the white left on the website, but there were a lot of delicious Easter-egg colors left in the store. There was also navy, which I was very pleased about because I still needed a navy item to go with my
red & khaki YSL skirt
.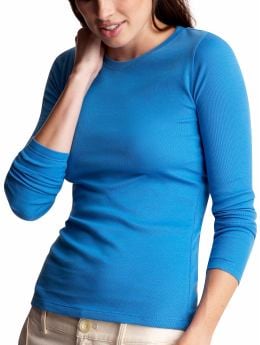 These also go without saying, right? My friend Deja Pseu over at
Une Femme d'un Certain Age
has been looking for good t-shirts. I do like the Favorite T's from Gap -- I like a T that's narrow through the body and nice & long, and these fit the bill. Of course, the sleeves are always way too long as well, but I'm used to that. This color is, I must say, awfully wonderful on a blue-eyed redhead.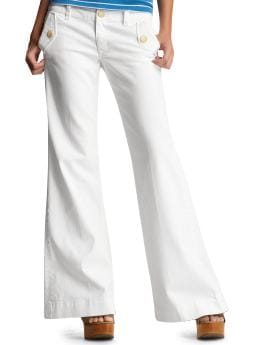 White jeans! Oh, I love white pants in summer, but I mostly don't even look at them. My issues with white clothing are myriad and well-documented: I hate when you can see through white clothes to either your underduds or the pockets or linings or whatnot, and I just can't see spending much money on white pants because oy -- by the end of summer there's sure to be salsa splashes and general shmutz all over them. But these were so crazy on sale, a perfect weight denim that you can't see through, and make my butt look so nice (if I do say so myself) that I grabbed 'em. I'm going to wear them with tall gold sandals and a metallic gold knit tank and pretend I'm
Carmen Kass
.
When I got home and dug through all my loot, I realized that I'd left behind a pair that I wanted:
Just cute little black cropped pants, but look at the back: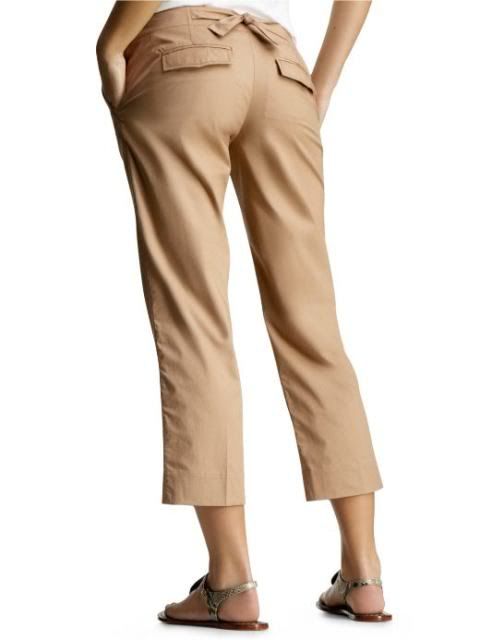 How adorable. That is the kind of butt bow I can get behind (or in front of, as the case may be), as opposed to some
I have loudly condemned
. (Hey, Wendy B -- do these make it onto
your butt-bow list
? Methinks they may be a little tame.) The other good thing is that this little tie is functional -- you can actually cinch up the back of the waist a bit with it.
Judging by the depth of my disappointment when I got home & found I had left these puppies in the dressing room, I think it's best that I hop out and pick some up today.
When I was checking out (and checking out, and checking out...) I asked the SA how long this Curvy Fit thing had been going on and was nonchalantly informed that they'd had them for aaaaaaaages. I don't know how true this is ("aaaaaaaages" has different meaning for people who are actually half my, um, age), but whenever it started I'll take it and hope it continues. I am noticing more of this in mass-market clothing -- there are an increasing number of labels that offer more than one fit version in their pants/jeans and this is all to the good. A friend posits that this may be the one positive side effect of America's trend toward obesity -- clothing designers and manufacturers are realizing that they need to make allowances for our increasing roundness. I think that plays a part, along with a generally more design-conscious population and our increased electronic communication abilities -- when women find something they like, they go online and shout about it. Give the people what they want, doncha know, and through the magic of the interwebs & cell phones & whatnot we're getting a lot louder about saying what we want.
And what I want? Is a pair of those little black capris. So if you'll excuse me....