The Metropolitan Museum Costume Institute Ball was Monday, May 4. It was a big deal. It's always a big deal. It's such a big deal that much hand-wringing over invitations and gowns goes on, and also a big enough deal that they always have it on a Monday. My feeling is that having an event this big on a Monday is basically like putting up a banner that says, "No one coming to this shindig has a real job." Oh, sure, there were people there who work for a living, at jobs like modeling and editing magazines, but my guess is there weren't too many elementary school teachers in attendance.

One of the sponsors of this year's event was Marc Jacobs, along with Kate Moss, Justin Timberlake (because someone needs to bring sexyback to the Metropolitan Museum of Art, doncha know) and Vogue Magazine. The theme this year was "The Model As Muse." My theory is that Vogue created this theme to throw a bone to all the models they've snubbed in the last few years by putting nothing but (usually undertalented) film stars on the cover of the magazine.






Marc Jacobs is a busy guy. He designs his own namesake label, plus his bridge line (Marc by Marc Jacobs), as well as Louis Vuitton. I find him by all generally available accounts an exceptionally silly person with a proclivity towards baring his physique in photographs and popping up entirely too often in gossip columns. (You never do see Alber Elbaz in his skivvies in a magazine, do you?) My personal feelings about Jacobs himself aside, however, I do think he's a massively talented designer. I don't always love everything he does, but that's okay. He's thoughtful (about fashion) and experimental and willing to push envelopes, and I think that's very important. I also find it very interesting that his collections for Vuitton and his own line in any given season have recognizably similar DNA, often much more so than I find in other designers with multiple labels, like Lagerfeld with his stable of nameplates.

I really liked both Louis Vuitton and Marc Jacobs collections for Spring 2009, although I was considerably less enamored of Fall 09 for both lines (Vuitton here and Jacobs here). I thought the Spring collections were fun & interesting, filled with a cool mish-mashery of prints, patterns, colors and materials. Most importantly, they were both loaded up with separates, which seems a smart way to go when people may be making more careful budgetary decisions about what they buy. There were a number of really good jackets and skirts that went down these runways, the sort of thing you could buy and work into your wardrobe for several seasons to come.



Louis Vuitton Spring 09
(You wouldn't

have

to wear it with the feather skirt, although I of course would love it if you did.)
Fall 09 was a big ol' 80's re-hash and while there are some cool, clever pieces to be had it just didn't work as well for me. Maybe it's my age. I dunno. It wasn't atrocious, just not
my fave Jacobs ever
.
Hugely successful and popular as Jacobs is, his is not a name that you hear overmuch on the red carpet come awards season. Think about it -- imagine the parade of vacuum-sealed actresses filing past flunkies with microphones and try to recall how many times you've heard one of them say either Vuitton or Jacobs. It doesn't happen all that much -- mostly we get the spangly excesses of hacks like Elie Saab or the pinch-me-or-I'll-fall-asleep tastefulness of Carolina Herrera. But since Jacobs was "sponsoring" this Gala (and I am wondering what duties exactly that role entailed, besides being available for a multitude of photo ops), he got to dress a lot of famous women. And apparently Mr. Jacobs has felt the red carpet snub, because he took his revenge.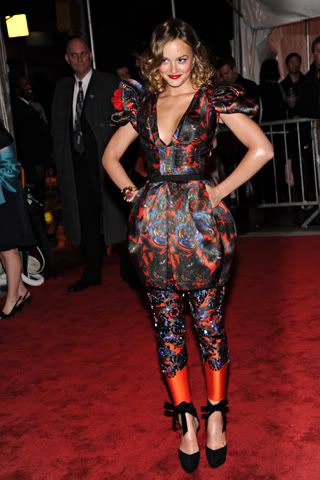 Good googly-moogly. Random starlet, I cannot be bothered to check her name, in Vuitton.
You know how in fashion magazines they warn you to avoid dressing head-to-toe in one designer? This is why.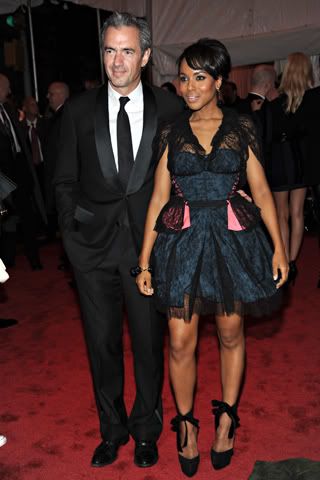 Kerry Washington. Pretty woman in a really bad dress.
Seriously, if you are not at least 6 feet tall (like most runway models) what the hell are you
thinking
putting on something this wide??? (And the giant floppy bows on the shoes sure aren't heping with the stumpy.) Here's a rule of thumb: if you cannot sit in your Prius without closing your skirt in the car door, wear something else.
Oh, Madonna. Ya know, I can't really fault her, because she's, ya know,
Madonna
. And she does this stuff. I've always admired her fearlessness, and here it is on full display. Nothing I can say about that hat will be funnier than the fact of it, so I'll dummy up. You can tell she's single again, though, eh? I liked it better when she was a proper married English lady wearing all those nice sheath dresses.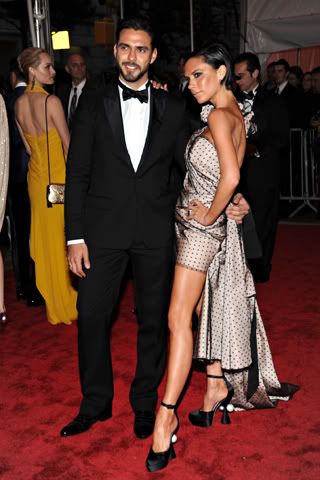 Victoria Beckham in Marc Jacobs. What. Ever. She's designing
her own line now
and honestly, several of the dresses she showed were actually really good. But why look nice when you can piss off Style Spy?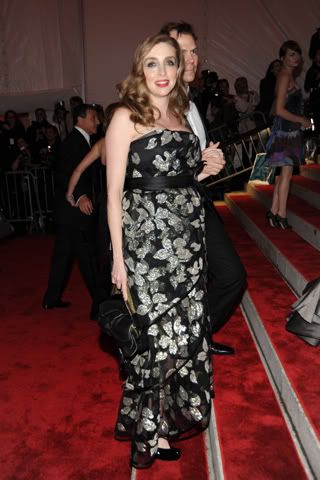 If Rachel Feinstein (in Marc Jacobs) isn't actually pregnant, she should sue his ass for this.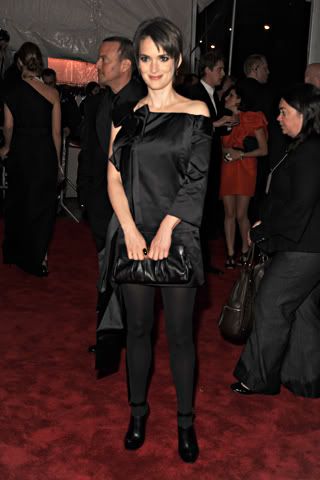 Longtime Marc Jacobs BFF Winona Ryder. Insert obligatory crime of fashion joke here.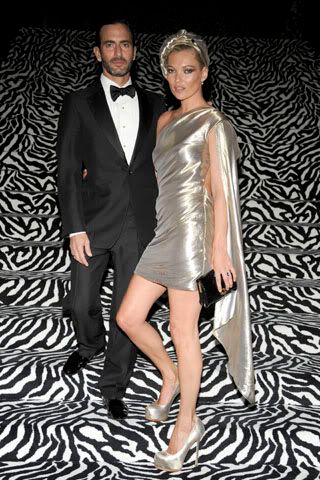 Himself with herself. I gotta tell ya (and I'm sorry, dear Plummy) -- the turban is not a look I'm terribly fond of. Unfortunately, it looks like we're going to be having a
Grey Gardens
moment in the immediate future and Batshit Crazy Impoverished Former Socialite is a look that's going to be popping up. I'm sorry, this whole ensemble looks cheap to me -- even the shoes, which are YSL and we know how much I like that. Some of it, I'm sure, is that I just don't like Kate Moss. She's never been one of my favorite models, and I know it shouldn't matter, but what I know about her private life makes me want to shove her under a bus. My favorite tidbit from the coverage of the Met Gala, from Eric Wilson's article in the NY Times:
Asked how she felt about being a museum-worthy muse, Ms. Moss shrugged and pulled a big piece of gum out of her mouth.
"I'm amused," she said. "I think it's quite interesting for somebody to go outside of the box and think that a model actually has had some input into fashion. A lot of the time, the models don't really get a say."
Perhaps that's for the best, Kate. Now pop your gum back in your mouth and go do another line in the bathroom.

Seriously. Gum. At the Met Gala. My friends, sometimes -- often, even -- it doesn't matter how much your dress cost. "Lady" doesn't come on a hanger.

Here's the one person who was wearing Marc Jacobs who didn't look absolutely dreadful.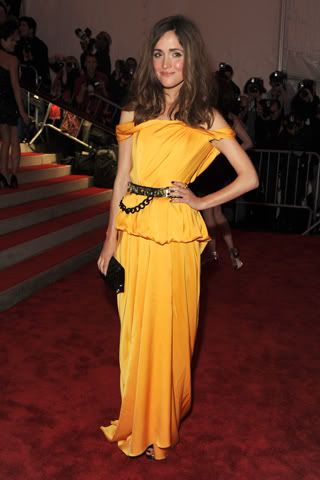 Another random starlet -- I'm sorry but
I just don't care
-- in a color I love. This dress is nice and she looks nice in it. Not stellar, mind you, but nice. Shame they wouldn't let her put up the roof on the convertible when they drove her (like a bat out of hell down the West Side Highway, from the looks of things) to the party.
It might be more charitable to imagine that these were all just missteps on Jacobs' part, but I think he's too talented and too savvy for that, so I'm left with the conclusion that these dresses were some sort of fiendish plot on his part. Maybe he didn't want anyone to be prettier than him. Maybe he wants new friends. Maybe he's off the wagon. Whatever the reasons, I don't care. I was mightily entertained.
More on the Met Gala later this week. Stay tuned, there is more snark (and a few really good dresses) to come!
Photos: New York Times, Style.com