The couture collections have started!

The first one I looked at, of course, was John Galliano for Dior. Truth be told, while I love Dior in theory (and in execution), they aren't the clothes I most want to wear. My personal taste in clothes runs more to the minimalist and modernist -- designers like Raf Simons for Jil Sander, or Consuela Castiglione for Marni. I'm not strictly a modernist, but even when I'm going for things more elaborate it's more likely to be something like the luxe futurism of Stefano Pilati at YSL or the cerebrations of my hero Miuccia Prada. Dior tends to be a lot girlier than what I usually hang in my own closet.

But.

I thank the fashion gods for John Galliano.

Just because I don't wear it doesn't mean I don't appreciate it. John Galliano is a fantastical creature, a man so in touch with his own imagination that sometimes his work has no apparent connection to the realities of the world around him. Some folks think that's a bad thing. I do not. I say, thank heaven for the fantasists -- they remind us that anything is possible and that to get stuck in only one idea of what is beautiful is the death of imagination.




Yowza. Galliano's inspiration for this collection was Flemish painters like Van Dyck and Vermeer, and, as always, Monsieur Dior himself.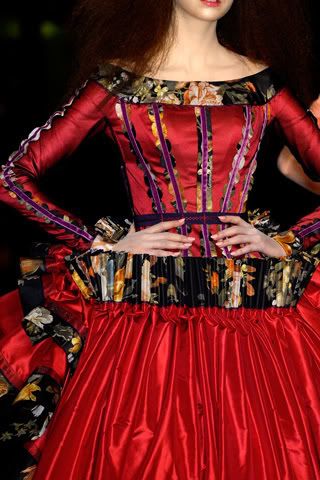 I just love this photo. I love that riot of color and pattern and the profusion of fabric. Over the top, oh yeah. Love it.

This is Vermeer's painting "The Lacemaker."


The Dutch painters of the 17th century like Vermeer and Rembrandt were famous for their mastery of light and color.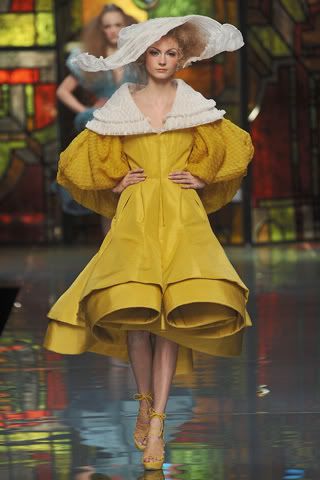 I adore this yellow. It's wonderful.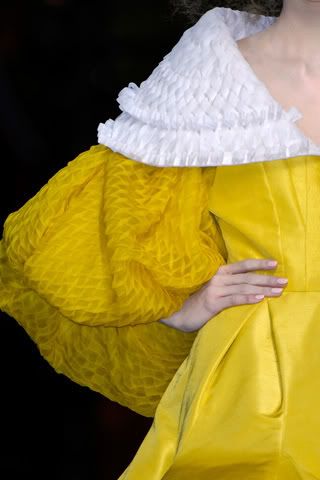 Bear in mind, this is couture. These are not garments that will be mass-produced -- they are made-to-order creations. And that being the case, the other purpose Galliano's mad flights of fancy serves is to keep alive the traditions of haute couture -- the embroidery, the hand-stitching, the beading, the fabric treatments. There is an ever-shrinking number of skilled artisans in these crafts and arts, and couture collections like Dior's help keep those skills alive.


I do not know what intrepid couture client might commission this little number, but I applaud whomever does.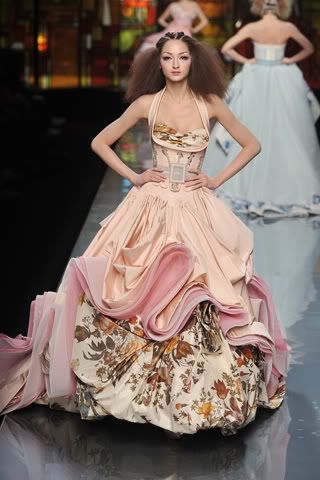 Yowza,

encore

.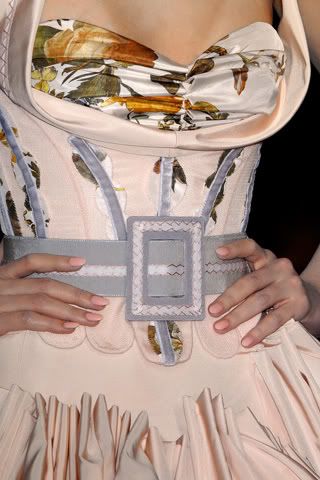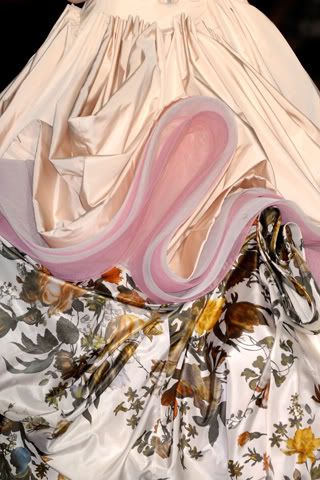 How much would I love to see
this
on the Oscars red carpet??




C'mon, Cameron! Throw a fashion blogger a bone!






This just blows me out of the water.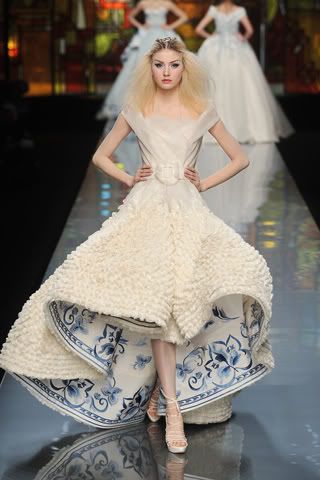 That is absolutely stunning. I've never been a fan of Delftware china, but it turns out I really, really like it on clothes.


Much as I loved the colors, Galliano did a big chunk of the collection in white, and that was a lot of my favorite things.
(I am so dying to get my hands on that quilted fabric so that I could see what it feels like.)





Also, I really, really love the hat.
But of course, a fashionista cannot live on white alone...




Mmmmm, come to Mama.
Oh, that's dreamy. Actually, that

could

make an appearance on a red carpet, and it'd be gorgeous. Someone get me Cate Blanchett!


Speaking of gorgeous...




Good googly-moogly.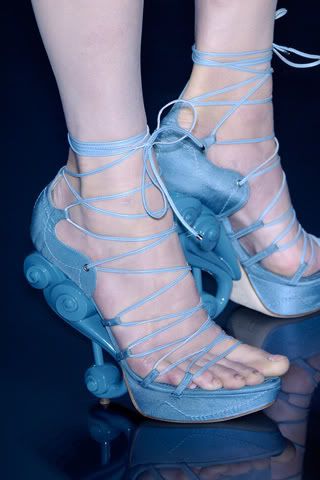 No idea if these will ever make it into production, or if they do if I'd be able to get my hands on any, or if I could track them down I could afford them without resorting to some sort of criminal behavior, or if I managed to find and buy them I'd be able to bring myself to wear them outside of my home where they would be be sullied by coming into contact with the dirtydirty ground, BUT -- dayum. THOSE? Are some hoof-covers to die for.
More couture coming soon!



Photos: style.com, artchive.com