Hello, everyone! And Happy 2009!! It's a new year and we all have resolutions, I'm sure. One of mine is to not let these two-week dead zones happen on the blog, but I have to tell you -- this has been by far the most hectic holiday season I've ever experienced and it had nothing to do with the actual holidays. La Maman de Style Spy is finally here and snugged into her little rental duplex and mostly unpacked and her dog is no longer staying here and giving my Shine the hairy eyeball. So I'm hoping things get back to normal soon -- better than normal, because my mom is nearby and that makes me very happy.

What else makes me happy? A good coat. It's winter, or what we get of winter here. The most reliable indicator of winter in these parts is actually the shortness of the days rather than the dropped temperatures (it was in the 70s on Christmas Day, and yes, that's just how I like it). But it does get cold at night once the sun goes down, and I found this year that I was without a winter coat. I had a gorgeous one, that I'd bought a few years ago to wear to Paris in February, a beautiful camel wool notch-collar full-length number that I adored. But it was on the biggish side when I bought it, and after my weight loss last year it was positively enormous on me. So I've been paying a lot of attention to winter coats this year, which are not exactly thick on the ground in a place where it gets to 70° on Christmas. I did finally manage to score one, though, and a good one at that. I got it from Connie Day, my favorite dealer (and I mean that in every sense of the word) at the Austin Antique Mall. Connie is a swell gal and her stock is mind-blowing. She has everything from Edwardian delicates to swingin' 70's polyester, as well as tons of home goods and some very delectable vintage handbags. I took Connie a bag or two of things I could no longer wear and we worked out a trade and so I scored this gorgeous thing:




for a total of zero dollars. It's beautiful vintage cashmere with a mink collar and a silk lining, with some amazing detailing on the back




The label indicates that the coat is from Jordan Marsh, a venerable old Boston department store that was eventually eaten (as so many of them have been) by Macy's Inc.




That's one of the things I love about vintage clothing -- imagining their travels before they got to me. Who bought this? Who wore it? How did it get to Austin? I'll never know. I do know that it makes me feel oh-so-Betty-Draper when I wear it, especially with an Hermes scarf wrapped around my neck, and that is a very good thing.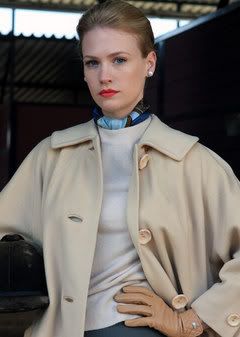 So I've come to know now that I really love a fur collar. I have a pencil neck, it must be said, and if my neck isn't warm, none of me feels warm. But a nice fur collar? Mmmmmmmm, yumminess. If further proof were needed of said yumminess, I present Exhibit B: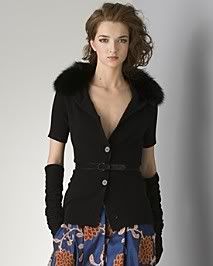 This is a cashmere cardigan from Robert Rodriguez which I salivated over in a post this past summer, when it was still way too expensive for me. But I watched & waited patiently, and it eventually went on sale, and then the nice people at Neiman Marcus made it even more on sale by putting it in their extra 40% off sale (still going on!) which put it under the cut-off line. It's been my only purchase this winter, my one splurge in a very tightly-controlled personal economic climate, and I do not regret it one iota. I adore it. That fur is breathtakingly soft. It's not quite as soft as this




but it does have the advantage of staying put around my neck. Above fluffiness refuses to do that, even with the promise of fishy treats for her trouble.

A note: you can click on the photo for the cardigan above and order it (at the fab sale price!) but they only have one size available. I don't know in what universe a size 4 is a "medium," (well, apparently in Robert Rodriguez's universe) but that's what they're calling it. Don't be fooled. 4 is small. I'm pretty petite through the torso and the "medium" is as small as I could have gone with this.

So when I went looking for my Pretty for Friday for this week I ran into this and it seemed like a good call.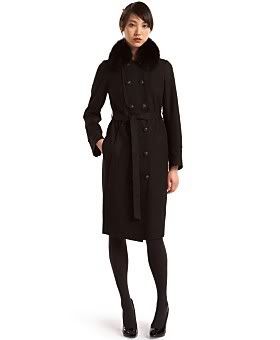 Robert Rodriguez Fur Collar Coat


Gorgeous, gorgeous coat, and also from Rodriguez, so I'm guessing the fox collar is of the same quality as the one on my cardigan. Which is to say that if you're anything like me you're never going to want to take it off (although you can -- for cleaning, of course).


Happy New Year, everyone! Anyone have fashion resolutions? I'd sure love to hear them!





Photos: oregonlive.com, Style Spy, saks.com