And when I say "high" and "tight," I'm not using them as euphemisms for a chemically-altered state, unfortunately. The Golden Globes were last night. It was the usual parade of boring Hollywood dresses. Skin-tight mermaid silhouettes prevailed. And strapless. Strapless, strapless, strapless, over & over & over again. And I, as usual, just don't get it. I'll spare you my usual Boring Fashion Rant. Just know that lots of people looked plenty nice, in a safe, non-threatening, carefully-arranged way. It's like they're all in some future museum diorama illustrating "Hollywood glamour." I'd say it was tasteful, but the tightness of most garments precludes that adjective. (When a dress is so tight it makes someone like Kate Beckinsale look hippy, it's too damn tight.) I'm not bothering with people like Anne Hathaway and Olivia Wilde, who wore very pretty dresses and very pretty jewelry and very pretty makeup and looked very pretty.


I'm just going to show you a few things that caught my eye, for good or ill.
Maggie Gyllenhaal in my favorite dress of the night. It's Lanvin, it's fantastic, and all the talking fashion heads are going to crucify her for it.
But I don't care, because if you really LOOK at the dress you can see how wonderful it is. Also, it's crazy-sexy

without

being vacuum-sealed to her body. They gave it some excellent airtime on the red carpet show on E! and it's amazing. Gyllenhaal loves fashion, she's a bit of a risky dresser and is one of my favorites in Hollywood because of it. As I recall, one of my favorite looks from last year's Oscars was also Lanvin, worn by Tilda Swinton, and it was also decried by the "experts" as awful. Philistines.
Here's another outfit everyone is going to scream bloody murder about and that I loved. The nerve of Marisa Tomei, showing up at a Hollywood awards ceremony looking elegant and restrained and beautiful and not having her boobs hanging out and a skirt slit up to her thong. It may be a little too busy -- I think I would have gone with a simpler belt instead of the lace one she's got on, it seems like the belt is fighting a bit with the necklaces -- but that's really my only problem with it. The lace on that blouse is stunning, it's a work of art. How on earth people can quibble with a gorgeous white blouse and a perfect black skirt is beyond me, but you watch -- they're all going to say she's frumpy & dowdy & awful. Morons.
Aaron Eckhart getting it exactly right. Perfect tux, perfect fit, perfect notch collar, good bow tie, hair is clean & neat, no scruff on his jaw -- see how easy it is, gentlemen? Why would you ever want to experiment when you could look this good?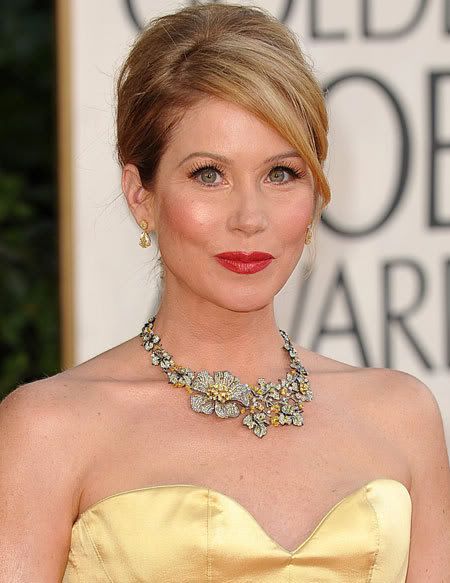 Christina Applegate's dress was standard-issue, but this necklace (Van Cleef & Arpel) sure caught my eye. That is a wonderful thing. I'm not typically big on the important, estate-type jewelry usually seen on the red carpet, but this is truly amazing. Good call.
Emma Thompson, whom I adore and would definitely choose as one of my companions in the Invite Five Famous People To Dinner Game, wore a mind-numbingly frumpy black frock with an M.O.B. duster, but would you LOOK at her handbag?!?! YES!!!! (She also had on really good shoes, but I haven't tracked down a good photo of those.)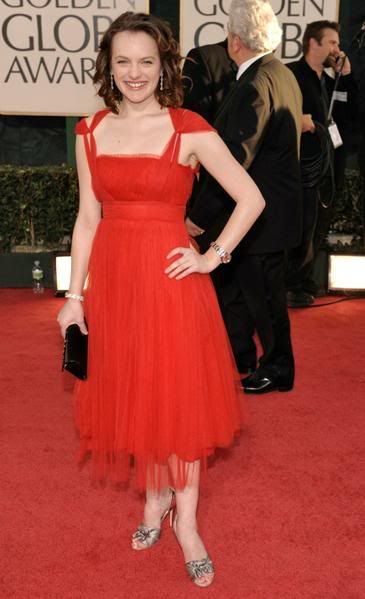 Loved this on Elisabeth Moss. Loved the tulle (I am a sucker for tulle in a big way), loved the vintage feel, loved the shorter length, although I would liked that very top layer to have been the same length as the underlayers -- it's too long for her. It fits, it's flattering, it looks comfortable, it suits her. Girlfriend needs bangs, though. That's one power of a forehead she's sporting.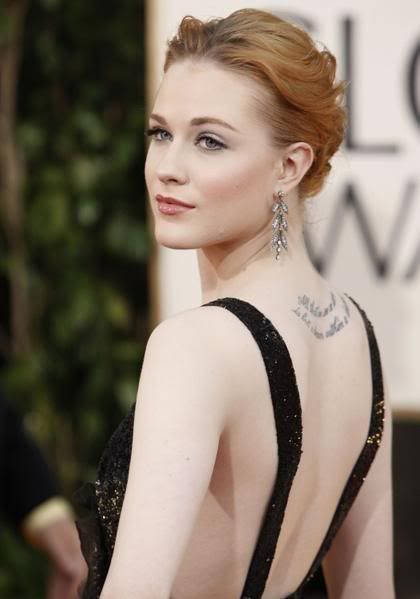 Evan Rachel Wood. Didn't love her dress (Elie Saab -- who never impresses me), but she still managed to look gorgeous. How old is she now -- all of 22? Beautiful, beautiful girl, hugely gifted actress, and hopefully well over that whole Marilyn Manson phase. I am not a fan of the visible tattoo, but this one isn't too horrible, and the display is fairly elegant. Enjoy that skin, sweetie. Once it's gone, it never comes back, no matter how famous or expensive your dermatologist.
I'll betcha this is Dior. Cameron Diaz wears a lot of Dior. (It's Chanel, as it turns out.) When she's not dressed up, she's invariably in some variation of the Southern California Identigirl kit -- jeans, tops, whatever hat is "clever" this season; but when Cameron dresses up, she seems to go for things that are a wee bit off-kilter, and I like her for that. Hate the hair, though. Hatehatehate it. But then, I pretty much always hate her hair. Still. Cool dress in a great color.
Speaking of Dior, and of hating the hair. Drew Barrymore also wears a lot of Dior, and this is some. This photo doesn't explain the color well -- it wasn't this blue, more of a dove gray. (She's promoting her new movie "Gray Gardens," so that makes sense.) This dress was actually pretty spectacular. It's made of an organdy or a gazar -- something with some body & stiffness, so that the effect was structured & light simultaneously. The bottom moved like some sort of ghostly bell as she walked, and the scarf across the arm seemed like it had been blown there by the wind. It was really gorgeous, and surprisingly so because the silhouette isn't all that interesting or challenging. Just a beautifully executed dress. She was betrayed, however, by her hairstylist. Such a shame, too, but that helmet of hair completely contradicted the beautiful lightness of the dress. I like the idea of the volume & the shape, but did it have to be such a
dome
? When your dress is moving in the breeze but your hair is not, something is askew.
We also love that she carried this gorgeous ruby red Vivier clutch with her gray gown. Sweet.
Isweartogod, I'm sending this man a razor. Actually, I'm less interested in him than in that purple dress in the background. Who is that??
Eva Longoria in YET ANOTHER painted-on yawn of a gown. It's Reem Acra and my god, I can't believe she sat down in that thing. She was even complaining about it to the interviewer, about how tired she was of sucking everything in, how she'd been there for a minute & she was already exhausted. Um, Eva? There is no law that says you have to wear a scuba suit with a train to every single awards show. We all know you have a perfect little body, you can stop displaying it like a teen-aged beauty queen's pageant trophy. She was uncomfortable in this dress, she

said

she was uncomfortable in this dress, but she didn't

have

to say it because she LOOKED uncomfortable in this dress. No one looks chic when they look that uncomfortable.
A three-piece tuxedo, for pete's sake. What is this, like a zoot

tux

instead of a zoot

suit

?? No no no no no
no
no

NO

NO

!!!
Seriously, people! Who the hell thought THAT was a good idea????? And what is with the tie? Does his collar not fit? He has the lead in a damned HBO series, surely he can afford to have a properly-fitting shirt made.
If this is what marrying a 15-years-younger man does for you, sign me up. I'll be headed downtown to 6th Street to do some husband hunting at a shot bar this weekend. The dress was boring and I have a bone to pick with Ashton Kutcher about his black shirt, but Demi Moore looks wonderful. So wonderful that I felt really bad for her daughter Rumer Willis (this year's Miss Golden Globes) while they were standing onstage together.
Oh, Mickey. You are not so fine. But good for him, huh? Everyone likes an underdog and a comeback and here's hoping he gets enough work soon that he can hire himself a stylist. I am not volunteering.
Oh, dear. Mr & Mrs. Cyrus seem to be having a little trouble coming to terms with the fact that they're old enough to have a teenager. Once again, I am forever grateful to my mother for not being the type of woman who showed up at an event in a miniskirt and ankle tattoo. And to my dad for getting haircuts. Thanks, Mom. Thanks, Dad.
Yoiks. Speaking of time to come to terms...

My

, Rita! What big... Oh, good lord. The woman is wearing a silver shimmy dress and her boobs are about to take the rest of her hostage and hold her for ransom. Not to mention the Bridget Bardot hair. RITA! It's okay to be a grown-up! You're a nice lady, you're married to an American treasure, we all wish we had your life. Now stuff those things back down in your dress before you go airborne and you have to be shot down like some sort of errant weather balloon!
Oh, Beyonce. You just never learn, do you?
Girlfriend, 30 is going to be upon you before you know it. And then 40. And then 50. And what'll you bet that long past her bootylicious expiration date she's STILL squeezing herself into these sequin-encrusted sausage casings and striking "fierce" runway poses. And what kills me is that she really DOES have an AMAZING body, as evidenced in
the video of her I posted
a while back. But when she crams herself into these dresses she just looks like a very sparkly python who has swallowed a large-ish hamster and it's just painful to look at. Not to mention -- let's face it -- trashy.
Oooooooh, it's like a JLo/Beyonce smackdown!! It's like JLo said, "BEE-YOTCH!!! I was rocking the bootylicious long before you'd ever had your first bikini wax, and if you want to go ass-to-ass with me in a Booty Off,
Bring! It! ON!!!"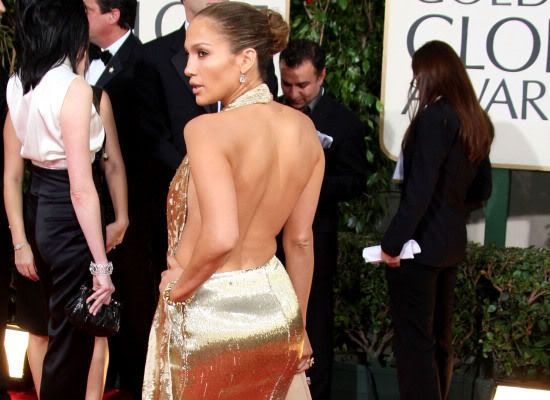 I'm giving it up to J Lo this time. Age & experience, doncha know.
Okay, we're all thinking it and I'm going to go ahead & say it: A black man should not wear a white shawl-collared dinner jacket in a roomful of white men wearing black tuxedos. Because he will look like he's supposed to be
serving
the dinner, not enjoying it. But I love Tracy Jordan anyway, because... well, because he's a freak. (And I mean that in the best possible way.)
Okay, I am almost always

bored

by Reneé Zellweger, but she's not, to her credit, usually this much of a hot mess. When I first saw the outfit from a distance I thought I was going to like it. Then as the camera got closer, I changed my mind. As usual, it's Carolina Herrera (Zellweger almost never wears anyone else) and as usual the skirt is so tight it gives me a headache looking at it, but it's just not working. Maybe if you wore this dress to an event and were not the sort of person who was going to be photographed unmercifully so that all your undergarment secrets were going to be revealed, it would be fine. Seriously, I
almost
like it -- I like the cheekiness of the nude underpinnings beneath the sheer shirt, but I don't like the obvious artifice of them underneath those hot camera flashes. And I know the girl is as flat-chested as... well,
me
, and so the sudden bombshell curves really bug me.
The other painful part was watching her move in the dress -- it was absolutely excruciating. She wasn't so much walking as passing from pose to pose and she looked like a robot who needed a good deal of WD-40 in her joints. It was incredibly forced and unnatural, and uncomfortable to watch. Contrast that (they'll replay red carpet coverage on E! at

least

once today) with someone like Elisabeth Moss, who looked like she was
enjoying
her dress in that way that you do when something is beautiful and feels great and you know it's working, and it's all the worse.
Also...
Dear lord. Is that a wig? Or what? Tellin' ya, it was a night full of bad hair.
Tony Shalhoub and his wife Brooke Adams, who were evidently really, really hoping "Slumdog Millionaire" would win and that they would get invited to the party when it did.
Glenn Close, in the formalwear version of Eileen Fisher. Oh, Glenny. Don't give up yet! You're gorgeous and talented and have a hit show and way, way too cool for the I Give Up Outfit!!! I like the idea of the jacket, but it's just a bit too long and a bit too frumpy and those pants truly tragify me.
And that's pretty much all I have to say about that. Sorry if your favorite dress of the night wasn't featured here, but a gal can only type "pretty dress" so many times before she starts to go numb.
And now I have to call my doctor for some sort of prescription to keep me awake during the Oscar night red carpet...
Photos: Reuters, tvguide.com, herald-dispatch.com, style.com, WireImage