I've had a dickens of a time finding a photo of Beyoncé singing for the Obamas at the Neighborhood Ball Tuesday night. Here's the best one I can locate.




Honestly, I find this pretty meh. (Although I was almost right on the color -- I predicted silver, and this is sort of a silvery taupe.) I am grateful that it isn't slashed & plunged & cause for embarrassment, but (other than how snug it is) it almost swings too far in the opposite direction. For pete's sake, this lovely girl is only 27 years old! Why on earth do people insist on dressing her like she's a 48-year old drag queen? It's just wrong!!

So. Other than the dress, which is far from awful, just matronly, I have to give it up for Miss B that night. She sang beautifully, and there was no disguising how moved she was by the occasion. It was a very lovely moment.


Here's a reveal of the cardi underneath the coat Michelle Obama was wearing Tuesday.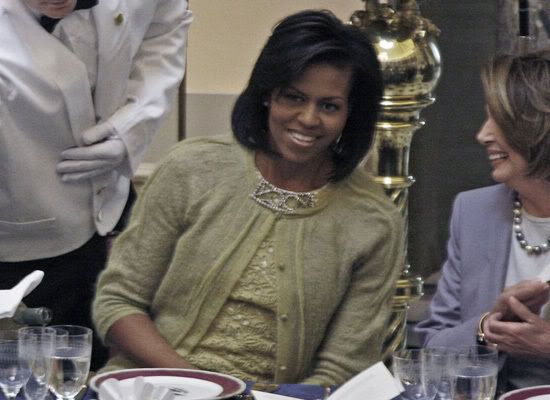 As Katie pointed out in the comments yesterday, in some photos you can really see the greenish cast of this fabric and then the green shoes and gloves (which a lot of people just hated) make a lot more sense.


She hit it out of the park Wednesday morning, for my money, in a wonderful Tracey Feith number at the National Cathedral Prayer Service.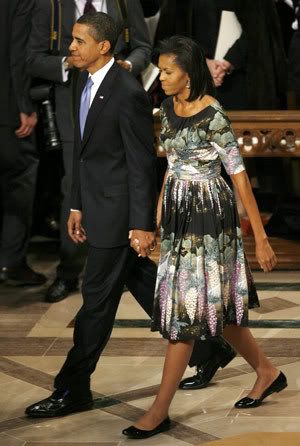 I don't believe I've ever seen a first lady wear a dress like this. You almost never see prints of any sort, let alone prints this interesting and dominant. The shape of this dress is perfect for her, and would be great on lots of real-life women. This one will sell out within the week, I promise.



On to Jill Biden, whom I love. One reason I love her is that whenever anyone talks about her they have to call her

Dr.

Biden. I love that. Jill Biden is a woman of substance and accomplishment -- you should read
her Wiki entry
, it's pretty impressive. There was a feature in Vogue one or two issues ago on the Biden women -- Senator Joe's various sisters, daughter, daughters-in-law, mother, wife, etc., (there are scads of gorgeous women in that family) and the article opened with a two-page photo of all of them in a rather pastoral arrangement. Some bitchy reader sent a letter to the editor that was published in the latest issue remarking on their "diamonds and expensive clothes." First off, if you
check out the photo
, you'll probably agree with me that it all looks like pretty standard-issue J. Crew/Brooks Brothers kind of stuff. Second, I'd like to say to Mari Banks of Windermere, FL that if a woman can raise three children, earn three college degrees, and have a long and lauded career in education all while being the wife of a long-serving U.S. Senator and said woman wants to buy herself the odd diamond earring? She's damned well earned the right.


Dr. Biden is also gorgeous and in great shape (she's runner and if running helps you to look lke
that
at 57, I'm feeling pretty good about it) and while she doesn't seem as fashion-forward as Michelle Obama, she has a clean-cut classics-with-a-twist clothing sensibility that suits her wonderfully, and always manages to avoid the Frump. (Which we all know becomes increasingly challenging with age). She always looks approachable yet completely pulled-together, and her clothes FIT her, which is an achievement because she's not a common size, she's on the itty-bitty side.

This coat is Fleurette and the dress underneath it was a great gray plaid shift by Milly. Not super-high-end, either of these items, but we all love that bright red coat, don't we? And let us also mention how great Vice President Joe looked in his bright blue tie that matched his eyes. These two just sparkled all day long -- the happiness written across their faces was infectious. I've seen a lot of grumbling on the Interwebs about Dr. Biden's outfit, criticizing her for her above-the-knee skirt and her black "hooker boots." This last mystifies me.
Hooker
boots???? How on earth are they hooker boots? They're just tall black boots.
THESE are hooker boots:
But I digress. I thought Dr. Biden looked great, stylish & celebratory but appropriate. As for the skirt length -- Dr. Biden is a petite woman with great legs. I think that length was just right. I saw a lot of "at her age" comments. My goodness, she's only 57, and it's not like she was wearing a crotch-high miniskirt.



Evidently Dr. Biden is my girl in yet another way -- she likes red. She wore a beautiful red Reem Acra gown for the balls Tuesday night




This is a pretty, pretty dress. It's not as much fashion-y surprise as Mrs. Obama's, but it's very pretty, and it looked wonderful in motion. I think this length was a better choice than the long, long train Michelle Obama wore, which she seems to have a lot of trouble maneuvering. (I don't even want to imagine what the bottom of her dress looked like at the end of the night, after all that mistreatment. Good thing she doesn't have to wear it again.)

And of course still more grumbling about this dress and whether it's too revealing for a woman "her age." Not to get all junior-high-queen-bee on you, but those people are just jealous. I'll grant you, not all 57-year old women can still pull off a strapless gown; but Dr. Biden can and I don't see why she shouldn't. But my goodness, the teeth-gnashing over her exposed shoulders! Yeah. The

nerve

of her, being a 57-year old, a grandmother, and still having a sexual presence! Hussy! Jezebel!!

Puh-leez...

This is a very modest version of strapless, no cleavage or heaving bosom, and the skirt is beyond reproach. I give Dr. Biden a big thumbs-up.





I love this photo. I love the sense of the two of them feeling almost alone in this grand room surrounded by thousands of people, enjoying the moment together. I read a quote from Joe Biden that night: he said, "I may not be able to dance, but I sure like holding her." (Okay, all together now: ::squish::)


Our First and Second couples both seem to have very active romances going on, don't they? Both of these couples seem to be crazy-in-love with each other and I for one can't get enough of it. It's nice, isn't it? I'm not a big advocate of PDA, but I find it refreshing and encouraging. Two long-term couples that obviously love & respect one another and take true delight in each others' company -- what a wonderful thing for our leaders to model for us.



One more random photo I ran across while looking at Inaugural coverage that I just had to show you because it made me go all swoony:


Marisa Tomei at the Creative Coalition Ball. Ooooooooh, that dress DESTROYS me. I wonder who it is: Mizrahi, maybe? I might have raised the hem a bit and I'd definitely have worn more statement-y shoes, but that is classic elegance of the highest order. I like Ms. Tomei's style -- she doesn't seem to to feel the need to expose herself left & right and still manage to look beautiful. Well done, Marisa.
Photos: huffingtonpost.com, msnbc.com, style.com