The SAG Awards happened in Hollywood this past Sunday. I was out of town visiting friends in Dallas this weekend, so I didn't see the show, or any of the red carpet coverage, but I've looked through all of the pictures I could find and there were really only a few of them that I thought merited any comment. I've railed enough about how bored I am with most red carpet fashion, from here on in I'm just going to show you what I think is really good, and sometimes, unfortunately, what's really bad.

Here's the ridiculously beautiful Keisha Whitaker and her husband Forest. These two always look great. He obviously invested in a bespoke tuxedo that fits him like dream, and she's so pretty that I can't imagine what you'd have to do to her to make her look bad, but in this case the dress is particularly good.




It's a very simple shape, but the color is wonderful, and I really love the play of textures in the fabric. What I think is most likely is that the dress is all made of one fabric, and the matte pieces are the reverse side of the charmeuse. This dress is not a forgiving garment, but she has the figure for it. I also really love that although the dress is decidedly sexy, it's not revealing or skin-tight or low-cut or any of the other usual Hollywood "sexy" signifiers. See, Beyoncé? It's possible!

This was my favorite dress I've seen from the night, although I will admit that it might not be as formal as the occasion required.




Katie Holmes in Jil Sander (once again my adoration of Raf Simons borders on the indecent) and Stuart Weitzman shoes. I think the dress is black and the flash is making the color look strange in the photo. Black is never my favorite, but if Raf Simons wants to make me a dress, I'll wear whatever color he chooses including black, brown, or baby poop green.

Here's the dress on the runway: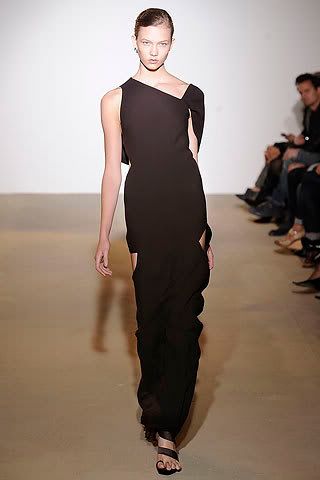 As you can see, it's floor-length here. No idea if Ms. Holmes requested a shorter version, or if that's how it went into production. My one quibble here is with the fit. I think Katie could use a better Support Mechanism. Granted, based on the cut-outs & asymmetry of the front of the dress it's likely that the back of the dress is even more complicated and makes wearing a support mechanism at all problematic. On the other hand, if Mrs. Cruise here can get Christian Louboutin to make custom shoes for her toddler, she can probably get someone to make her a custom bra.


File under Dashed Hopes:




I was sort of hoping that the resurgence of Mickey Rourke's career would be accompanied by an improvement in his clothing sense. Oh, I am a cockeyed optimist, aren't I?

At first I thought the suit was just super-shiny, like it was made of silk shantung or something. I was wrong.




Turns out it's made of ties.



The lovely Idina Menzel and her handsome hubby Taye Diggs.




This dress is a dream, and she looks perfect in it.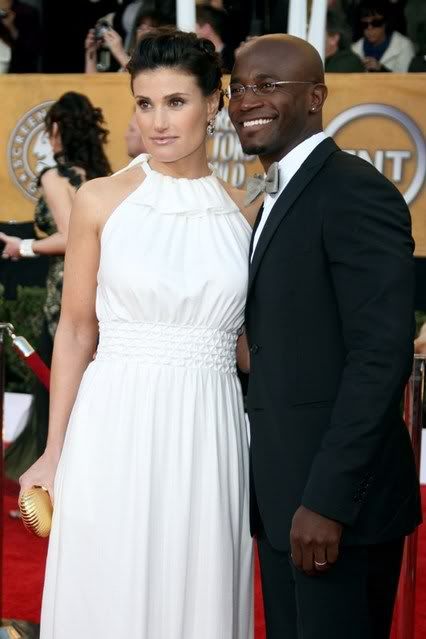 Just love that smocking at the waist and the not-too-big ruffle at the neck. What a gorgeous couple.


I love this dress in spite of myself.




Nicolette Sheridan in Roberto Cavalli. Ordinarily, Ms. Sheridan is a tragifying mess of personal denial -- denial of time, denial of gravity, denial of good sense... But this dress? It's really pretty. It's way more covered up that what she usually wears, it's sexy without being trashy, the color is gorgeous, and it looks as though it's made of some really glorious silk because look at the movement: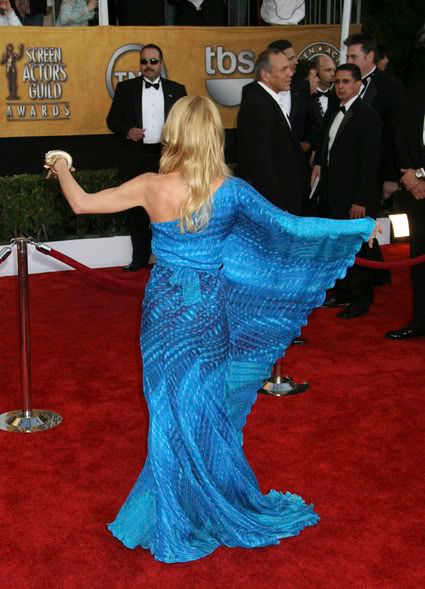 We all know I'm a big ol' sucker for a dress with great movement. Also, I am all about the bracelet she's wearing:




Yes, it's completely over the top. Which, of course, I love. I can't seem to find any information on who made this bracelet. Anyone?

So that's my quick-like-a-bunny SAG Awards wrap-up. Thoughts? Disagreements? Let's hear 'em!



Photos: style.com, about.com, idinamenzel.com, fametastic.co.uk, zimbio.com