Okay, they just could NOT be better looking.




Here's our new First Lady and President (every time someone says it, I still get a little shiver) on their way to the swearing-in. Michelle Obama is wearing an outfit by Isabel Toledo.





It was a citrus-yellow wool lace sheath with a jeweled collar and jacket, paired with green gloves and green (!!!) Jimmy Choo pumps. Man, I hope those shoes were comfy, because she was in the things aaaaaaaall day, most of it on her feet. The coat was lined, and it seems like there was a matching scarf and maybe even a cardigan tucked or attached in there. I hope the lining of that coat was substantial, because it was freaking FREEZING in D.C. today.





They're a good-looking bunch, aren't they? (Although, Barack, sweetie... You're the leader of the free world now. Surely you can get someone to hem your pants.)

Opinion is sharply divided on this outfit. Some people think the fabric was too upholstery-like, but I love that heavy wool lace. It's a love-it-or-hate-it color, as well. It's certainly not a traditional color for this sort of occasion (Jill Biden went that route, with her gray shift dress and bright red coat -- not that I'm complaining, she looked great, too); but it's a color that looks great on her, and, sorry to buy into the cliché, but yellow is sunny and optimistic and I think that suits the mood of the day.


She wore Narciso Rodriguez on Monday to the event that kicked off the festivities on Monday. This is gorgeous, absolutely gorgeous.




Speaking of clichés, Rodriguez's tailoring has become a bit of one, but in the best possible way. There's no arguing about it. His lines are clean, his colors are beautiful, and I don't think I've ever seen a woman wear his clothes and look bad.


This may be my favorite:




This coat makes me NUTS. So fantastic -- I don't know who the designer is, if anyone does I hope they'll let me know. And would you look at the purple gloves? I? Could die. Mrs. Obama is a tall woman with great presence -- this coat might overwhelm someone more petite, with those bell sleeves and that great big collar, but she can pull it off. Really, really good.


And then, the Big Event: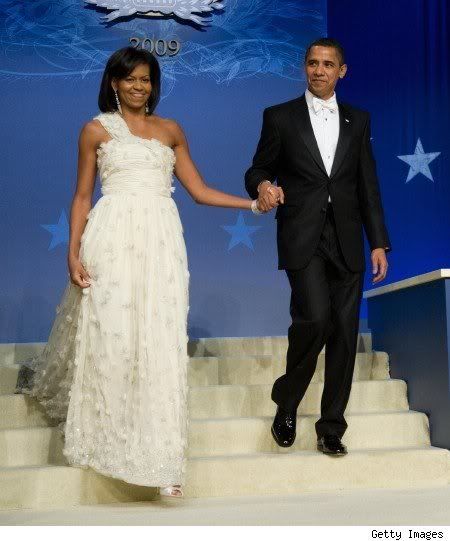 The dress is by Jason Wu, a very young American designer who is for my money the heir apparent to Oscar de la Renta and Carolina Herrera. It's a lovely floaty white cotton with appliqués and beading and quite a lot of skirt. Maybe, honestly, too much skirt. She had a lot of trouble maneuvering it while dancing with her husband, she stepped on it frequently and seemed to catch it on the heel of her shoe, and the shape is not the most flattering I've seen on her. In general I can't recommend a gathered skirt like that on a pear-shaped woman, no matter how tall or elegant she is. Still --the dress itself is fresh and lovely and unexpected, so I'm willing to forgive the skirt.

More soon on Inaugural Day fashion.

Congratulations, America! We look great!!


Photos: newsday.com, huffingtonpost.com, Getty Images