Well, pretty yawny stuff tonight at the 2007 Golden Globes. Sure, a lot of people looked really pretty, many lovely & tasteful gowns, blahblahblah. What I want to know is how most of them breathe in those outfits. Seriously -- how do they get those things zipped? I hear these actresses "graciously" acknowledge their crews -- clothing stylists, makeup artists, hair stylists -- and I think, "How about a shout-out for the beefy-bicep'd guy who works out 7 days a week just so he can yank up that zipper??" (Probably lots of lats & delts work, too.) Hell, let's go back a step -- where the hell do they find dresses so small that they're this tight on these itty-bitty women?? Is Elie Saab making clothes for children now? (And if he is, shouldn't they be a little more covered-up?)

Speaking of which, this little one stole my heart:



(Abigail Breslin, from "Little Miss Sunshine")
Now
that
is age-appropriate. She was so completely smitten with her own little pocketbook that she interrupted Ryan Seacrest (something that should happen more often) to show it off to him. The medallion on the front opened up to reveal a mirror, and it was completely empty. "None of my stuff fit inside it," she informed him, but she was carrying it anyway because she LOVED it. Atta girl. So damn cute. (And a budding Bag Hag, from the looks of things.)
Some other looks I liked: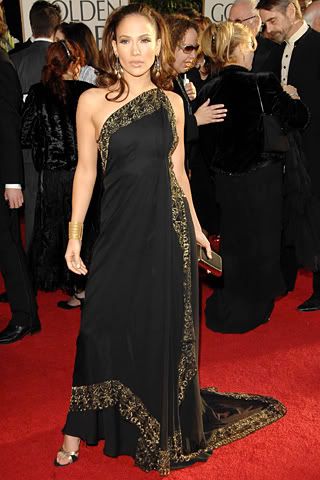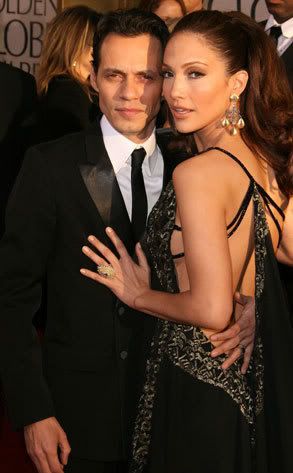 Beautiful Marchesa gown. Had to show you the back. It was really lovely, loose and flowing and a great break from a squillion silk chiffon scuba suits.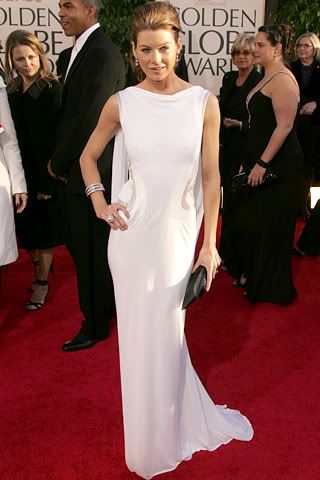 This one is Versace, and has some interesting business in the back, but I couldn't find a picture of that. A really great dress, although Ellen Pompeo is so skinny it makes my teeth hurt to look at her. She's like a shinbone with eyes.
Here it is as it appeared on the runway:
(Sadly, Ellen Pompeo didn't wear the shoes that came down the runway:)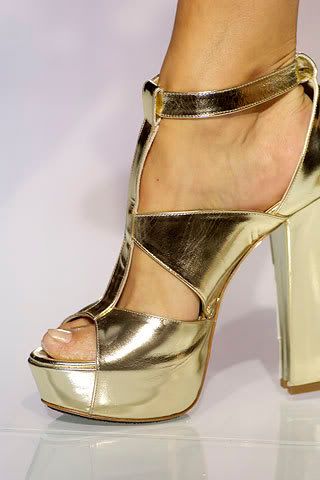 (These, in white. Be still my heart.)
Donatella should have dried out years ago, she's been doing
her best work ever
the last couple of seasons.
Tina Fey looked lovely in a modern vintage kind of thing from Kevan Hall: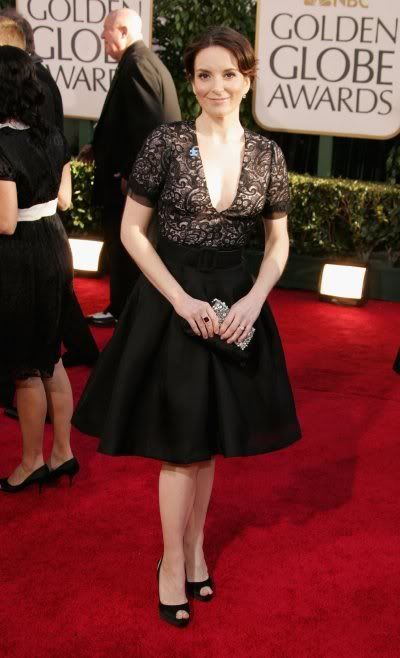 The skirt was knee-length and very full. The top was cut very low but not too wide -- a dangerous combination, especially if your boobs are any larger than pretty small:


Wow. Lose the husband, get some extensions... sometimes it works: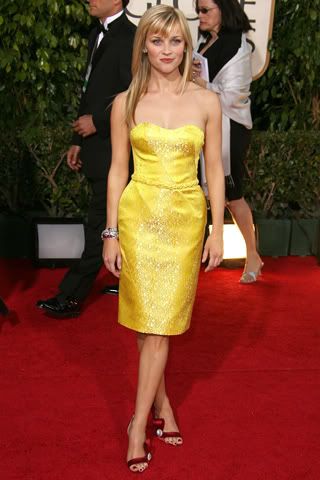 Not the sort of thing I usually applaud, but she really did look like a million bucks, and it was also exciting to see her working a look completely different from her usual one. Reese Witherspoon typically does the updated vintage thing better than anyone else in Hollywood,
but Miss Thing is back on the market and she? Is
fresh
!! Seriously, she looked fantastic. It's so rare that anyone actually pulls off strapless well. Usually the boobs are either up hoiked up so far they could tuck their noses in their cleavage or they're squashed flatter'n day old rolls at Luby's.
And would you LOOK at the shoes?! Ruby shoes with a yellow dress -- I could cry from the perfection. I have a gorgeous yellow party dress, and it is the very devil to try to find shoes that look right with it. Black is too heavy, it's almost impossible to find the right shade of gold, matching yellow is too bridesmaid. This? Is perfect.
The dress, I was THRILLED to discover, is Olivier Theyskens for Nina Ricci. I was positively crushed when I heard that Proctor & Gamble was closing down Rochas. Olivier Theyskens is one of the most exciting and interesting designer of his generation, I'm so glad the PTB at Nina Ricci had the sense to offer him a job. Really looking forward to seeing how he puts his stamp on this house, and if this is any indication I'm going to love him as much there as I did at Rochas.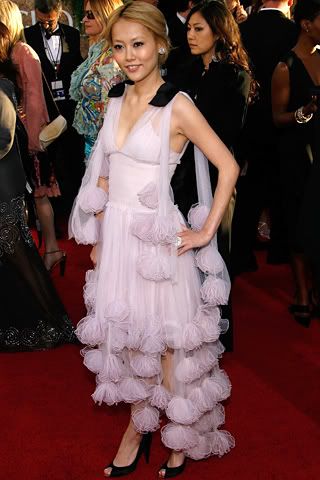 Rinko Kikuchi in Chanel, getting an Honorable Mention for not boring Style Spy.
Check it out --


Eva Longoria stole Felicity Huffman's dress from last year, cinched it up and dyed it navy. And it's STILL boring!!!
Happily, not everyone got it right. 'Cause let's face it, this is the shit we
really
love, right?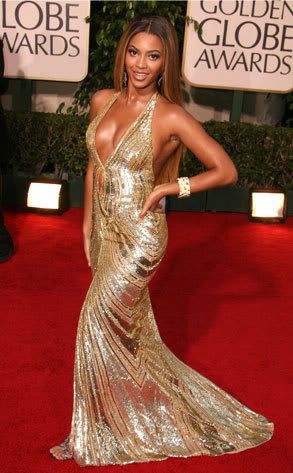 She's kidding right? Someone tell me she's kidding. No, really, the thing that kills me the most about this poor girl is that it's HER OWN MOTHER designing a lot of her stuff. (The above is actually Elie Saab, a man who has a lot to answer for come Fashion Judgment Day.) Poor Tina Knowles, evidently crushed that her daughter grew up to be a pop superstar and not a pole dancer. Oh, well. A mom can dream, can't she?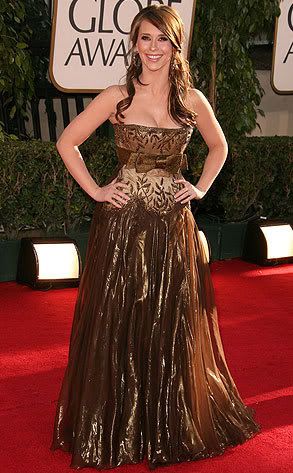 Good gaud.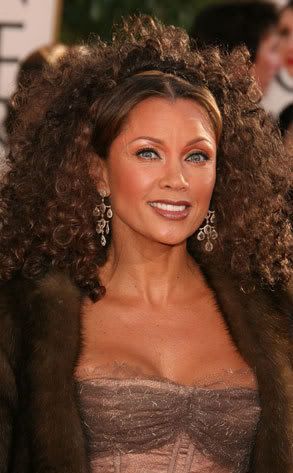 And remember, children, if you aren't very, very good, the Wicked Witch will come and take you away to her evil enchanted castle, where she will make dresses and coats out of your teddy bears.
What did you guys think of the Globes? Let me know!