Today Olivier Theyskens previewed his first collection for Nina Ricci in New York City. It's only a handful of looks, but it's enough to get me very excited.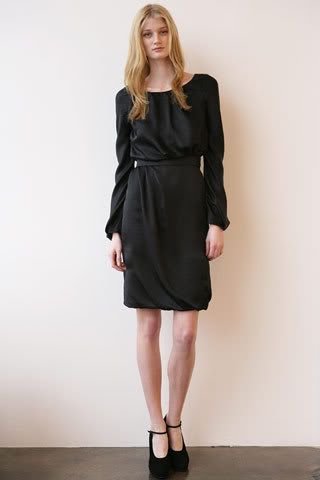 So beautiful. The softness of it is... kind of heartbreaking, it's so lovely.
And would you look at that suit. That's a suit for a sophisticated, grown-up woman. If I were wearing that I would never, ever be able to be anywhere other than rue Faubourg St. Honoré.
Don't miss
this interview
with Theyskens on Style.com, and there's also
this wonderful article
in the New York Times that chronicles the period right after the announcement that Procter & Gamble was closing Rochas. The Nina Ricci collection is mostly in black, gray, and the wonderful yellow of the iconic L'Air du Temps perfume. As usual, Olivier has very well-thought-out reasons why this is so.
I'm a huge fan of Theyskens. I think he's one of the most seriously talented designers to come down the pike in a long time and I'm thrilled that he's barely 30 and we have years of his work to look forward to. There is a purity and a rigor to Theyskens' work that I find truly poetic.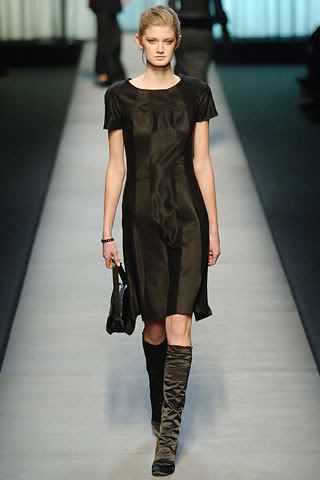 It's romantic in the deepest, truest sense of the word. Not frilly, Valentine's Day romantic, but the romance of a starless sky.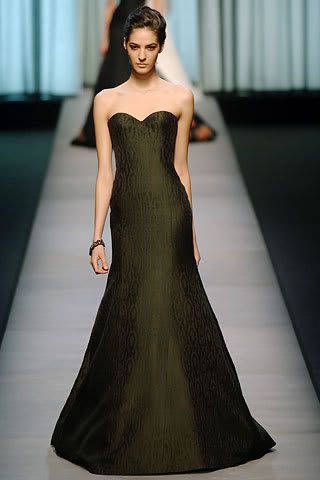 Theyskens' clothes are often deceptively simple, some might consider them almost plain. But there's a deeper elegance to his work, stripped down like a haiku in which every syllable matters. Beginning with his first season at Rochas, he's played with volume and structure in incredibly sophisticated ways.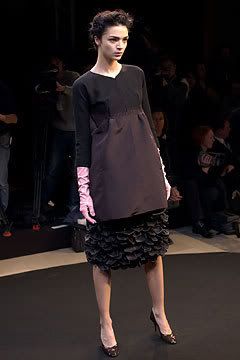 His clothes are truly French, also, maybe more than any other designer's out there (even though Theyskens is actually from Belgium). "Elegance is refusal," said Coco Chanel. Simplicity is the path to chic.
This is not to say that Olivier does not know how to have fun, or design a dress a gal wants to wear to a party
but even in his most playful mood he seems to float above the fray. His clothes are not for chihuahua-toting party girls or television starlets who know their most valuable commodity is best displayed in a bikini. They're not always easy to "get;" many people have complained that Rochas has been too "editorial," and obviously P&G felt that the line wasn't commercial enough to justify them sinking any more money into it. (Philistines!)
But imagine how graceful you would feel walking in the suit above. Imagine that jacket nipping you in at the waist and how delicate your wrists feel emerging from the sleeves and the rustling taffeta froth kicked up by the skirt with every step you take. Oh, it's just too swoony.
Theyskens has had an admirable ability to work within the historic tradition of the House of Rochas, and seems to be determined to do the same with Ricci. I'll be fascinated to see how that translates into his own, quite unique vision. The last few seasons at Rochas have seen Theyskens pare more and more away until he has reached an almost monastic simplicity that is at the same time so womanly and graceful it it seems like the only logical way to dress.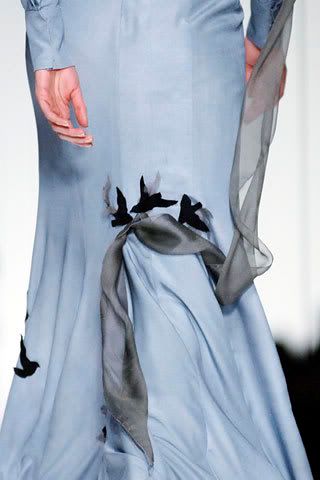 Scroll back up through those photos and notice how almost none of them features a single piece of jewelry (two exceptions have one small bangle bracelet each) and you don't even miss it. And whyever would you
need
jewelry, with a small flock of swallows fluttering in your wake?
As I am left fluttering in Olivier Theyskens' wake, waiting anxiously for next season's collections. Mark my words, he's going to be one of the great ones. How thrilling to watch it all unfold.