What I feel I should be wearing with it: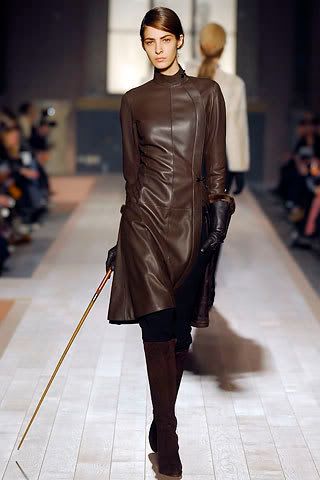 (Hermés F/W 2006. I wanted just about every single thing that came down the runway in this collection. Stunning. Having the adorable Jean Paul Gaultier design this house is a stroke of genius -- I often like his work for Hermés even better than what he does for his own line. Which I like plenty.)


I love the gorgeous dichotomy of this dress: it's made of leather, which is traditionally a tough-girl signifier, slightly kinky & perverse; but it's obviously such a soft & luxurious leather that it would be impossible to resist the impulse to stroke it. I feel that way about Ambre Sultan, too. Dry and smoky, it's not the least bit girly but entirely feminine in a warm-rumpled-sheets kind of way. It's cold & icy here today -- which hardly ever happens in central Texas. Wearing this perfume is a guaranteed way to make myself feel warmer, although in all honesty I wear it year 'round. (If I didn't wear my perfumes that many consider "cold-weather scents" when it was a little warm, half of my collection would only be available to me about three months of the year. I'm an amber gal who lives in a semi-tropical environment, go figure.) Ambre Sultan is enigmatic, deep, at home in a
Paul Bowles novel
or
a Patricia Barber song
. Close to the skin I can smell a tiny hint of vanilla, but the sillage is all smoke and spice. It's an exotic fragrance that somehow smells exactly right on me, the least exotic of creatures. When I wear this I feel I should rim my eyes with kohl and speak in a husky voice. It's my favorite amber (and I've smelled a few), and definitely in my Top Five Fragrances. Happily, it is available in the States, so I won't have to panic or run away with a Bedouin prince when my bottle begins to run low.
What are you wearing today? Is it helping you to stay warm?