What time of year is that? you might ask.

Not the Christmas season, obviously. Not Valentine's Day (pah!). Not even summer vacation.

It's time for the Spring Couture Shows!!

(Style Spy hops around her home doing Happy Little Fashionista Dance)

On the gray and chilly cobblestones of Paris, fashionable types from all over the world have gathered to view the most fanciful, beautiful, creative, outlandish, opulent, breathtaking, and fiendishly expensive clothes to be found anywhere on Planet Earth.

(And yes, it does kill me that I'm not there.)

Ready to Wear is just that -- clothing that is pretty much geared toward being sold as shown, the season after it's presented. Of course there are some changes that get made between the runway and the sales floor of Saks (a lot of lowering of hemlines this last time around), but for the most part the clothes you see or clothes very much like them will be available for purchasing. But Couture? Ahhhh, Couture is something else. Couture clothes are made to order for a very, very select group of clients and give designers an opportunity to let loose with their wildest fancies. Don't think it will sell? Oh, well. You're probably only going to make one of them anyway. It's the most fun in all of fashion, and often a source for dramatic shifts and influences that eventually trickle down to the racks at Nordstrom's.

Willy Wonka's Fashion Factory. The Oracle. The Garden of Apparel Eden. Fashionista Pig Heaven.

For a rundown on the specifics of Couture, give this a read, or check out this site for a more in-depth discussion.

Here's one of my favorite things so far, just a little morsel from Christian Lacroix's show.





































He seems to have put the same shoe on every model in the show, and just changed out the flowers he tucked into them. The shoe itself is absolutely, gloriously swoony, but those flowers just send me over the edge.

This weekend I'll be dashing in to see my favorite vintage dealer. She happens to have a large collection of old silk flowers from the 40's and 50's, and I'm going to pick up a few sprigs to attach to my shoes.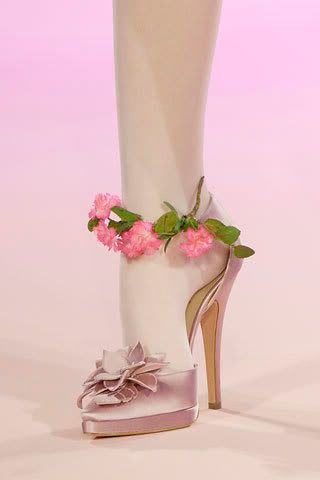 Now if you'll excuse me, I have to go rummage through my closet to see which shoes will look best with adorable vintage flowers tucked into them.


Photos: Style.com