The Chanel Haute Couture show hit the runway last week. It all looked like this.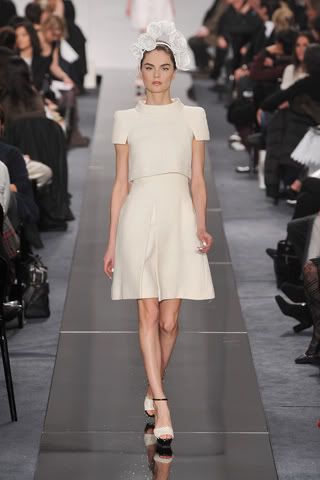 Ummmmmm...


Yeah, well, that's pretty much all I have to say about it.



Oh, okay. It was really pretty, as couture usually is (except for Givenchy). Kaiser Karl declared that he was clearing the slate and his inspiration was a blank sheet of white paper. Which is a lovely idea, especially given the shrieks and cries of gloom and doom all around us these days. And it's not like the stuff was

bad

, certainly...



I mean, there's not a thing wrong with that skirt. Love the sharp tailoring and the inverted pleat -- it's classic, and if you're going to pay for one-of-a-kind, made-to-order Chanel couture, you want something you can wear for longer than four months. (Hell, if you're paying for Chanel ready-to-wear on sale at the Neiman Marcus outlet you want
that
. Chanel does not come cheap.)

There is something very appealing to me about the all white. I love white, am a stone sucker for a beautiful white dress. White is clean, and fresh, and after the dark of winter it is nice to see all that brightness. And then there is the "blank page" aspect of it. Despite the tough times that we're living through, there seems to be a feeling of starting anew right now, of buckling down and putting our backs into it and trying to get things revved up again and going in a new direction. Maybe it's only here in America, but that very over-used word "hope" has taken on a particular resonance lately. So the white seems appropriate in that way -- a symbol of newness and re-birth and virginal freshness. It's just that the clothes themselves didn't really echo that for me -- they were all fairly predictable, although completely beautiful.



Pretty much the first half of the show was little white suits or variations on little white suits or little white dresses. All were beautiful, all have the amazing detailing you expect from a couture show (especially Chanel couture, given that Chanel now owns a few of the specialty needlework houses like Lesage).



Things got a little fancier as the show proceeded -- the suits morphed into evening looks.



One of the most wonderful things aboutthe show were these astonishing paper hats and garlands and tiaras, created by a Japanes hairdresser named Kamo.



Stupendous. Really, really breathtaking.
The show wasn't

completely

white -- eventually it moved into some black and white


(Every stitch of that embroidery and every single one of those sequins -- hand-sewn. Astonishing.)


and even a few all-black pieces


If you're going to do the LBD thing,

that

is the way to do it. Those? Are some classy sequins.


My favorite thing of the whole show was this little number


That makes me sigh deeply. Oh, my flat-chested sisters -- we all need marvelous flowery lace bustiers for this summer, don't you think? It's an absolute little folly of a garment, and just perfectly beautiful. I'm going to sigh over this for ages.

So, yeah. Lovely things from Chanel.

Lots

of lovely things, actually -- there were 66 looks that marched down that runway. (

Sixty-six!!

Chiuri & Piccioli over at Valentino only did 39, and there's

two

of them!) That is a LOT of designing from the protean Herr Lagerfeld, especially considering that ready-to-wear is right around the corner and not only does he have Chanel to contend with, but Fendi and his namesake lines as well. The man is a machine. Someday, when Karl Lagerfeld has exited to that great fitting room in the sky, there is going to be a tell-all book by some disgruntled design assistant that I am really going to want to get my hands on. Until then...


Hey, if this guy were your boss, would
you
wanna cross him?
Photos: style.com