I play a little game with myself sometimes. Every hobby/avocation has a version of Top Five. Book lovers ask, who are your five favorite authors? Perfumistas ask, if your house were on fire, which five bottles would you scoop up on your way out? Foodies talk about their best meals ever. My little fashionista version is, If I had to choose, which five designers would I wear exclusively for the rest of my life?

I love this little game, I can amuse myself with it endlessly. My top five are fairly steady with some switching around from season to season depending on what any given designer's been doing, but the last few years the one name I can depend on popping up is Stefano Pilati for YSL. It seems to me that Pilati has mastered the tightrope walk of wearability/fashion-forward-ness. Looking at a YSL collection always gives me the sensation that my eyes are crossed a little and I'm having a wee bit of double vision, because I can always see the clothes through the prism of newness and experimentation, but I also see them as eternally chic staples that I'm going to be able to wear for years to come.



Could. Not. Be. More. Perfect.



The other thing that Pilati is doing for YSL, despite his being Italian himself, is really working that chic-to-the-bone Parisian quality that YSL has always epitomized. You might not know exactly why, but looking at most of Pilati's clothes, you think, "That is just so
French
."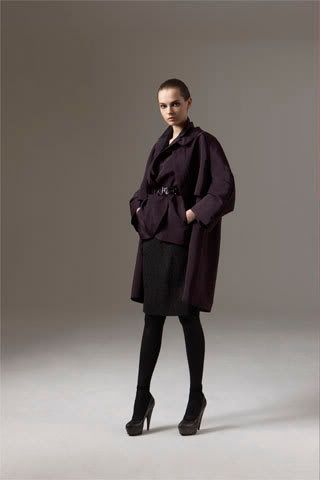 It's because they're often very pared-down yet souped-up version of basics that every woman wants to have in her wardrobe -- the perfect pencil skirt, the jacket that fits like a hug from your mama. Basic garments done in a non-basic way -- always tailored to within an inch of their lives and usually with some sort of unexpected, non-traditional touch.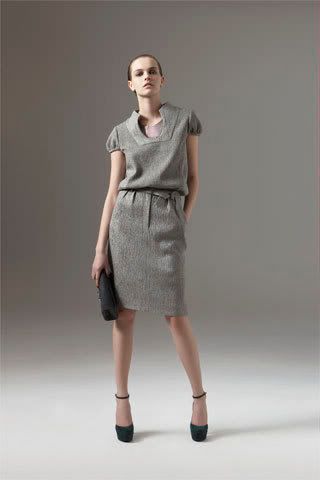 The pre-fall collection seems to be even more tightly edited than usual; scaled back and undersold in deference to the fact that the world seems to be teetering on the brink of a major economic disaster. Most of us are thinking twice about spending anything like serious money on something as "frivolous" as fashion, and Pilati seems determined to A) respect the seriousness of the situation and B) give good bang for the buck. If you bought the outfit above, you wouldn't have to quit wearing it any time soon -- that is timeless.




Sophisticated, easy, perfect LBD. Wear this and everyone else in the room will look like they're trying way too hard.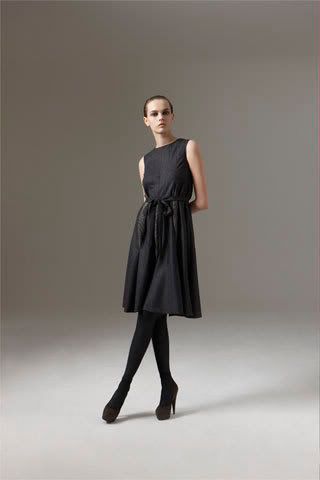 Here's the latest version of the pants silhouette Pilati's been playing with the last few seasons. These are a dropped-crotch, but they are still a bit tailored. I'm still loving a cropped pant with a big shoe, so this is right up my alley.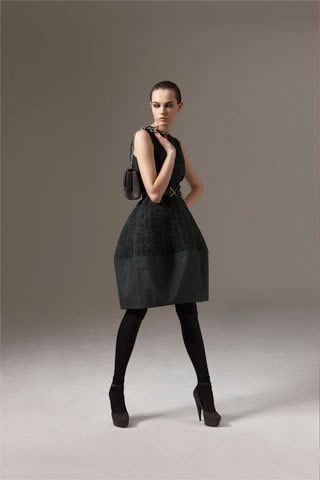 Speaking of architectural -- I love the bell shape of this skirt. Whimsical without being childish, which is not easy to find.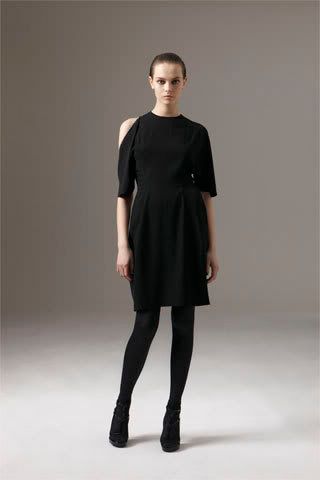 Devastating. This dress makes me quiver.




I would love, of course, if there were a little more color in the collection. Pilati does lean toward the neutrals, the bulk of most of his collections seem to be black, gray, khaki, etc. Me being me, I long for more shots of brightness, but I also understand that it's that neutral palette that makes these clothes so timeless.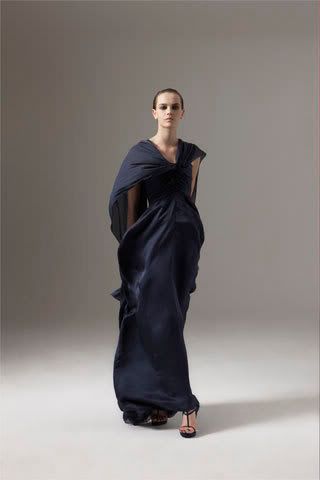 This is, of course, helped by the handy wind machine they brought in for the photo shoot, but good googly-moogly, how gorgeous is that? I always say, for me the most important thing in determining a truly great piece of clothing is the movement, and that has it in spades. Just lovely.


I loved this whole collection, I'd be thrilled to have anything in it, not least because I'd be able to wear it for the next ten years. Investment dressing, definitely, and given the state of things lately, investing in your wardrobe may be the only safe bet left.


The New York shows begin in a couple of days, and from there it's the month-long whirlwind that takes us from there to London, Milan, and Paris. I don't anticipate being able to keep up with everything -- I'll do what I can, but there seem to be more fashion designers than aspiring actors in New York these days, and the shows come thick & fast.




Photos: style.com