I was reading fun fashion blog Kingdom of Style Saturday morning and was introduced to a Scottish designer called Keira Thorley. She has a very small line that's absolutely adorable, with a retro, 1940s vibe. A little bit of this kind of thing goes a long way with me (I don't do the full-stop girlie thing very often), but I must admit there are a few pieces in her collection that really made me sit up & wipe the drool from my chin. One was this gorgeous leather cape/jacket: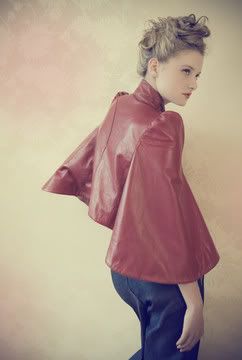 Isn't that pretty? I just LOVE that. I'm a sucker for a well-done bell sleeve, I tell ya. I can think of a dozen ways to wear that. My first instinct would be to go with a nice narrow pencil skirt, something with a high-ish waist. I would also be sure that everything else in the outfit was very tailored, or even edgy, to avoid the whole look sliding into the twee or cutesy. (Cutesy is the enemy of chic.) So, from my wardrobe: black pencil skirt, printed blue, black & cream sleeveless Marni shell, and either tall black boots or my patent Marni platforms.
(I'm going to have to break down & learn how to use Polyvore, aren't I?)
Unfortunately, while the dollar has gotten stronger, it's still a long way off from its glory days of 1:1 with the pound sterling, so this lovely jacket prices out at just under $750. Ouch.
But this is also on the site, at a much more reasonable 40 bucks:
It's a little leather bow cuff, bound with satin ribbon. It comes in several colors and I think it's absolutely wonderful. As we know, I do love a good cuff, and I'm also
a fan of the bow
, when done correctly. One of my favorite things about Valentino has always been the quality of the house's bows. I know that sounds silly, but they somehow manage to get them perfectly,
perfectly right
. Sarah Mower over at Style.com once famously described them as them "succulent," and I heartily agree. And I think this bow cuff from Keira has some definite Valentino-esque qualities. And doesn't cost a month's rent, like most things you'd find at a Valentino boutique.
Sadly, even though it's reasonably priced, said adorable accessory seems to be available only in the UK. Probably for the best, but I do have to say if any of my UK readers are casting about for a Valentine's gift for their friend Style Spy... I'm just sayin'.



And now, please forgive me while I take a moment for something completely fashion-unrelated. Somehow, Style Spy has had her e-mail address hacked, and my Inbox is stuffed, flooded,

inundated

with junk mail bouncebacks. I am deleting at least 40 - 50 of these things a day, and that doesn't count the hundreds and hundreds that are getting caught by my web server & don't make it to my actual mail program that I'm going to have to go & delete by hand so that they don't eat all my bandwidth. I'm really at the end of my tether and need this to stop. Is there any way, oh readers who may be more tech-savvy than me, that I can put a stop to this, short of closing down the address, which is not an option. Any help would be welcome.

Photos: Keira.co.uk