Vera Wang showed the Fall 2009 collection for her Lavender Label in NYC last week, and I found it something of a bellweather for this season. So far, I'm hearing/seeing lots of talk/clothes about the recession. Responses seem to fall into two distinct parts: 1) dark colors, sharper tailoring, less exuberant shapes & fabrics and 2) focus on basics in order to bring more perceived bang for the consumer's buck. There are, of course, exceptions to this, but there is an unmistakable general drift toward a "serious" season of clothes we don't feel bad about buying.

Lavender Label is Wang's bridge line, the more affordable one. It falls between her main label and the collaboration she does with Kohl's department stores (which, by the way, has a fantastic sale going on right now, including a great price on my favorite t-shirts). I almost always love everything Wang does -- she has a specific and extremely recognizable aesthetic that combines the gothic and the geometric. Her clothes can be both beautiful and a little weird. For people who think of her exclusively in terms of the bridal wear for which she became famous, her ready to wear must come as a jolt. For me, it's a welcome palette-cleanser -- when I first heard she was launching RTW, I wrinkled my nose a bit, anticipating multi-colored versions of wedding gowns. But that is not what Vera is about.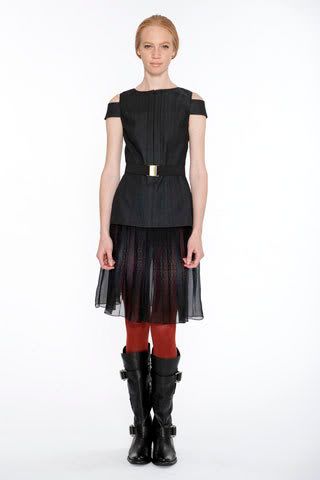 I just love this. Okay, yes, we need a lining under the skirt, but that top is fantastic. It has an almost Joan of Arc thing going on. I also, of course, love those boots, especially in combination with the filmy skirt. I'm always a big fan of mixing fashion genres like that.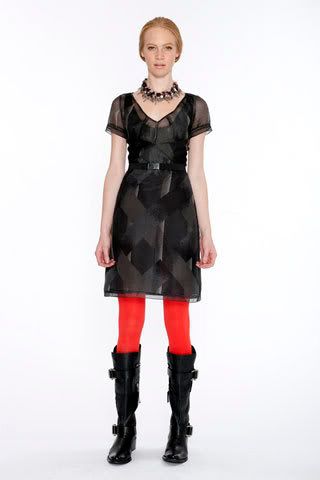 Pretty, pretty dress. Extremely feminine without being frilly, which I also favor. I like it styled this way, but it would also be a great dress worn in a more traditional way, with heels.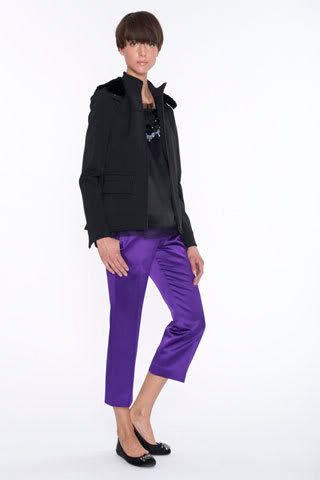 Dagnabbit, this is what I want to look like all the time! It's so easy and yet so cool.



Again, yes, it's silly that this skirt isn't lined. I can only assume that it will be for production. Probably they'll line it in black, which will be a shame because then you'll lose a lot of the detail in the fabric, which is so pretty. I vote for a nude-colored lining, or even a red one.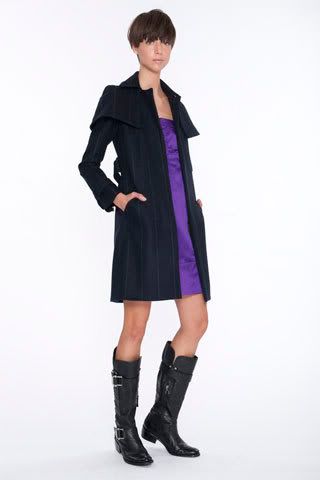 Wang's color palettes run to the dark & muddy most of the time, but she's not above judicious hits of brights and she seems favor reds & purples in this line in particular. No argument from
moi
on that. And dayum, do I love those boots.



So pretty. I can't tell exactly what is creating the shine on this dress -- if it's beads or studs or what, but I do love the degradé effect, and also the combo of the tailored dress with the slouchy cardi. Redhead loves her a slouchy cardi.

Great skirt. Great coat. GREAT boots.
(Did I mention that I love the boots?)
Bad hair, though.
Like I said, I really liked this show. I thought the clothes were great, and very wearable. Wang does a great job of creating the kind of pieces you can wear to work that won't bore you to tears but also won't cause folks to scratch their heads over what the heck you've got on -- realistic clothes with a fashion-forward twist.


This is my first post about the Fall 2009 collections and it won't be my last, but I cannot hope to bring you all of it. We're only 3 or 4 days in and there's already been about 7,428 shows, and from NY we move directly to London, then Milan, then Paris. and at some point I have to get up from my desk and stop looking at photos of clothes and actually do real-life things like wash and eat and interact with other humans. Stay tuned!
Photos: Style.com