I had to divide my Oscars post into two, because I grew weary looking at all of the "glamour" and "excitement." Probably you're all counting your lucky stars that I skipped my usual Hollywood-is-boring diatribe, but don't count your chickens: Hollywood is boring. There's a lot of photos you're not going to see here, because they just don't seem worth commenting on. Please understand me: it's not that the dresses aren't pretty. They're very pretty. The jewelry is pretty, the hair is (mostly) pretty, the makeup is pretty. But I'm just not interested in talking about yet another skin-tight, "tasteful," utterly predictable and risk-free dress.

This, on the other hand?


A little risky. And thank goodness. This is Heidi Klum in RM by Roland Mouret. I always look forward to Klum because she's dug well in to the fashion world and she has a deeper appreciation for clothes than just wanting a pretty dress that shows off her figure. The dress is definitely body-conscious, but it's not skin-tight. It doesn't have to be to be sexy, and besides -- who among us does not know that Heidi Klum has one of the most phenomenal bodies around?
Love the origami detailing on this dress and the open back. That's sexy, right there.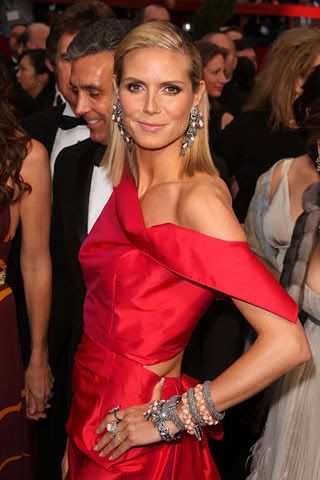 And the jewels. Klum accessorized with about 30 pounds of diamond and coral Lorraine Schwartz jewelry. That? Is a LOT of bling. But I like it. I mean, the woman is a 12-foot tall Teutonic goddess who has spent most of her adult life strutting down runways & being photographed. She has
presence
, ya know? She can more than carry off this kind of deliberate overload in a way that a lot of women (
most
women, let's be honest) could not.
It does not make me happy to apply the words "hot mess" to Sophia Loren.
But that is what this is. This dress, believe it or not, is Armani Privé. Other than the fact that there's a beautiful Italian woman packed into it, there is nothing I can see here that is recognizably Armani. This thing looks like she bought it one of those places where they sell enormous polyester quinceanera dresses wrapped in plastic. The color is awful, the style is dated and unflattering, and those ruffles! Oh, my god!

And then there's the Cruella DeVille makeup, which is the most heartbreaking thing. Because just
look
at her, would you? The woman is 75 years old and she looks fantastic! And not just "she looks fantastic for an older woman," she's just freaking gorgeous to this day. So it's all the worse that she's hanging so desperately on to the look she wore in in times past -- the sex bomb hair, the eighties makeup... she doesn't need it. I am not, believe me, saying that because she is
une femme d'un certain age
she needs to just chuck in the towel & wear Eileen Fisher & Clarks for the rest of her life. But she needs to re-assess. Look back at the picture of Meryl Streep I showed yesterday -- she looks lovely. And grown-up. And not, god forgive me, like a drag queen impersonation of herself.
Another hot mess that made me very sad (we may as well get them over with while I'm on the topic):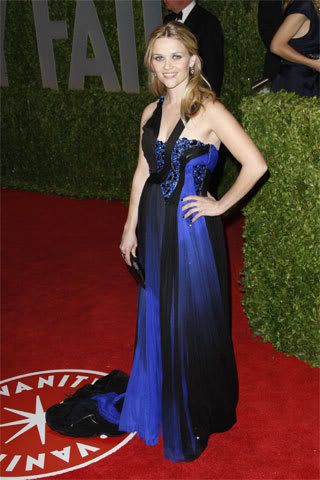 Reese Witherspoon in Rodarte. I'm puzzled by this. I usually love Rodarte, and theoretically I like this dress. I liked
this collection
(Spring 09) when it went down the runway, but I thought the more successful versions of this dress were the short ones. Kate & Laura Mulleavy at Rodarte are extremely emotional, theoretical designers -- their clothes are not always easy and can be on the extreme side. The dress appears to be a mash-up of these two looks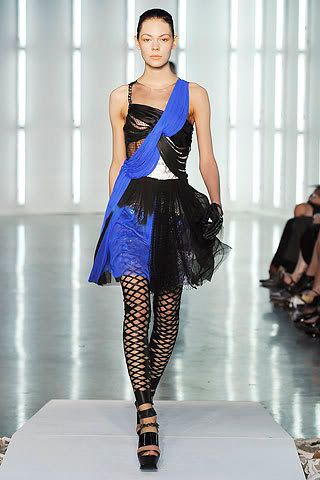 and then sparkled & pretty'd up for the red carpet. Which is a bad idea -- when a design is this conceptual, watering it down to make it more accessible is just going to result in something that looks half-assed. Of those two, I definitely think the short dress is the more successful one. I know it isn't everyone's cup of tea, I don't even know that I'd wear it myself (well, probably, given the right circs, but it doesn't make me froth at the mouth or anything); but it's a cohesive design statement and at the very least it's interesting. When they tried to soften it, in the longer version, it loses its edge and falls apart a bit. Plus, I really can't warm up to the color palette on the long dress, I find it jarring. Reese Witherspoon, as far as I can tell, would fit in my coffee cup -- the dress is just too much for her. As far as I'm concerned, her most successful look ever is still that sleek yellow jacquard knee-length Nina Ricci sheath she sported a few years ago. I wonder what happened to her association with that house?
As I scrolled through all the photos of the show & the after-parties, I noticed that a lot of people changed clothes in-between the two. Theoretically, I wholeheartedly endorse any opportunity one has to sport multiple outfits in an evening. If you don't think I'd happily bring a change of clothes (or shoes, at the very least) in the trunk of my car so that I can don an entirely new ensemble mid-way through when I go out for an evening, you don't know me very well. (All my IRL friends reading this just became very alarmed. Don't worry, guys. Not going to happen. Not until I'm a lot more famous, anyway.) Also, you're going from a big, fancy, formal awards ceremony to a pah-tay. God willing, you've got this big gold candlestick-shaped thingie to tote around with you all night, there is much air-kissing to be done, and multiple glasses of very expensive champagne to be drunk. You wanna loosen up a bit. So going from this:
to this:
makes all kinds of sense to me.
Sorta.
First off, why anyone in their right mind would trade Dior Haute Couture for Elie Saab eludes me. That is like pushing aside your
foie gras
and asking for a bucket of KFC. I'm far from in love with the Dior, mind you, it feels a little messy and unfocused although given that it's couture I'm sure that if I saw it close-up it'd be a whole other story. But Elie Saab evidently saw photos of me in the dress I wore to my Drama Department Gala in 1984 and reproduced it in navy blue taffeta instead of red satin. I was awfully glad to see her lose the nuclear missile hairdo, though, and again -- I can understand why you'd want a little less dress for maneuvering at the parties.
On the other hand, what do you gain by going from this
to this?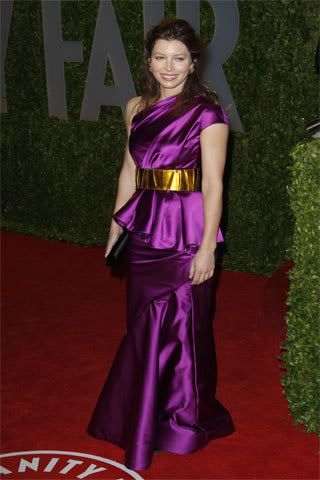 Except, potentially, validation that despite the fact that you are an exceedingly minor actress for whom the vast majority of the population cannot name a single credit on your "resumé" other than your omnipresence on the red carpets (Seriously -- can anyone tell me ONE THING this young woman has done?) and in mens' magazines, you are important enough to merit two dresses by two major designers (Prada and Oscar de la Renta, respectively). Neither of these dresses is successful. I can't recall anything this bland going down a Prada runway in living memory, so I have to assume that there were changes to something requested & made. Another good example of not going far enough with the concept -- see that tiny spot of black midway down the skirt? The underside of the fabric was black. Except that we can't really
tell
that there's a black lining that we're supposed to know about, so it just looks like a mistake. And the fit is horrendous. Yes, I'm glad it's not yet another duchesse satin vacuum-sealed scuba suit, but could they not have HEMMED the thing? That is awful! Although perhaps I shouldn't complain about the hem, because it was long enough to mostly hide the very heavy, black, closed-toe shoe that she was wearing that was ENTIRELY wrong for the dress. Actually, the shoe was my first clue that this dress was a swing and a miss at something a little more fashion forward -- it's very Prada-esque to play with proportion and mood like that. But this was an extremely tepid rendition of that. The de la Renta dress is a gorgeous color, but it also needs to be hemmed and is about 30 years too old for her. (Also -- what is up with her hair? Was she
dragged
to the Oscars???)
Another quick-change artist: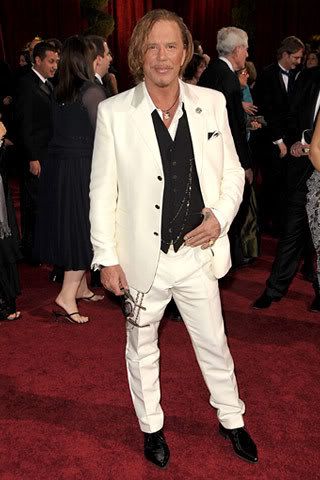 At the first awards show of the season I hated it. Then I began to grow accustomed to it. And at this point, I gotta tell ya -- I'm going with it. I kinda like it. It's his thing. Anti-establishment rocker dude lounge singer punk. Or something. But whatever it is -- it's not a mistake. It's very deliberate, he's cultivating a look, and I'm going to give it up to him for that. He knows his own style, and Gaultier, whom he's wearing above, is a brilliant choice for him. And there's a lot of little details in this outfit that most men would not be bothered with and I honestly have to applaud.
For the parties he changed into this:
I wouldn't have minded jeans if they weren't quite so beach boy, and if we're doing the hat thing why not a slick pair of boots instead of the shoes you walk the dogs in when it's raining, but that jacket is pretty seriously wonderful. Look closer.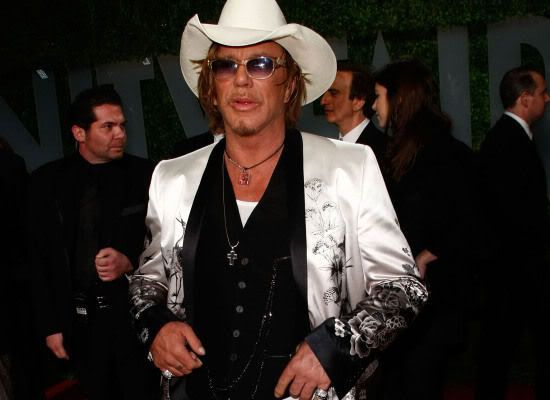 I think that's Galliano, but I'm not sure. Whoever it is, it is crazy beautiful. I would wear that in a heartbeat.
I've saved my favorite for last, and I'll bet you can all see this coming a mile away.
Oh, Tilda. I heart you. I heart you entirely. And I heart you, too, Alber Elbaz, my adorable little fashion teddy bear. This? Is amaaaaaaazing. Also, this is capital-F Fashion, and Tilda Swinton is my hero for her unapologetic love of the stuff. There was nothing else even remotely like this on the red carpet, and yet it was stunningly appropriate -- she did not look like she flew in from outer space, she looked elegant, chic, and knowing. There is a huge qualitative difference between this and the rest of the borderline pageant-wear most women are walking around in at these events. And I'll bet
Tilda
didn't have to change her clothes for the parties -- that looks like you could wear it for days and not even notice it.
I could not believe how much I liked her as a blonde
Given her coloring and apparent distaste for makeup, I would have said going blonde was a terrible mistake, but for some reason it really works. I also would not have recommended that color under any circs for someone of that complexion, but through some sort of
mode/maquillage
alchemy it's absolutely wonderful on her. I like that she made a bit of a concession and did that bright red lip -- it's just enough.
Swinton doesn't work with a stylist (take that, Rachel Zoe!). She is who she is, she
knows
who she is, she knows what she likes, and she's a deeply adventurous spirit. You may like what she's wearing or not, but there is never any doubt that the woman in it is supremely confident in her own skin. I think she is hands-down the most stylish actress around right now for that very reason.
Photos: style.com, getty images