Okay, we have to talk about it. I've put it off for as long as I can, and now we just have to wrestle with the fashion elephant in the room.



I'm talking about the drop-crotch trouser.
They're everywhere. All over the runways and making their way into the stores and internet retail portals. Most folks are blaming my boy Stefano Pilati at YSL.
These from the Fall 2008 show that made my head spin with delight. Pilati's been working this silhouette for a while. This is the latest iteration, from the Spring 2009 collection
I think this is great -- I thought it was a skirt at first, but it's trousers. YSL isn't the only place showing them, just about everyone seems to have jumped on the droopy drawers bandwagon...
My boyfriendAlexanderMcQueen:
Vivienne Westwood:
Dries van Noten:
All of whom are designers one might expect to throw out less-than-conventional ideas, but these things are popping up in places one wouldn't necessarily expect them to, like Gucci:
And even Ralph Lauren, for crying out loud:
I know, I know. You hate them. Everyone hates them. They're baggy & they look like diapers. They remind you of the 1980s and M.C. Hammer. But they aren't all as truly awful as the iteration I showed at the very top of the blog, and as you can see, there are degrees of drop-crotch-itude. Of course, if you want the full-stop droopy they're out there:
No, I can't recommend these. They really do look like sweatpants gone bad and while the pose the above model is striking de-emphasizes how bad they make her look from behind, I think we're all familiar enough with toddlers in onesies to extrapolate. I'm sure they're comfortable as all get out -- well, no, even that's not true. They might be too snug around the leg openings if you don't have pegs as skinny as the model's.
There

are

less offensive versions available. (Click photos or hypertext for links.)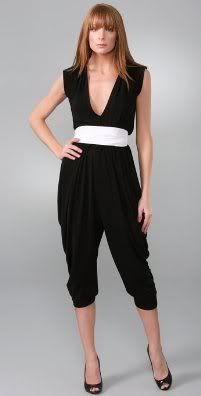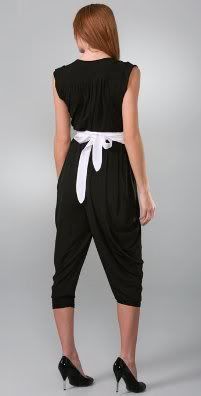 Another jumpsuit. See? These shoes look wrong with it. Too conventional. And I have to say -- there's enough fabric happening over the backside with this thing that you don't need the great big white bow adding to it. Which leads me to a discussion of the back view. Obviously, these pants are no friend to the very pear-shaped. I think that if a person had a nice shapely badonkadonk they could actually work for you, because you'd still be able to see your shape underneath the garment. I'm talking about a nice, round Beyoncé-style backside -- the truly pear-shaped, those who carry their weight lower, in the hips, are probably not going to do well with these because of the horizontal spread of the fabric over the wider parts.
There's also a branch on this particular fashion family tree that some might perceive as more user-friendly, and that's the slouchy trouser. Along with the full-on drop-crotch shape are coming just a generally more relaxed trouser shape that is one part harem pant, one part Kate Hepburn.
Like these: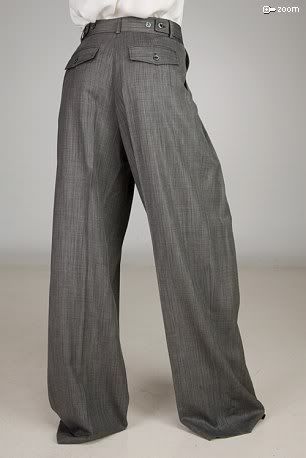 Which are actually a pretty good-looking pair of pants. (Although if you go out with your hems this long and dragging on the ground I swear I will hunt you down & smack you.) A note: do not wear something sloppy on top with these pants. You need a sharply-tailored blouse or a close-fitting knit top, and it needs to be tucked in, otherwise you're going to look like an unmade bed. Now, I know what you're thinking: we've been brainwashed the last several years to believe that under no circs are pleated pants to be borne, they are anathema, take them all out & burn them in a big pleated bonfire of the Dockers, blah blah StaceyandClintonfishcakes blah. But. Note how flat the pleats on these are. They are an inverted pleat rather than a regular one, and they are flat for the first couple of inches below the waistband so that the volume the pleats give doesn't bunch around the tummy. Pleats are possible, but you'll need to shop carefully.
The other fun thing about these is that the leg openings are elasticized, so I can wear them down to the ankle as above, or I can pull them up to my knee like this
which makes them look like a bubble skirt. Which, I know, is another controversial shape that I happen to like. These pants are cotton jersey, which I said above I wasn't crazy about, but they're a nice heavy black jersey that doesn't look like sweatpants, so I'm okay with it.
Okay, so tell me what you think (as if I can't predict it). Let me have it. Just please don't call me Hammer.
Photos: style.com, Style Spy