So Jason Wu put one white dress on one pretty lady and WHAM! He became a big noise in the fashion world overnight. I don't feel bad about this -- Wu's been showing for a couple of years now and his clothes are consistently lovely. I don't know that he's groundbreaking, but he is good. I'm not the only one to be reminded of Oscar de la Renta; no less an authority than Cathy Horyn agrees with me there, but I don't think that's a bad thing. There do need to be one or two young designers out there in the world carrying the torch of ladylike polish and unapologetic prettiness. The world goes around, but at some point, everyone wants a pretty little dress.

Like this:



Wu has a great eye for prints -- he mixes & uses them in a way that is more modern and less matchy-matchy.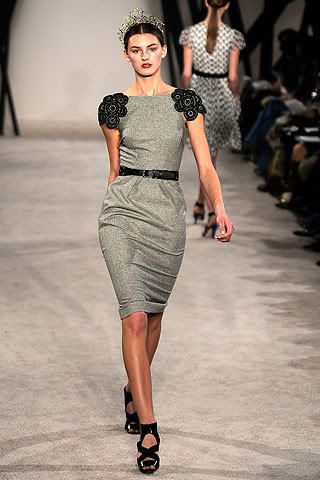 This dress is so perfect. Goodness knows I love a good sheath dress, and those appliqués really rock my world. This is a Twenty-Year Dress.


A little
flou
to go with our
tailleur
...


And what good
flou
it is. Love the inversion of the pattern and this nifty flyaway thing on the skirt.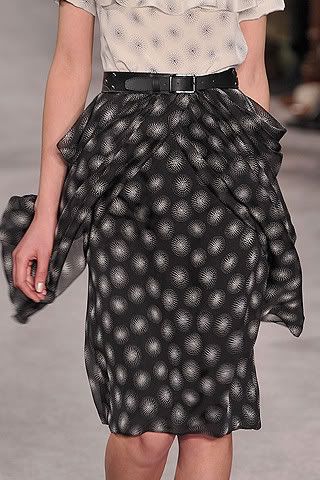 See? Oscar de la Renta. Not that there's anything wrong with that. Do note the shoe here, though, and through this whole show. It's a very modern shoe -- heavy and strong. It's a big help in anchoring this look and keeping it from being too precious or vintage costume-y.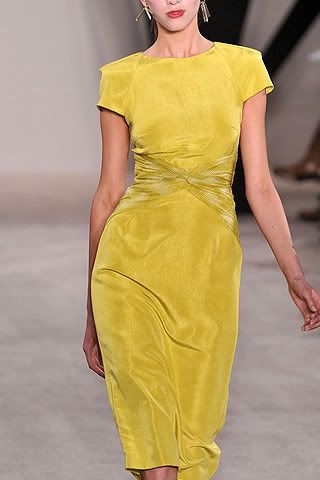 Again, a Twenty-Year Dress. Absolutely mad for this.



Yeah, the usual where's-the-lining eyebrow raise, but otherwise, Oh! Pretty dress! Makes me wish I could wear gray.



This photo is less about showing the dress in the foreground (pretty as it is) than the back of the gray dress, which is in the background. Love that floaty sort of modified watteau back -- it must feel divinely feminine, walking around in that dress.
Here come the sparklies!!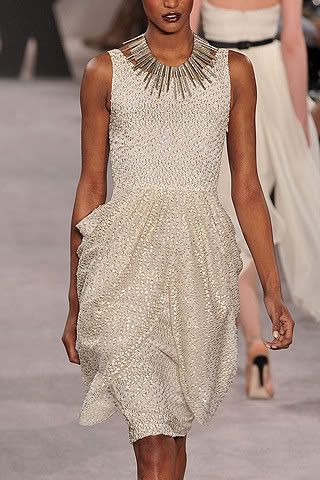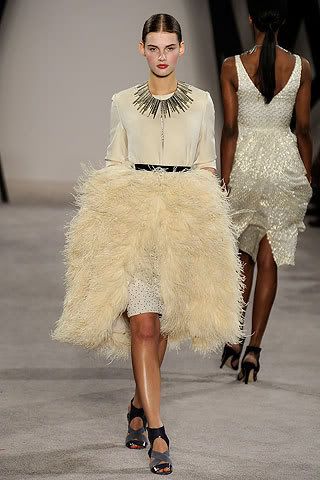 You know I'm losing my mind for this, right? I make no excuses -- we all know I'm a wackdoodle when it comes to the feathers & fluff.



Mmmmm, shimmy-shimmy. So pretty!! I love winter white, lovelovelove it. It's such an unusual color for this sort of dress, and gives you a wonderful canvas to for jewelry, shoes, & bags. I'd really love to style this dress -- I can think of several things I'd like to do with that. How about a black velvet blazer over it and some black satin boots? Mmmmmmmm...



This is the sort of dress I think Michelle Obama
should
have worn to the inauguration. Maybe a wee bit cleavage-y and the color isn't right for that occasion, but the shape is good for her. The actual dress I would have chosen for her would have been this one, from Wu's Spring 2009 show: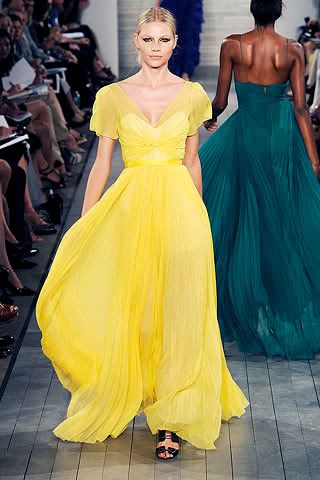 Wouldn't that have been perfect? I wish these people would call me before they made these important decisions...


My prediction is that Wu is going to burn very brightly for a few seasons, thanks to the exposure Mrs. Obama has brought him, and I think it's deserved. Like I said, there do need to be some young designers with an appreciation of dressmaking and the ability to crank out the kind of little number that a woman knows she can toss on whenever she wants to be pretty and appropriate. Eventually, it will be important for him to move forward a little bit in order not to become a one-trick pony, but I'm cutting him some slack for a while. Especially if he continues to make clothes as full-stop lovely as these.
Photos: style.com, elle.com