"Chado" is a Japanese word describing the ritual of the tea ceremony. It is a tradition strongly associated with Zen Buddhism and Japanese philosophy. The Seattle Urasenke Association describes it thusly: "It is characterized by simplicity, naturalism, profundity, imperfection, and asymmetry. It emphasizes restrained, unadorned objects and architectural space, and celebrates the beauty of natural materials given expression through skilled craftsmanship."

If you are a fan of Ralph Rucci, as I am, that description makes perfect sense when applied to the aesthetics of the clothes he designs under the label Chado Ralph Rucci. If you're not a fan of Ralph Rucci, you're wrong. Or maybe you just haven't been properly introduced.

Ralph Rucci makes things like this: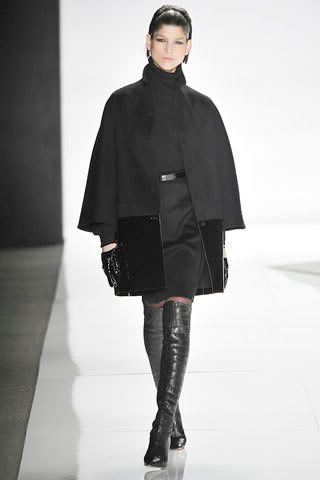 It's deceptively simple. Some folks might even say that it doesn't look like much.

And I see their point, sort of -- it's not flashy.



It's just flawless.




Rucci's evolution from season to season is less about radical changes in silhouette or palette than the detailing on his exquisitely crafted clothes.




Each season there seems to be a distinct technique of seaming, a fabric treatment, a new way of insetting contrasting material into the garment. It's subtle. Everything Rucci does is subtle.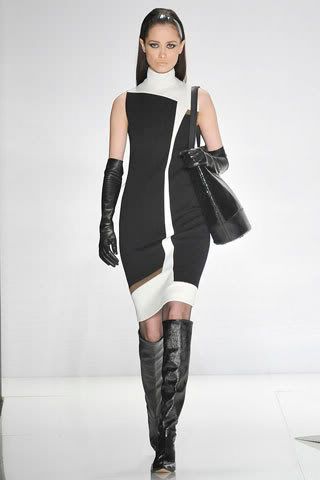 Subtle, and luxe.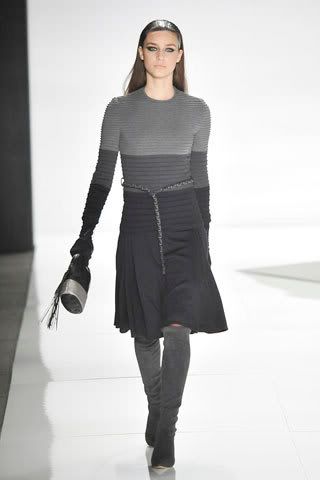 In keeping with the principals of simplicity & dignity embodied in the ritual Rucci chose as the name of his line, I'm mostly going to just let you bask in this gorgeous stuff.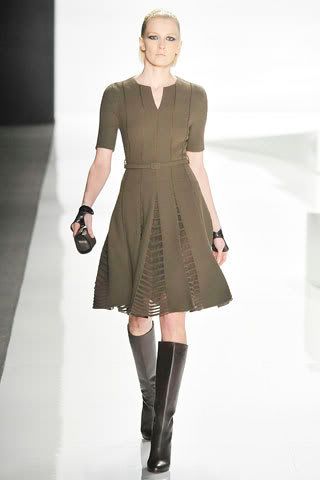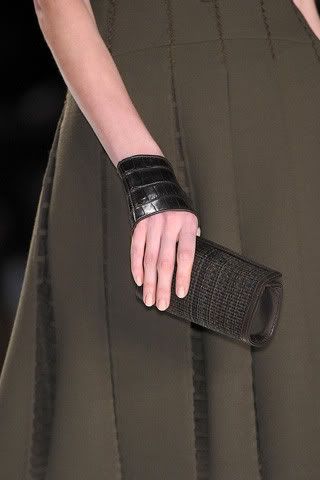 The handbag line is new this season. They're exquisite, just like everything else.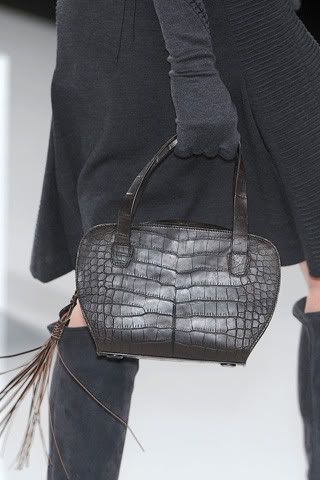 (I don't even want to know how much that costs. This line? Is not cheap. Rucci's clothes have to have one of the highest price points of any American designer. The stratospheric quality and the timelessness of his design go a long way toward justifying those prices, but make no mistake -- there are places where you could go to college for a couple of years for the cost of one of his evening gowns.)

The shoes are usually pretty perfect, too.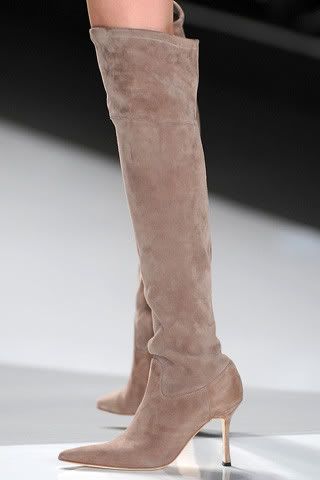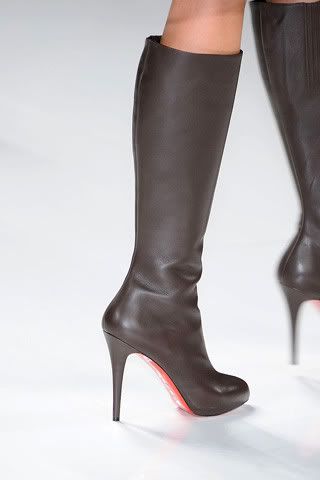 Are they Loubies? I don't know who does his shoes. I just know that I would wear those boots for the rest of my life.

Rucci is famous for incorporating art into his designs.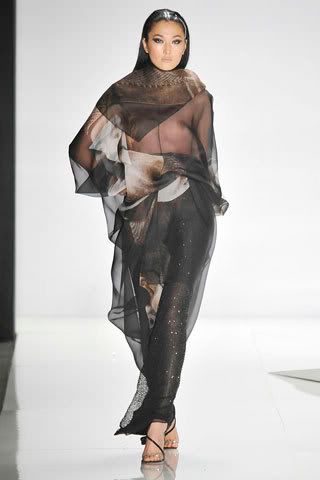 His color palette is basically entirely neutral, with maybe a few pops of color in any given show.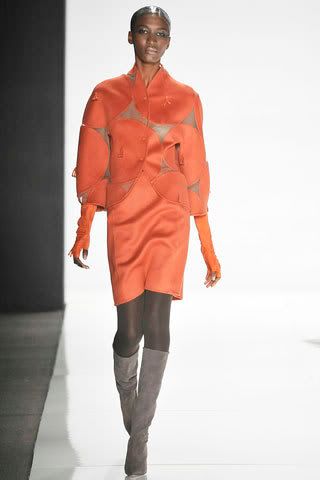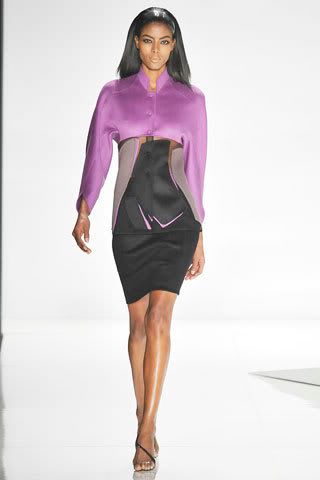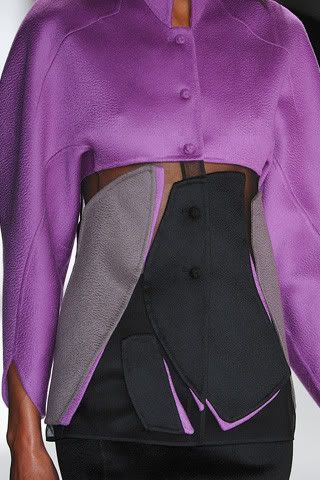 Note the glossy softness of this fabric. I've seen a few pieces from Chado up close -- that is a double-faced cashmere so soft I could seriously sleep in jammies made of it.





You don't see much of his stuff in magazines -- it's not trendy or flashy enough. Nor do you see it on the red carpet. The only time I can recall anyone Hollywood-famous appearing in Chado is Debra Messing at the SAG Awards in 2003. (For which choice she earned my undying affection, if not a free fashion pass.

No one gets a pass.

) As far as I know, the only place to get these clothes is Neiman Marcus & Bergdorf Goodman. There does not seem to be a boutique of any sort -- the sorts of women who keep Rucci in business are the sort that just make a phone call when they need something new, women like Deeda Blair and Martha Stewart. These folks are so exclusive that I cannot even find a

website

. In 2002, he was asked by the Chambre Syndicale in France to be the first American to show at the Paris couture shows in more than 40 years, and a great deal of Rucci's business

is

couture -- custom-made garments for a very elite clientele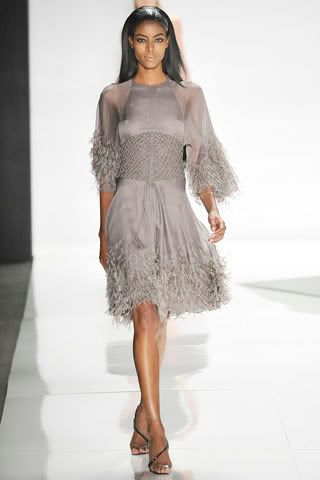 Oh, dear lord, this destroys me.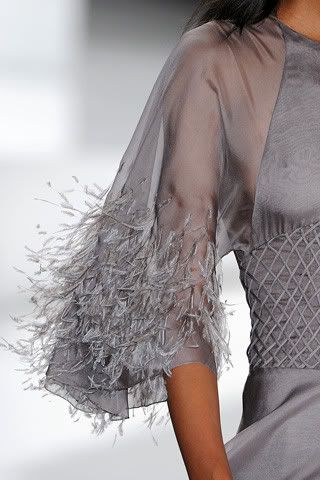 My feather thing is well-established by now, right?




Come on, admit it. It's fierce. You love it. You wish you had both the occasion and the stones to wear it. I know I do.

There's so much more. You need to just go look at the whole collection, and don't miss all the detail shots, which are important. It's really only in close-up that the breathtaking beauty of some of these clothes becomes apparent. This is

real

luxury, the kind that doesn't proclaim itself in any way except by being the very highest quality it can be. Even the label in these clothes is subtle -- it's a white-on-white embroidered tag, you almost have to already know what it is to recognize it.

I just hope is that someday I recognize it in my own closet...





Photos: Style.com, elle.com