I'm beginning to feel a little oppressed, I have to tell you. And I'm approximately one-third of the way through just New York's fashion week. It's becoming a bit of a blur. Herewith, some odds & ends I really liked from collections I didn't love enough to do full posts on. There will be more like this.





Victoria Beckham
, believe it or not. It's a small collection filled with a surprising number of good dresses. Most of them, as you could guess, are pretty body-conscious, but not nearly as tarty as one might expect. And this just knocked me dead. Style Spy neeeeeeeeds this dress. (Also, she needs an occasion to wear it and an accompanying, gorgeous, snappily-dressed bit of preferably French male arm candy to go with it. Ya know, while we're wishing.) This would be a great little red carpet num-bah, don't you think? We'll see if it pops up in LA on Sunday.


Matthew Williamson
, the Prince of Prints. This is dizzying, I absolutely ADORE it.


I thought this whole collection was pretty great -- he does a wonderful job here of taking his Ibiza/St. Bart's eternal summer party girl thing into a winter wardrobe. It's bright & cheery & very, very Williamson.




Bryan Bradley at
Tuleh
underwhelmed me this time, but I do lurve this jacket.



I still cannot resist a good shirtdress, and I do love fuchsia. I so wish they'd get their act together at
Halston
, but they just can't seem to -- this collection was equal parts wonderful and awful. The line is apparently being designed by committee at this point, and it looks it. It's such a shame, because the legacy of Halston is one of the best chapters in our classic American sportswear history -- Halston is the touchstone for Michael Kors and everyone else who aspires to that great, louche, sexy version of cool that Americans do better than anyone else when they're bringing their A-game. They just haven't landed the right designer to resuscitate the label yet. If Marc Jacobs weren't already a human three-ring circus I'd nominate him, but I think he's got enough fish in his kettle.
Tibi
(designed by Amy Smilovic) is a reliable, well-done, bridge-level line whose prints & colors I usually really like and this collection was no exception.
I'm choosing to ignore the giant black Q-tip hat. Best not to think about it too much.
Sometimes I can't explain it, sometimes I just love it.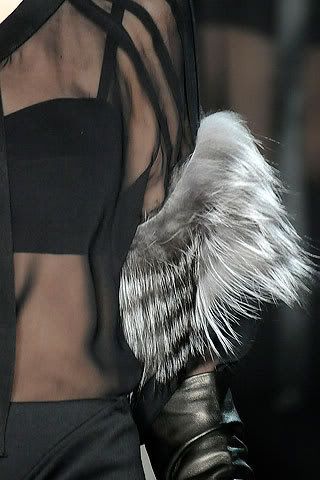 This is one of those times. Just go with it, okay?



Someone called Bibhu Mohapatra. His debut collection after 8 years with Gilles Mendel at J. Mendel, which is not too shabby a credit on the ol' CV, if you ask me. Isn't that great? Love all the different parts & how they come together to make such a great silhouette. It's recognizably feminine, but not at all trite. Great work. I'm intrigued.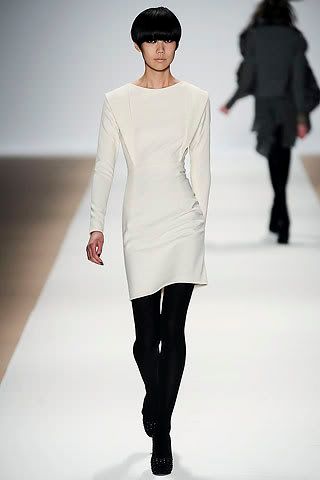 Yigal Azrouel, leaving his jersey draping behind for a bit and really hitting it. Fantastic sheath dress. I am a sucker for a good white dress, as we know.



::pant, pant::
Every season before Fashion Week I vow that I'm going to do a lot more coverage and every season I get about a week in and realize that it is Not. Humanly. Possible. To cover all this stuff. Good googly-moogly, there is SO MUCH of it. But I keep hammering away, so stick with me.



Photos: style.com