I have a couple of new affiliates I'm really excited about.

First off, if you're serious about lingerie, then you know about Agent Provocateur
If you
don't
know about Agent Provocateur and you like lingerie, click that link, my friend. These people are not kidding around.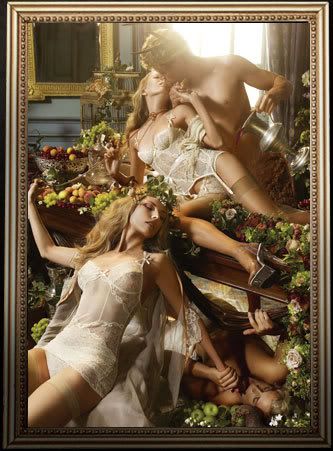 The above... er...
graphic
(heh-heh) is available as an e-card, so if Little You has a birthday or anniversary coming up, you can remind your significant other of what you might like to receive in a way that's sure to be a lot more warmly received than your average e-mail reminder. And no kidding, they have what may be the sexiest nursing bra ever there -- dadgummit, it's leopard-print!! Woo-hoo!
Agent Provocateur is an English company, but they do ship to the US, and they have a returns center here, so you don't have to worry about getting stuck with something that doesn't fit.

My other new affiliate:
These people must have eleventy-million pairs of shoes in their warehouse, including a bunch of Royal Elastics, which gets me all excited. "What are Royal Elastics?" you ask? Only some of the coolest shoes on the planet.


If you want a good runaround shoe that's comfortable, practical, extremely cool-looking, and very, very reasonably priced, you want some Royal Elastics. And before you get all, "Ew, those are funny-looking," let me tell you that my mother (who is 65 and in no danger of being mistaken for Carine Roitfeld, if you know what I mean) has a pair similar to these and she loveloveloves these shoes to the point where I think I might have to bury her in them someday. And every single time she wears them, people compliment her on her nifty shoes. Plus not all of them look like this -- some are more straighforwardly sneaker-ish, and some are little ballet flats, and some are slides -- but all of them are cool. Go check 'em out.
Full disclosure: if you click on a link for one of my affiliates from this blog and you buy something, I get a (tiny) cut. (Even just going & looking around does a little good.) So of course I would really love it if you did that, because sadly, Style Spy does not get paid by the well-chosen word around here. But lest you think I'm a complete whore in this matter, I am choosy about who I take on as affiliates. I only sign on with folks who have merch that A) I think will appeal to my readers and B) I consider high-enough quality that I'm not embarrassed to recommend them to you. In that vein, if you do order from any of my affiliates, I'd sure like to hear about your experiences with them, because if someone has crappy customer service I want no part of them, and if they have great CS I want to tell everyone about it. Only the best for my readers!
PS... do read that New York Magazine article on Roitfeld that I linked to above. It is
extremely
amusing.